INTERVIEW: EST's marathon of one-acts continues with Wilder play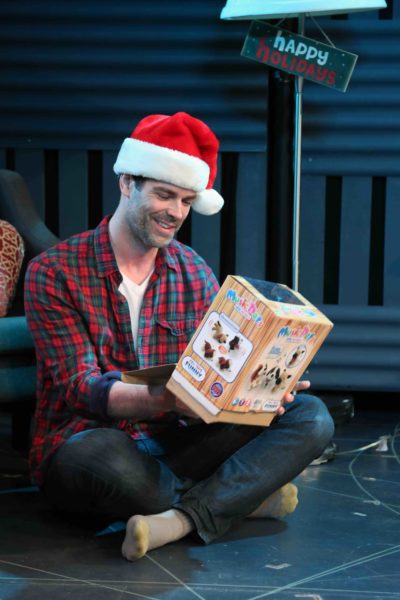 Ensemble Studio Theatre and The Radio Drama Network are winding down their expansive marathon of one-act plays in New York City, but there are still a few surprises to be had at the annual festival. In Series C of the marathon, Elyzabeth Wilder presents Santa Doesn't Come to the Holiday Inn, a mini portrait of a divorced couple forced to come together on Christmas in the best interests of their child.
Wilder is an accomplished playwright whose plays include Gee's Bend, Fresh Kills, The Flagmaker of Market Street, The Furniture of Home, White Lightening and Provenance. Productions of her work have been staged around the world, including at the Alabama Shakespeare Festival, Denver Center and Royal Court in London, among others. Her connection to EST is an obvious one: She is an alumna of the company's Youngblood program for younger theatrical artists.
"I was first introduced to the Ensemble Studio Theatre when I was a member of Youngblood, which is their writers' group for playwrights under 30, and so that was really the first time I had a chance to get to know the work at EST and was introduced to the marathon," Wilder said recently in a phone interview. "I think the marathon is just something I've always wanted to be able to participate in. Being selected this year is even more special because I'm on the same bill as two writers who were in Youngblood with me, Amy Fox and Edith Freni, so to be able to share the stage with two writers who I adore and whose work I really respect makes the experience even more meaningful."
Wilder said her Christmas-themed play is a meditation on modern parenting. It features a story about a couple who recently divorced but decide to spend the holidays together rather than shuttle their daughter back and forth between two houses.
"They agree to meet halfway and celebrate Christmas together as a family, and what that means this year is that they are stuck in a hotel together trying to create a memorable Christmas for their daughter despite their recent divorce," she said. "So I think a lot of it is about putting your kid first. … There's a little bit of sadness in the play, grieving the loss of this marriage and the dream of what could have been."
Wilder flew in for the first two rehearsals of Santa Doesn't Come to the Holiday Inn, but she wasn't able to take part in all sessions because, as the playwright put it, she lives on top of a mountain in Tennessee. That's a tough commute.
During the two days she was able to make, Wilder took part in table work, addressed questions from the cast and made some revisions. "I'm working with Julie Kramer, who is directing the play, and she and I have worked together as well before," Wilder said. "So we stayed in constant contact throughout the whole process, so even though I'm not there physically, I feel like I've definitely been able to participate in the process."
She added: "I feel very fortunate that I'm working with a director that I know and trust, and I'm working with a theater company that I know and trust, both of whom believe that the playwright's vision is an important part of that process. So I haven't really had any anxiety because of the relationships I have with both the director and with the theater company, so that's been nice. … I think walking into a situation where I had established relationships made that process a lot easier."
Writing a short play can be both freeing and restrictive. For Wilder, she found her challenge to be the necessary synthesis of all plot elements. She needed to get right to the heart of the story in a few minutes. There was simply no time for exposition.
"I think it's a great way to distill a story to what matters most," she said. "Interestingly enough, I've had a couple other short plays like that that ended up leading to full-length plays, sort of evolving into full-length plays, but I think the process of having to distill the story into a very compact piece gave the story focus. So then when I started to expand those plays, I knew what was at the heart of the story."
Wilder has been writing plays since she was in elementary school. She even found a copy of her first official, typed-up play, and it was a blast to read the story this many years later. Although she was always interested in theater, it took a while for her to find her place in the theatrical world. Eventually she landed on the role of the playwright — the creator of worlds.
"I think having anything produced at EST is a great affirmation because they have been around for such a long time, and they're so well-respected within the theater community," she said.
By John Soltes / Publisher / John@HollywoodSoapbox.com
Santa Doesn't Come to the Holiday Inn is part of Series C of Ensemble Studio Theatre and The Radio Drama Network's marathon of one-act plays. The series continues through Friday, June 30. Click here for more information and tickets. Read Hollywood Soapbox's interview with Christina Gorman, a playwright represented in Series B.