REVIEW: 'Léon Morin, Priest' offers stirring portrait from Emmanuelle Riva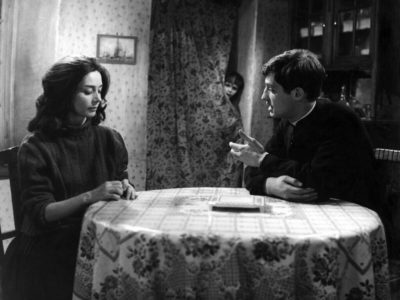 Léon Morin, Priest is a stirring character study from director Jean-Pierre Melville. The 1961 movie, currently playing New York City's Film Forum, follows two people as they navigate issues of love, politics, religion and faith.
Emmanuelle Riva, the great French actress, plays Barny, a Communist widow who survives in a small village during the occupation of France. She protects her daughter, has a decent job in an office and routinely challenges the local priest, Léon Morin (Jean-Paul Belmondo), on all things related to faith. The conversations between Barny and Léon are beautifully written by Melville, who adapted the story from the book by Béatrix Beck. The words flow from the two main actors with such ease and intellectual power that it's easy to get sucked into their flirtatious debates about the existence of God and the role of the penitent.
Barny, a devout Communist, has trouble believing in God and does not understand the priest's vocation; however, she is attracted to this relatively young man and his art of conversing. Father Morin, on the other hand, has a smart and fast answer to each of Barny's many questions. He doesn't judge her faithlessness or Communist leanings; instead, he provides alternatives and different perspectives to understand his faith.
Most of the movie entails the friendly encounters between this priest and his aspiring parishioner. As they get to know each other, Barny's conversion begins to happen. She is attracted to Roman Catholicism, but that attraction may be physical in nature and tied specifically to Father Morin. Secretly — and then not so secretly — she would like him to give up his vows and start a relationship with her, but Father Morin seems to be truly devout and tied to a life of abstinence. Seeing whether he follows Barny or the church gives the narrative an intensity and natural arc.
Léon Morin, Priest must have been quite the conversation starter when it first premiered in the early 1960s. Not only are Father Morin's vows questioned, which was likely scandalous more than 50 years ago, but Barny does not censor her thoughts throughout the movie. With a helpful narration, the audience learns that Riva's character is very much in love with the priest and also attracted to a female coworker. There's even a dream sequence about a possible sexual encounter involving Father Morin and Barny. This type of unfettered stream-of-consciousness is refreshing and adds a lot of introspection to the movie, and because of the revelations, one could say Léon Morin, Priest was ahead of its time.
The two central performances are towering, especially Riva, who is a master of portraying a strong, yet questioning, woman whose complexity drives the story along for more than two hours. Belmondo matches her wit word for word, and these two actors (and their characters) make for a riveting duo of intellectual conversation about religion.
There's also a lot to be learned about life during occupied France in World War II. Although the war and politics of the time are kept largely on the periphery, there's no doubt that the characters and their fates are constantly framed by the military struggle and the effects of Nazism. Much like the occupation itself, their relationship, which can be seen as priest/parishioner, friend/friend, love interest/love interest, has an eventual end date. They were forced together because of larger issues, and one day they will return to their so-called "normal" lives. The challenge, and the audience's treat, is to see if they return changed or not.
By John Soltes / Publisher / John@HollywoodSoapbox.com
Léon Morin, Priest (1961), written and directed by Jean-Pierre Melville, stars Emmanuelle Riva and Jean-Paul Belmondo. Running time: 130 minutes. The complete director's cut is currently playing New York City's Film Forum in a 4K restoration. Rating: