INTERVIEW: First-time filmmaker Dayla Soul chronicles female big wave surfers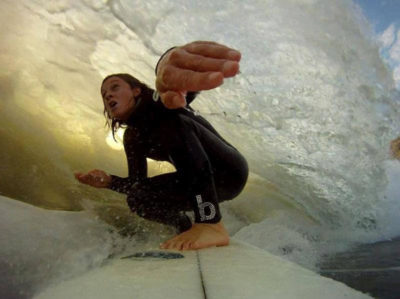 Dayla Soul lives and breathes surfing. She is originally from the North Shore of Kauai, Hawaii, and proudly says that the sport runs in her blood and the blood of her whole family. It's this personal passion of hers that drove her to document female big wave surfers in the San Francisco Bay Area. Her efforts have paid off with the award-winning documentary It Ain't Pretty.
"I grew up surfing, so when I moved to Ocean Beach in San Francisco, I obviously surfed Ocean Beach," Soul said recently in a phone interview. "I think how the idea really got formulated is I'm a big filmmaking advocate. Like I have watched surf films my whole life, and just the ones that are out there with female surfing, they're all kind of the same. It's a generic gaze into the bikini fashion aspect of warm water surfing, and there wasn't really any kind of what I will say, in surfer language, 'gnarly films' that portrayed women surfing big waves."
There were a few predecessors that Soul respected, including One Winter Story by director Elizabeth Pepin. That film tells the story of big wave surfer Sarah Gerhardt, and Soul was inspired by its bold statement. But the list of female surf films worthy of that level of respect is a short one, so Soul sought to make one herself.
The director said she's a fairly good surfer but not one who takes to the big waves, like the legendary Mavericks at Princeton-by-the-Sea, California. However, when she was taking in some of the waves at Ocean Beach or around the San Francisco Bay Area, Soul would see other female surfers heading for the mountain-sized breakers. They would tackle the waves, and Soul would chat them up when they returned to the beach.
"I got their full experience way long before I got filming, and after kind of getting to know a few of the women, we noticed there wasn't a ton of women surfing Ocean Beach," Soul said. "So I was like, well, let's kind of put a focus on the women that do surf really large Ocean Beach, and out of that, and in talking and interviewing a lot of the women, a community kind of got built and formulated around the film, which was really great. And that's kind of where it took off."
The director began a Kickstarter campaign to fund the process of bringing these stories to the silver screen. Soul actually hired a team to take care of the Kickstarter project because at that time she was a documentarian without any major camera equipment.
"I didn't really know fully what I was doing, so I hired this company to film [the Kickstarter video] in a professional way," she said. "After that came out, through the month of our campaign, we had about nine events that were just packed. The momentum of the film really took off, and radio stations and TV stations started contacting us. Apparently I hit a button. I think many of the women that live and surf in this area were just kind of, how come nobody is putting a spotlight on this community. These women are badass, so that's kind of how it took off."
The film chronicles several surfers, but one stands out above the rest: Bianca Valenti. She is the real deal of surfers, someone who competes at the professional level but still must deal with the male-dominated spotlight. Soul documents not only Valenti's surfing but also her struggle to convey a different image than the over-sexualized, bikini-wearing advertisements that are so prevalent in the surfing world.
"There actually were a few women that were a huge support but didn't want to be in the film just because their experience in the past has been anything but great with certain people portraying them in a way that they didn't want to, so they were really hesitant," the director said. "Then after them seeing what I was doing and hearing from the community, they got on board, but, yeah, there were a few women that didn't even agree with everything that I was about. And they were sort of what I'll kind of call protecting the patriarchy of surfing a little bit. They didn't really like how I was like talking about localism and bringing it up, and they thought that maybe we should keep it all the same. And I think I rubbed a few buttons that way with some of the women, but most of the women were super on board and just ready to have the conversation."
It Ain't Pretty, which is now available on video on demand, charts the stigma of female surfers not only in the water or in advertisements but also in major competitions. There's a push in the film for women to be entered into some of the big wave spectacles, so they can receive more exposure and attract more attention.
"It's been a long road, I think, for these ladies really fully being accepted on a bigger level and being sponsored on that level where they can actually make a living and do what they're good at," Soul said.
What these women accomplish in the mega waves near San Francisco is remarkable, especially since most of this surfing is a dangerous enterprise. Mavericks, in particular, is often listed in the top 10 for most dangerous waves on the planet. Soul said those who live in the local area probably place Mavericks in the top two.
"You have to do very long breath holds, kind of like you're in a washing machine, and it's pushing you down and pushing you down," she said. "You have to learn how not to panic. Smaller waves will let you up faster. Bigger waves will hold you down possibly for two wave hold-downs, and that's when people drown. … The pressure when you fall, it can break a leg. It can break your board. It can break your back. There's many aspects to different breaks like reef breaks or point breaks that create obstacles, and with Mavericks, it creates an obstacle because there's rocks. Mushroom Rock is right in front of the break, and so if you get dragged into the rocks, your board can get stuck. So there's a lot different aspects to the danger part of it, mainly it's drowning really. So you've got to learn how to control your breath."
Soul said many Mavericks surfers can hold their breath for four minutes or more, and that helps them stay calm, slow their heart rate down and weather the torrent above their heads. The director has never surfed Mavericks herself, but she's been out to the wave on a boat many, many times.
"I've seen it first hand," she said. "Mavericks surfers are kind of a different breed than most of us surfers. As I said, they've trained in many different spots around the world, and to surf Mavericks, you probably should have surfed maybe 10 other big wave places before you even go out. It's like the upper-echelon big wave surfing."
Since the documentary premiered, there have been some changes in the industry. Valenti, in particular, has seen her star rise, and her career has improved. "So things are shifting, probably not as fast as we would like," Soul said. "We have to be the change, and if we want to see something out in the world, we'll just make it. And that's kind of been our philosophy."
By John Soltes / Publisher / John@HollywoodSoapbox.com
It Ain't Pretty, directed by Dayla Soul, is now available on digital HD and video on demand, including iTunes, Amazon, Google Play and Comcast. Click here for more information.