INTERVIEW: Jersey Shore artist releases new EP with John Popper duet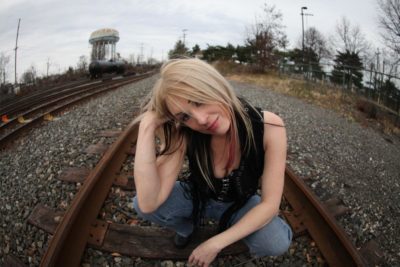 Lisa Bouchelle's moment is here. The Jersey Shore artist who has toured with the likes of Blues Traveler, Meat Loaf and Don Felder — not to mention dueting with Jon Bon Jovi and singing backup for Bruce Springsteen — recently released her new EP titled Lipstick Tomboy. Bouchelle, a mainstay musician on the Jersey scene, is gearing up for a banner year and even more of a spotlight among indie artists.
Fans can check out her new songs at a special concert at the Freehold Art Gallery in Freehold, New Jersey, Friday, Feb. 10 at 7:30 p.m. She also holds down a regular residency at the Rush Lounge at the Golden Nugget Casino in Atlantic City, New Jersey.
Lipstick Tomboy has some high-profile collaborators, including John Popper from Blues Traveler. Both Bouchelle and Popper sing on the new track "Only the Tequila Talkin'." Other selections include "Luv Is Supposed 2B Fun," "Heart vs. Mind" and a new interpretation of Gordon Lightfoot's "If You Could Read My Mind."
In addition to gigging and recording, Bouchelle can be found hosting Rock Star Kitchen on The Comcast Network. Her celebrity guests have included Chubby Checker, Foreigner, Eddie Money and Lita Ford, among many others.
Recently, Hollywood Soapbox exchanged emails with Bouchelle about her new EP, upcoming summer tour and thoughts on the music industry. Questions and answers have been slightly edited.
How did the EP Lipstick Tomboy come about? How did the project begin?
I had been working on a lot of new songs, and I was excited with the way the songs were coming out. They are very real, with organic instruments. Some were recorded with Jeff Trott, who has produced and co-written many of Sheryl Crow's biggest hits, and who has collaborated with Colbie Caillat, Jason Mraz and Stevie Nicks, among others. Another was a song I had recorded as a duet with John Popper, and we did a great remix of that song. We actually did a "Fan Club" only CD of the new songs, but the reaction was so good we wanted to get them out to more people. So we picked a group of four songs and made them available in a digital format that is easily downloadable on iTunes and Amazon, and also streamable on Spotify and Apple Music. The reaction has been great, as it's gotten over 200,000 streams on Spotify in the first two months it's been out.
You have many impressive collaborators on the EP. How did you get everyone together to contribute?
I am really fortunate to have so many heavy hitters in the music world, such as Jeff Trott, John Popper and John Eddie, just to name a few, that believe in my music and enjoy contributing their talents as instrumentalists and their expertise in the production world. It really brought the record up to the next level. To facilitate all who were involved, I recorded on the East Coast, as well as in Los Angeles and Seattle.
What are your music plans for 2017? Can fans check out these songs on tour?
Plans are in the works for a live performance tour commencing in June 2017. In the meantime I'm planning a radio tour so I can visit some of the radio stations currently playing the music from Lipstick Tomboy. It will be fun to do in-studio broadcasts and play some of the songs 'unplugged' over the airwaves.
Music has been such an important part of your life. Does this dedication to singing and playing go back to when you were a child?
Yes, I began singing on stage when I was 4 years old, standing on a picnic table at a talent show. I knew right then that live performance and music was my calling. I began writing songs when I was about 13 years old, which is when I began to study guitar. Music was something I always had in my head. I felt rhythms and melodies and intervals in nature and the world around me. Music was something that always seemed to bring happiness to the people around me at a young age, so it felt very rewarding to me [to] create it. I still feel that more than ever now in my writing and performances and in my everyday life. A friend of mine was talking with me the other day, saying how certain songs of mine reminded her of certain times in her life. She said that all music seemed to be the 'soundtrack' of her life. I think most of us have felt that way at times. It contains a uniting, healing energy, and it's a lot of fun, too!
You have taken the stage with many musical legends and opened for so many bands. Any fond memories from the road?
On my first tour, I was the opening act for a couple of months for Blues Traveler. Many nights Blues Traveler would invite me to get up and sing with them during their set. That was really great for me. I met so many people, in so many cities, during all of my tours who were really terrific and have been loyal fans. There are times when I had to wake up really early to do a radio or TV spot after a late show on tour, and even though I was tired that day, it was all worth it. Hitting the stage gave me so much energy. During the tour when my band and I were the opening act for Meat Loaf, we were generally playing in arenas that held around 12,000 people. The audience excitement and energy was amazing, and the sound on the stage was perfect. Traveling always inspires me to write a lot of new songs, too. It's like you want to memorialize these great moments, so you can relive them when you play those songs, and so you can share the stories with your fans through that music.
What's the toughest part of the music industry in 2017?
I think a challenge an indie artist faces in 2017 is getting everything to happen at once, in terms of the record dropping, promotion, and touring in support of the release, and radio and TV and print, in coordination with where the tour is geographically heading. It is a lot for an indie artist to do because of the types of resources available at that level and the overwhelming amount of planning and capital that's required to get all the 'ducks in a row' at one time.
Another factor that is unique these days is that there is no one standard business model that leads to success. This can be viewed as positive or negative. Sometimes it can seem confusing, but if one 'thinks outside the box' in terms of capitalizing on their unique and specific assets and talents, it can actually be a way to propel the artist further. My team and I try to keep that in mind all the time. Looking at it this way, and approaching it as such, really helps to keep things 'real' in terms of who I am as an artist, and I think it will help with career longevity in the long run.
Artistically, I'm feeling a shift to a much more open-minded audience that wants to make up their own mind about the type of music they want to hear. It also seems to be a really good time to be a strong female in performance and writing. I take that honor and responsibility to heart and realize I'm in the position to be a sort of role model, not only as an artist, but as a female in the 'industry' whose full time business is her artistic and musical career.
What are you hoping fans take away from Lipstick Tomboy?
The songs on Lipstick Tomboy are real. The instruments are organic, and the songs tell stories with real emotions — stories of love, life and the like. "Only The Tequila Talkin'" is a fun tale of drinkin' tequila and hookin' up, which causes things to go slightly awry! "Heart vs. Mind" is about the times our heart argues with our mind. Who hasn't been there? "Luv is Supposed 2B Fun" is a celebration of love and the happy feeling it gives us, whatever love means to you. "If You Could Read My Mind" is a remake of my favorite Gordon Lightfoot song. The lyrics create such pictures in the mind, and my version is syrupy slow and dreamy … the pace of memories, thoughts and hopes.
So, what I hope for fans to take away from Lipstick Tomboy as a whole is a shift in their mind after the four songs are finished, a feeling that they've had a 'getaway' that feels familiar to them because the EP runs the gamut of emotions, just like a typical day in the life of an Earthling usually does. Then I'd really like for them to hit rewind and listen again and sing along!
By John Soltes / Publisher / John@HollywoodSoapbox.com
Lisa Bouchelle's new EP, Lipstick Tomboy, is currently available, and she will play the Freehold Art Gallery Friday, Feb. 10 at 7:30 p.m. Click here more information on Bouchelle. For details on the Freehold concert, call 908-614-6195 or email freeholdartgallery@gmail.com.