INTERVIEW: Tal Zimerman investigates a simple question: 'Why Horror?'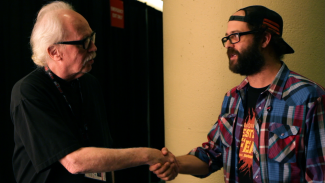 Why Horror?, a documentary that can now be watched on Showtime, investigates the growing fascination with the horror genre. From the success of The Walking Dead on AMC to the dominance of horror-themed video games, the genre is alive and well (or dead and lurking, for zombie fans) in 2015.
Take a quick look around: Ash vs. Evil Dead is on TV with the original star, Bruce Campbell. The Walking Dead grabs much of the attention at New York Comic Con and breaks records for cable. Scream, based on Wes Craven's original movie, is now an MTV series. Resident Evil is preparing for its … wait for it … 20th anniversary.
Tal Zimerman, the subject of Why Horror?, jumped on the horror bandwagon when the genre was still on the periphery and one's love for slasher flicks was meant to be muted in public. Zimerman and his friends have watched their lifelong hobbies grow from the fringe to the mainstream.
"I knew the production company from a project that we had done — a web series that I wrote and acted in — and I brought in the idea to them of just doing like a sort of special interest Halloween sort of seasonal one-hour documentary for television on why Toronto is a hotbed for horror," Zimerman said recently about the origins of Why Horror? "And they started asking me why do you like horror so much, and it turned into this bigger conversation. We thought maybe that would be a cool idea for a theatrical-length documentary: why people like horror."
Zimerman, writer Robert Lindsay and director Nicolas Kleiman explore the genre from several vantage points, including cultural festivities in Mexico and hobby stores in Japan. Zimerman wasn't surprised by the findings because his love and knowledge of horror run deep.
"I collect movie posters as a hobby, and I collect stuff from all over the world," he said. "So I know that there are definitely audiences for all kinds of horror all over the place. … In the case of Tokyo, for example, it was more interesting to see how horror has penetrated furthermore mainstream culture, how there are themed bars and things like that and all kinds of like haunted-house kind of attractions, really cool like that."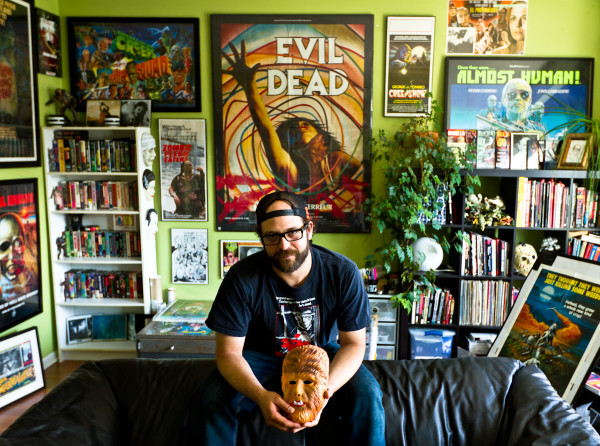 The original plan was for Zimerman not to be in front of the camera. However, as the project evolved, he found his dedication to horror becoming a central theme. His family's support is also an important aspect. At one point, Zimerman and his mother undergo medical testing in the documentary while watching a horror film to see how their bodies respond.
"I wanted [the film] to focus on the material, but we thought it would make for an interesting device to actually put it through the eyes of someone who lives this kind of stuff," he said. "Once we install the device of having it about my life and my experience, the family kind of came into the picture then."
Zimerman said horror is more accepted nowadays because fan culture in general is more accepted. When growing up, he would see fans of music wear a band t-shirt, but to wear an Evil Dead t-shirt was "kind of weird." Today, that's not the case.
"It is an everyday thing for me, in one way or another," he said. "I mean I always carry magazines in my backpack when I travel to and from work and read them, and when I get home, you know, I have movie posters up on my wall and racks of DVDs. So … it's an everyday thing for me. I don't necessarily watch a horror movie every day like I once did at some point in my life, but definitely I've got a 2-year-old now. So I can't really watch the kind of horror movies all the time."
It appears to Zimerman that audiences are living in a strong horror generation at the moment. There are successful television shows, which bring the genre to a wider audience. The films perform well at the box office, and video games are "insanely popular."
"So there seems to be something for almost every demographic," he said. "There's monster TV shows for kids. There's video games for teens, and there's tons of crossover, too, because video games for adults and monster shows for grownups. It's everywhere. Yeah, I do think this is a pretty good time."
For Zimerman, his number one horror film of all time is George A. Romero's Dawn of the Dead, a film that he said completely changed his life. Other influential highlights from his many hours of watching: a Fangoria documentary on makeup artist Tom Savini, The Texas Chainsaw Massacre ("every time I watch it, I hold my breath for what seems like an eternity"), Friday the 13th Part IV ("something I watched quite a bit when growing up"), Maniac, The Gates of Hell by Lucio Fulci, Burial Ground and compilation tapes.
"There's no one genre that I prefer over the next," he said. "I tend to personally sort of gravitate toward more supernatural stuff, not necessarily like Paranormal Activity and whatnot, but stuff that isn't slasher movies, which isn't to say I don't like slasher movies because I love a lot of them. But I like more fantasy-based horror, I guess."
Why Horror?, which features interviews with directors John Carpenter, Eli Roth and Don Coscarelli, is a love letter to the genre from a team of horror hobbyists. It's safe to say Zimerman and company answered their initial question.
By John Soltes / Publisher / John@HollywoodSoapbox.com
Click here for more information on Why Horror?