INTERVIEW: Brad Oscar predicts the future in 'Something Rotten!'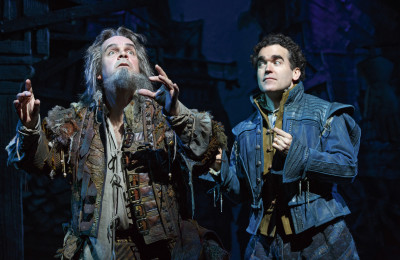 Brad Oscar, the Tony-nominated actor currently appearing in Broadway's Something Rotten!, has a second home at the St. James Theatre. Not only is that the 44th Street theater where he's been stealing scenes for months in the new Broadway musical comedy, but it's also where he earned his first Tony nomination in the mega-hit Mel Brooks musical, The Producers. If that's not enough, the first show that Oscar saw on Broadway as a young child was at the St. James.
"My parents went to the theater, were theatergoers and so introduced me to the theater at a relatively early age," Oscar said recently in a phone interview. "The first Broadway show I ever saw was the original production of On the Twentieth Century in 1978 at the St. James Theatre, which is always crazy to me as well … having been there with The Producers and now back with Something Rotten!"
Oscar, who was nominated for a Tony for Something Rotten!, has been with the new production for almost two years. He first joined the project in January of 2014 for a weeklong reading of the musical, which follows the adventures of Nick (Brian d'Arcy James) and Nigel Bottom (John Cariani) as they put on the first-ever musical to spite their competitor at the time, William Shakespeare (Christian Borle), known as the Bard. The show, directed and choreographed by Casey Nicholaw and with a creative team consisting of Karey Kirkpatrick, Wayne Kirkpatrick and John O'Farrell, includes many Shakespearean characters, several hilarious musical numbers and a tongue-in-cheek humor about musical theater.
"[The reading] was my first experience, just being brought in to do that, being asked to do that week, and the next thing we're doing our four-week lab last fall, which, you know, led to the Broadway production," Oscar said. "I feel very blessed and very fortunate to have been brought on board with … just something I'm so proud to be a part of. To be asked to be a part of it is very sweet indeed. I really appreciate that. It's very sweet."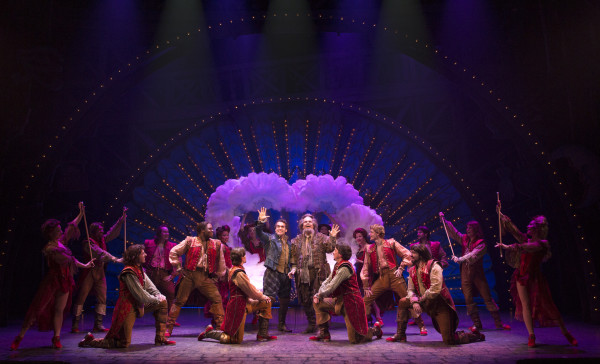 Oscar plays the nephew of Nostradamus, the famous prophesier, and his big number is an Act-I song called "A Musical."
"I felt the writing was so smart," Oscar said. "The number that I get to do in Act I, 'A Musical,' that big number is just such a celebration of everything I've always loved and sort of grew up loving. So to have the opportunity to, you know, sink my teeth into a part like that was … really joyous."
The phrase "love letter to theater" is thrown around a lot on Broadway, but there may be no better musical that showcases that "love" than Something Rotten! At its core are a troupe of actors and team of creatives who want to put on a show, all the while name-dropping Shakespearean characters and theatrical references.
"I think oftentimes when we say that [love letter to theater] is when something makes us feel good in a familiar way," Oscar said. "It's a certain kind of musical that does a certain kind of thing, right, which is different from a [Stephen] Sondheim musical or a rock show or something. … But, yeah, to do a show that really celebrates the grand old tradition of … a musical comedy, what it still means to be a true American musical comedy, is really cool."
Oscar said he enjoyed building an original musical "really from the ground up."
"I mean audience-wise … they haven't seen the movie or read the book or anything, and that's pretty cool because that doesn't happen as much," he said. "It was really cool to be a part of that process in the room and especially with this company."
When Something Rotten! first opened, it gained a reputation for its hilarity and has consistently played to packed houses at the St. James. The show, with no celebrity names (although theatrical royalty is well represented) or original source material, has grown through word of mouth and continues to last in a town where runs over six months are rare to come by.
"We were very spoiled early on," he said. "We had extraordinary houses through previews, through opening. … We still talk about it because it was really wild and very special in that way, to have our New York audiences responding to a show that was really again filled with people who are just a part of the fabric of this business, not stars, not celebrities in that way. The show is about nothing other than let's put on a really good show, and we felt the support and embrace of the community professionally here early on, which was amazing."
Oscar first learned about packed audiences during his multi-year run in The Producers, the musical that originally starred Nathan Lane and Matthew Broderick. Oscar, Tony nominated for his role, played Franz Liebkind, the playwright of a horribly offensive and doomed-to-fail musical that received the financial backing of Lane and Broderick's producing team. It was his first major role in a Broadway show. Later in the run, he took over the role played by Lane, Max Bialystock, and eventually brought The Producers on tour and played in London. In both The Producers and Something Rotten!, Oscar has known Broadway success.
"When the house is full [at Something Rotten!], and when we do, thank God, mostly play to full houses, there's nothing like that sound of a big group of people all responding, all breathing together with you and the joke and the whole thing of it," he said. "It's really remarkable, and believe me I never thought I would really honestly experience that again after The Producers in the very same theater. … The Producers came in, you know, with a pedigree, an extraordinary film that many people knew, of course, with Nathan and Matthew, with Susan Stroman, with Mel. The Producers was supposed to be that show, and thank God it was. It was supposed to be that show ideally in the best of all possible worlds. Something Rotten! was a total unknown. No one knew what the hell they were seeing, so the joy of discovering that I think [was great] for them and for us, you know. So the responses sometimes were actually even crazier."
Although the future holds more performances of Something Rotten!, a return to The Producers doesn't seem out of the question. "I hope to get to do it again at some point," he said. "I really do love the show."
Nostradamus may have predicted Oscar's success. Ever since he was a young child he was exposed to theater and perhaps thinking about a career on the marquee. His parents would sometimes drive him from Washington, D.C., to New York City for a four-show weekend. Now that he's living the life he always wanted, he takes it one show at a time.
"It's a great group to call your family, to work with eight times a week in that respect," Oscar said of the Something Rotten! cast. "I think taking care of yourself can be hard. I think in my case, in many other people's cases, your partner, my husband, your spouse, your kids whatever, my husband is on sort of the opposite schedule. So he's got his weekends free, and, of course, I have two shows Saturday and a matinee on Sunday. You know, I leave for the theater. Whenever I leave, he gets home from work. … It's the life I dreamt of living, and, you know, we make it work."
By John Soltes / Publisher / John@HollywoodSoapbox.com
Something Rotten! is currently playing the St. James Theatre on Broadway. Click here for more information on tickets.