INTERVIEW: Raymond Crowe brings unusual magic to Broadway's 'Illusionists'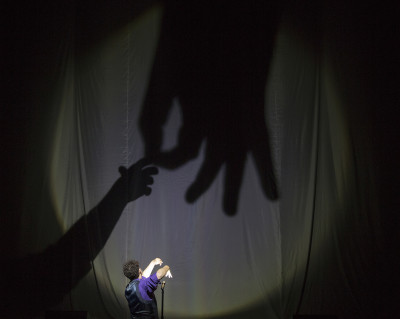 NEW YORK — Raymond Crowe is an unusual performer — unusual in all the right ways. As one of the stars of The Illusionists on Broadway at the Neil Simon Theatre, the magician-ventroliquist provides the show with entertaining, thoughtful and hilarious magic and performance art. His character name is the Unusualist, and he stands in contrast to his colleagues on the stage who shoot arrows in death-defying acts and pull pigeons out of thin air. Crowe's style is sophisticated and understated. His Doctor-Who-like costume only adds to his act.
The Illusionists, which first premiered last year on Broadway and will tour the United States in the new year, couples Crowe's routine with a motley variety of magicians, all with character names like the Anti-Conjuror, the Deceptionist, the Daredevil, the Manipulator, the Trickster and the Futurist.
"I had known a couple of the guys who did the version of the original Illusionists," Crowe said recently in a phone interview. "Just because of magic we sort of know each other I guess from around the world. I think they sort of kept indicating to the producers that they should use me. … I was drafted into The Illusionists 2.0, which was a version that was produced in Australia, and I toured with them for a year and a bit. And then this January we were in Melbourne, Australia, and they said, 'Oh, would you like to do the Broadway show?' And I said, 'Let me think about it. Sure.' That's what happened."
Crowe said his Broadway debut was a "big thrill," especially after being asked to travel from Australia to New York to share his art.
"They asked for the routines that they thought would be appropriate for the show," he said. Among Crowe's routines are a ventriloquist bit and a show-stealing shadow-puppet display set to the music of Louis Armstrong's "What a Wonderful World."
"I guess my skill base is a little different from the others," he said. "As a boy I played with puppets and some ventriloquism, and so I guess coming from another culture, too, you get a slightly different approach. I studied mime with a wonderful teacher in Australia, and I guess just from those different skill sets my interests bring a different quality."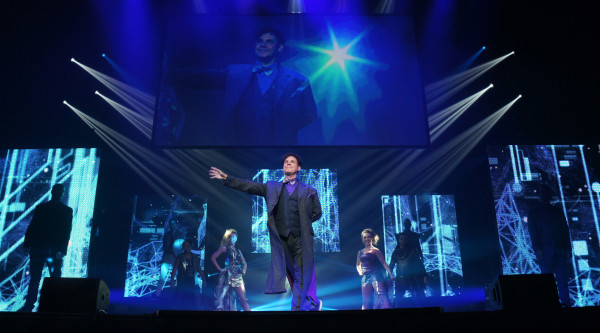 On Broadway, Crowe has met audiences with high expectations. After all, The Illusionists is playing across the street from Jersey Boys and around the corner from such theatrical royalty as Fiddler on the Roof, Wicked and Fun Home. It appears, in Crowe's mind, the lofty expectations have been met.
"I think the New York audiences have higher expectations obviously because they get to see the best all the time," he said. "I think certainly in my case with the hand shadows that I perform near the end, it's pretty much the response all over the world really. People like to be transported for a moment I guess, and that's our job."
Crowe first read about hand shadows as a boy. "I thought I wonder if I could do that," he said. "And somebody had suggested the song 'What a Wonderful World,' and I said, 'Oh, OK.' It had been used for a lot of things apart from being a wonderful world, and I sort of improvised. I had a lot of the shapes already, and … people love the song."
After he performed the routine at a theater awards show in Australia, it soon made its way to the Internet. That's when Crowe and his act became a sensation, spreading across the web with no stopping. One can find several versions posted on YouTube, all of them with a great number of hits.
"It was remarkable," Crowe said. "In particular this country [the United States], it had a very warm reception. … I knew the piece was good, and I knew that it had a universal theme to it. But I just did it because I thought it was a nice idea. It was a fun thing to interpret, the music."
When Crowe is not on stage at the Neil Simon Theatre he can be found watching the other performers, learning and collaborating. The competitive nature of magic is largely missing from The Illusionists because the magicians are working together, and they already have their approaches to the art form set.
"What's nice about this show is that normally most of us are just solo performers," he said. "Some may do illusions and work with dancers, or whatever else they do. Most of us are solo performers, so to be working on a bill with other professionals who have a similar interest to you is just like a dream come true. As corny as it sounds, it's true. I guess I'm the throwback in the group. I would've liked to have been in another time period, I guess. … So I get to stand on the side. I get to see other acts plying their crafts, and it's great because afterward people come back. And they can give you suggestions. They say, 'Oh, I think maybe you can say it this way. It might have a better effect, or try turning a bit more that way.' So there's a really big camaraderie."
After Broadway, the jet-setting Crowe will head to a three-month gig at a casino in Macau. Then he'll return to Australia and start performing solo again. He said he's open to another run in The Illusionists, especially with the chance to see other American cities.
"What is really nice is working in another country, in another culture and having your work accepted," Crowe said. "I find that really nice."
By John Soltes / Publisher / John@HollywoodSoapbox.com
The Illusionists, with Raymond Crowe as the Unusualist, is currently playing the Neil Simon Theatre at 250 W. 52nd St. in Manhattan, N.Y. The limited engagement concludes Jan. 3. Click here for more information.