REVIEW: 'Hitchcock/Truffaut' explores master of suspense's stylistic choices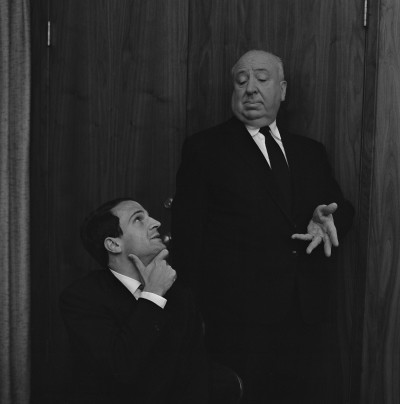 Hitchcock/Truffaut, Kent Jones' new documentary on Alfred Hitchcock through the eyes of François Truffaut, is a thoughtful, in-depth analysis of one of the most influential filmmakers of all time. The movie, which is currently running at New York City's Film Forum and in Los Angeles, is a project perfect for cinephiles. There's more introspection on Hitchcock's work, and the general art of filmmaking, in these 80 minutes than in most books and films about the profession of making movies.
The impetus for the movie is a legendary book that came out in the 1960s in which Truffaut, a self-avowed fan of Hitchcock, sits down with the director of Psycho, Vertigo and Rear Window for a honest, revealing talk about filmmaking. For this documentary, Jones pairs excerpts from the book with audio from Hitchcock and Truffaut's conversation. There is also a bevy of archival footage and photographs from both directors' careers. Sometimes the scenes from these suspense thrillers pair perfectly with the narration from Bob Balaban or the commentary from the many other directors who chime in on Hitchcock's influence. The visual connections are so spot-on at times it will remind viewers of Room 237, the documentary that explored conspiracy theories in Stanley Kubrick's The Shining.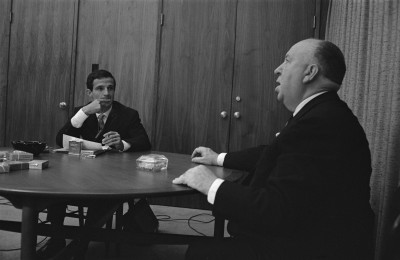 There are many concepts discussed in the film, and the best contributors are Martin Scorsese and David Fincher. They not only praise the godliness of Hitchcock's style but also try to deconstruct his decision-making. There's an interesting sequence that looks at why Hitchcock filmed several scenes from up above, as if God were looking down. There's also a conversation on experimentation and whether Hitchcock made films for the masses or considered himself an artist, or if these two can coexist.
Not much is learned about Truffaut in the documentary. When he first made the connection with Hitchcock for this one-week interview, the French director was younger and still placed in that "promising" category for filmmakers. There's no real context offered on why Truffaut felt Hitchcock was such a kindred spirit. There's a brief narration on the environment in which Truffaut learned his craft, but that doesn't account for his fascination with the Hollywood director. In fact, after watching Hitchcock/Truffaut, there's hardly any mention of Truffaut's own body of work. This is very much a Hitchcock picture, and the Psycho director would probably have it no other way.
The portrait of Hitchcock given by the directors tasked with understanding his filmmaking decisions is one of nondemocratic brilliance. At one point, he calls his actors "cattle," essentially making them subservient to his stylistic choices. However, he doesn't come off as terribly mean-spirited or artistically wrong. In fact, it was probably for the better that Hitchcock emphasized the framing of his shots and the visual look of his films, taking into consideration lighting, pacing and space. One can see this in the infamous kissing scene between Ingmar Bergman and Cary Grant in Notorious. This doesn't diminish the performances Hitchcock was able to capture but, in fact, highlights them with a meaningfulness that is somewhat rare in film. Another case in point: James Stewart in Vertigo, which is perhaps Hitchcock's best movie. It's certainly the one that receives the most commentary in Jones' documentary.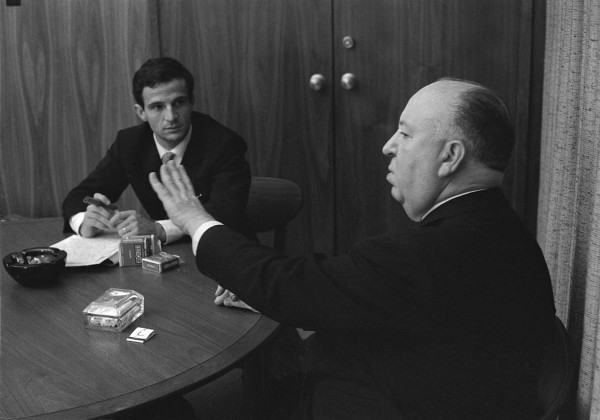 The danger of any film about a filmmaker is the fine line between analysis and fawning praise. Too often artists (filmmakers included) are heralded for, well, they're simply heralded. That's it. Auteurs are auteurs. Influencers are influencers. Legends are legends. Few people take the time, like Jones does with Hitchcock/Truffaut, to turn back the curtain and see how the machine works. What makes Alfred Hitchcock's catalog perpetually watchable and vigorously suspenseful? How did this seeming perfection occur?
Jones must have known he had a goldmine when looking into not only Truffaut's book but the audio from this fascinating interview. The conversation, told through subtitles and an interpreter, does exactly what cinephiles love to do after watching a quality film: It discusses, debates, ponders and theorizes. Each subject in the documentary (no female directors unfortunately) brings his own sentiments and tastes to the conversation, and Hitchcock's films serve as the starting point for the journey.
By John Soltes / Publisher / John@HollywoodSoapbox.com
Hitchcock/Truffaut
In English and French with English subtitles
Directed by Kent Jones
Featuring Alfred Hitchcock, François Truffaut, Martin Scorsese, David Fincher, Bob Balaban, Richard Linklater, Oliver Assayas, Paul Schrader, Wes Anderson, Peter Bogdanovich, Arnaud Desplechin and James Gray
Running time: 80 minutes
Rating: