REVIEW: Laurie Anderson crafts remarkably thoughtful documentary with 'Heart of a Dog'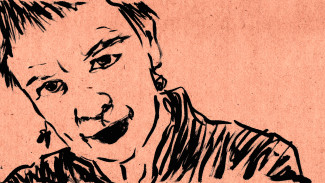 Laurie Anderson, the multi-hyphenate who offers projects in music and performance art, has crafted a satisfyingly rich and thoughtful documentary with Heart of a Dog, a 75-minute rumination on animals, love, death and life. The film is currently playing New York City's Film Forum.
Anderson couples a poetic narration with simple, yet startling imagery that evokes a kind of dream state. She begins by focusing on her rat terrier, Lolabelle. However, by the film's end, she has branched off into several topics, including the death of her mother, memories from childhood, living in a post-9/11 surveillance society and Tibetan Buddhist philosophy. Throughout the documentary, the performance artist is rarely seen. Instead, the audience is offered her transfixing, almost melodic narration.
What's so great about the narration is that it doesn't state the obvious. She doesn't explain the images that are broadcast across the screen, trying to fill in blanks for the viewer. Instead, she expands upon the images, asking questions and offering some answers.
Those images are solemn and stark. Water plays an important role in Heart of a Dog. Sometimes Anderson, who wrote and directed the documentary, will superimpose drops of what looks like rainwater on a pane of glass over a fuzzy image meant to serve as a living, breathing memory. The dichotomy between the elements in focus and out of focus offer a visual hypnotism that achieves its intended effect (whatever that may be). A similar sequence involves falling snow and the uncertain fuzziness of wintertime.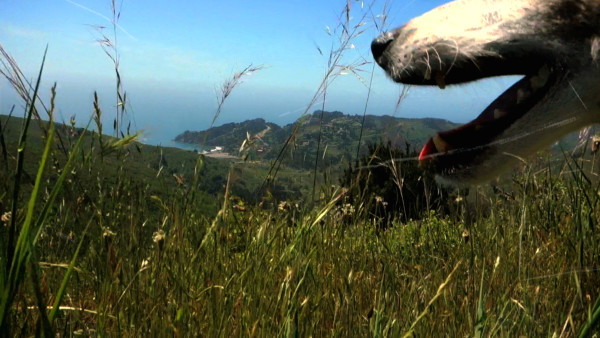 The thoughts that Anderson shares about her dog start off much like the thoughts of many dog companions (I'm not sure if owner is the right word after watching Heart of a Dog). There's that tried-and-true loyalty, that sense of friendliness, that adventurous spirit, that abbreviated lifetime. However, rather quickly, Anderson focuses on other issues involving her dog, including how Lolabelle views the world, how dogs are sold at malls, how her dog played the piano (could have done without this performance part; it felt somehow out of place).
As Anderson travels further down the rabbit hole, she begins to pivot away from Lolabelle and offers some important reflections on life, love and death. Her retelling of Buddhist principles is revealing and helpful. Her thoughts on her mother and several key memories from her childhood, including the time when she broke her back after diving into a pool, continue the discussion on these important themes.
At times, Heart of a Dog can feel scattered. The musings about 9/11 and the subsequent increase in security help frame the work to a particular time period, but more connections to her overall thesis could have been explored. The same could be said about her surroundings in the West Village. It was great to see a camera hooked up (presumably) to Lolabelle as the dog navigated the sidewalks of this famous New York City neighborhood, but the sequence felt disconnected from the overall narrative.
The final 20 minutes, focused mostly on the death of loved ones, is solemn and quietly moving. The film is even dedicated her husband, Lou Reed, who died in 2013.
Anderson knows when to stop the narration and allow the images to take over. Similarly, she offers lines of poetry on the screen — some of them going by too quick to read — and the overall effect is illuminating. After watching Heart of a Dog, Anderson remains a mystery, but the audience has taken a few steps closer to understanding her thoughts on this "ghost story."
The matter-of-factness of Heart of a Dog is one of its strongest qualities. There are no talking heads. There are no educational primers. Statements are read as fact, and tough concepts are explored in simple, alluring language. I loved the part when she talks about the three ghosts she has seen and the explanation of the bardo, the Buddhist concept of the afterlife.
Billed as a pioneering multimedia artist, Anderson is a thought-provoker, and Heart of a Dog is every bit as pioneering as the rest of her career. It's one of the year's best.
By John Soltes / Publisher / John@HollywoodSoapbox.com
Heart of a Dog
Written and directed by Laurie Anderson
Not Rated
Rating: