INTERVIEW: Storyteller Jonathan Kruk brings 'Sleepy Hollow' to life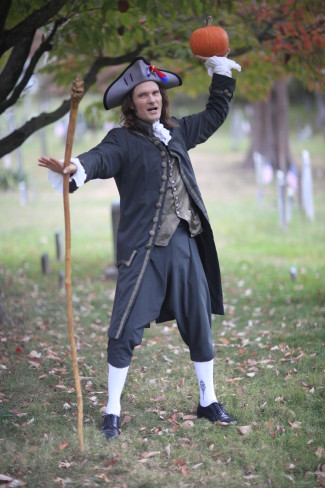 As a professional storyteller, Jonathan Kruk loves to spin a good yarn. One of the best — and most popular in the month of October — is Washington Irving's The Legend of Sleepy Hollow, which depicts the familiar story of Ichabod Crane, Katrina Van Tassel and, of course, the Headless Horseman.
Kruk takes the short story and streamlines its beautiful words into a 45-minute dramatic retelling. Audiences have been flocking to his performances at the Old Dutch Church in Sleepy Hollow, N.Y. All remaining performances for 2015 are sold out; however, select tickets are available for the show's off-Broadway run at the United Solo theater festival in New York City in November.
"As a professional storyteller, I had become interested in [the] tale and found that it had some really wonderful, eloquent moments of horror, humor and romance," Kruk said recently during a phone interview. "And I thought this would be an ideal tale to tell if I could work in some dialogue. You know, give Ichabod Crane a little voice to show the nerd-liness of him. … After some work, and thought and practice, I put it together as a one-man dramatic retelling."
Kruk's version of Irving's story features most of the highlights. The storyteller has deconstructed the original tale word by word. For example, to read the short story from beginning to end takes Kruk 85 minutes or so. Other readers, using a lugubrious voice, take two hours. To streamline the show, he deletes some of the lengthy, "though beautiful," passages of description about food, birds and the fields.
The audiences have responded in kind. Every year Kruk sells out Irving's Legend before the performances even begin. Historic Hudson Valley, which sells tickets for the run, has helped the Lower Hudson Valley become a go-to spot around Halloween-time. Its successful Great Jack O'Lantern Blaze and Horseman's Hollow attractions are packed with visitors, and Kruk's work, which is performed in the shadows of the monuments at the Sleepy Hollow Cemetery, is equally popular. Historic Hudson Valley produces, promotes and handles logistics and operations for Irving's Legend.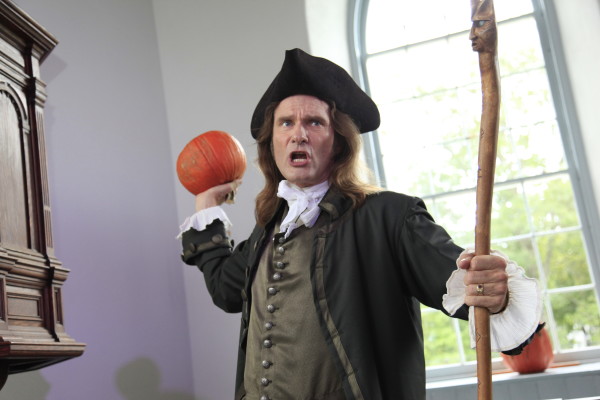 "Well, originally they [Historic Hudson Valley] had a Legend weekend, and they had characters dressed up like Frankenstein's monsters and werewolves. And then they asked me probably about 20 years ago if I could bring some authenticity to it," the storyteller said. "So I suggested they have actors dress as some of the characters in The Legend of Sleepy Hollow like the wailing woman in white or the ghost of the British spy, Major André. … And then I did a short version of The Legend of Sleepy Hollow, like 10 or 15 minutes, not as powerful. Then they revamped everything, and six years ago because of the success of my storytelling from the surveys that were given, Historic Hudson Valley, they moved me into the Old Dutch Church working out an agreement with that still active house of worship."
The original run in the church ran for 12 shows. This year, Irving's Legend runs for more than 40 shows until Nov. 1.
"It's really, really heartening, and I think in part it's because the story … rings with people," he said. "They want something authentic around Halloween, and storytelling, the type I do, it's a mix again of theater and tale-telling, very traditional, just brings altogether what people are yearning for for Halloween — something spooky, something historic, something traditional, something fun."
The audiences are made up of a vast array of age groups, everyone from young children who are reading the story in a class to their grandparents. Kruk gives them "something that's spooky but a bit romantic."
Stories have been with Kruk ever since he was a young child and would read his little brother bedtime tales. "He was real rambunctious, and it would settle him down, even though I sometimes spooked him with some odd monster tales," Kruk said. "But I got interested as an English major in college, Holy Cross, in mythology, and I found connections between mythology, and folklore and fairy tales. And it all came together one afternoon when in a used bookstore I saw a stunning illustration by Kay Nielsen of a Scandinavian tale, East of the Sun, West of the Moon, with a bear, and on top of the bear rode this very wan princess. And I'd never heard of this East of the Sun, West of the Moon story, so now I'm a little later at a beer party. I crack open a bottle of Narragansett, and the cap has East of the Sun, West of the Moon. So I looked it up, found the tale really compelling and thought, man, kids should be hearing about this. So when I got asked to volunteer to do something at a local elementary school up in Worcester, Mass., I didn't tell East of the Sun, West of the Moon, but I began to tell some stories and found kids were really craving traditional storytelling and so, too, I later found were adults. And that kind of got my whole career launched."
Today, Kruk is a storytelling leader in the Hudson Valley. He has worked approximately 1,000 birthday parties in his time, plus many school shows and tales at historic sites for the New York Historical Society. In December, audiences can catch his Christmas Carol adaptation in Sleepy Hollow. He's currently working on Treasure Island and Peter Pan. He also hopes the United Solo performances at Theatre Row on 42nd Street will bring his work to a broader audience.
"Well, I'm really doing this on weekends, and my goal is to have some regional theaters or off-Broadway theaters pick it up for maybe the week before Halloween," Kruk said. "Or maybe the regional theaters might have me come during the day and perform for older school groups, middle schoolers who are reading that story. So my goal is to do that. I'm really passionate about this story and performing, so I don't mind doing the show. I do it 50 times or so a month, during the month of October."
By John Soltes / Publisher / John@HollywoodSoapbox.com
Click here for more information on Irving's Legend and Jonathan Kruk. Tickets are $20-$25 in Sleepy Hollow, N.Y. Members (like this reporter) receive discounts. Click here for more information on the United Solo festival.
Revised