'Foxcatcher' features thoughtful performances, deep character studies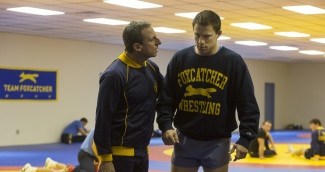 Foxcatcher is a subdued look at a heinous crime. The film, directed by Bennett Miller,  tells the true story of wealthy philanthropist John du Pont (Steve Carell) and his aspirations to sponsor an Olympic-winning wrestling team. His main focus is Mark Schultz (Channing Tatum), an up-and-coming wrestler who struggles to break from the shadow of his older brother, David (Mark Ruffalo).
Being that Foxcatcher surrounds competitive wrestling, many audience members might expect a pathway-to-glory narrative that ends in a fierce match between international contenders. However, the movie, and the true story it's based on, is far more unsettling and sad. Du Pont and David don't share the same opinion on Mark's future, and this leaves the wealthy philanthropist in a jealous rage, although he masks the anger for much of the film. The consequences eventually turn deadly.
The movie, running a rather long 135 minutes, is a slow-burn type of film. The audience views David making a life for himself in the Schultz's hometown, while Mark struggles to find meaning in life. The invitation from du Pont comes like a dream come true, and Mark finds himself leaving everything and everyone he knows to pursue Olympic gold. He moves to the du Pont estate and helps build the wrestling empire, known as Team Foxcatcher.
However, throughout all of Mark's work, du Pont is standing nearby, watching and mulling over every fine detail. He fashions himself a wrestling coach, although he's only a sponsor of the team, providing money and gymnasium space. But deep down he's living vicariously through Mark's accomplishments. In some ways, Miller sets up du Pont as a man who never escaped childhood, someone who still lives with his mother and dreams of athletic glory. His relationship with Mark is akin to buying a friendship from another person.
The performances are unanimously layered and excellent. Carell embodies du Pont with an understated, off-putting manner. He might seem like a nice, kind-hearted person, but cross him, and a darker side emerges. Carell, wearing a prosthetic nose for the part, normally offers comedic roles, but Foxcatcher proves his acting chops extend far beyond the belly laughs. This is one of his finest performances, right up there with Little Miss Sunshine.
Tatum is quite good as Mark. In many ways, this is the hardest role in the movie to play. He needs to be someone susceptible to the charms of du Pont, someone who loves his brother but needs to break from him and someone who needs to be athletically near-perfect. Tatum meets the demands of the difficult, difficult role.
Ruffalo is the best of the trio. His David character is both supportive and big-hearted to his brother. However, he's rightfully skeptical of du Pont's intentions, believing there must be an ulterior motive to the millionaire's generosity. David starts off as an insider, but after du Pont puts a wedge between the brothers, he finds himself on the outside looking in. And he's scared of what might happen.
Vanessa Redgrave and Sienna Miller provide effective supporting work.
Foxcatcher is a difficult movie because of its deep characterization process. There are no showy scenes, no crescendoes, not much catharsis. It's more than two hours of watching these three characters interact and bubble under the surface. Miller, and the writing team of E. Max Frye and Dan Futterman, have created a masterful film that sticks to its subdued exploration of three souls destined to clash.
By John Soltes / Publisher / John@HollywoodSoapbox.com
Foxcatcher
Directed by Bennett Miller
Written by E. Max Frye and Dan Futterman
Starring Steve Carell, Mark Ruffalo, Channing Tatum, Sienna Miller and Vanessa Redgrave
Running time: 135 minutes
Rated R for some drug use and a scene of violence
Rating: