'Helix' season two is completely different from season one … and better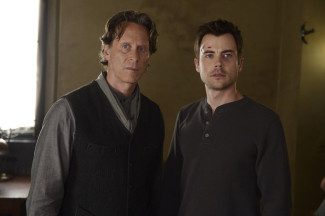 Syfy's Helix has done an about-face in season two. The first episodes of the show focused on a group of researchers from the Centers for Disease Control and Prevention, headed by Billy Campbell's Dr. Alan Farragut. They set out to a remote outpost in the Arctic to investigate an outbreak at a mysterious company dabbling in genetic research.
The inaugural season was interesting enough to keep watching, although the zombie-ish response to the virus couldn't hold one's attention. The acting was mostly quality, especially from Campbell and Kyra Zagorsky, who plays Dr. Julia Walker, Alan's ex-wife. There was also some great work from Neil Napier's Dr. Peter Farragut, Alan's brother and Julia's lover, and Jordan Hayes' Dr. Sarah Jordan, a CDC investigator who begins a relationship with Alan.
There were many revelations about family ties and what exactly the Ilaria company was researching in the Arctic. Some of the themes of the show examined the line between faith and science, and humanity's ability to change the world.
Watching the show, there was always something missing. It was difficult to figure out, but the storytelling seemed too limited for a full-on episodic series. The Arctic was too constricting a setting, and the plot struggled to jump beyond its pilot.
In season two, which recently premiered on Syfy, Helix has gone in a completely different direction. There's little talk of Ilaria and almost no talk of the Arctic problems. Instead, Peter and Sarah are working together to figure out an outbreak on a remote island (substituting cold temps for warm temps). They find a cult with a messianic leader, played by TV veteran Steven Weber. Also among the cult members is Alan, but his strange presence has not been explained yet.
Julia is around, but her story is now on a different timeline. She's exploring the island several years after the cult's actions.
The transition between seasons is somewhat jarring. It's difficult to see how Helix will wrap everything up. However, the journey is so much fun. There's no denying that with this streamlined plot, one that breaks from the struggles of the first season, these characters are beyond interesting and engaging. Every episode of season two has been been better than season one, meaning Syfy has that rare show: one that gets better with age.
Much of the improvement comes from Napier's expanded role (in the first season, he was hidden behind a zombie-like reaction to the virus). There's also the new character of Dr. Kyle Sommer (Matt Long), who provides some comedic relief and serious acting chops.
Helix is exciting television that gets better with each episode. The island has kept me interested from the team's first arrival. I'm so enthralled I have almost no memory of the Arctic, and that might be a good thing.
By John Soltes / Publisher / John@HollywoodSoapbox.com
Helix airs 10 p.m. Fridays on Syfy. Click here for more information.