Seeing Ellis Marsalis at Snug Harbor in New Orleans is a must-do for jazz fans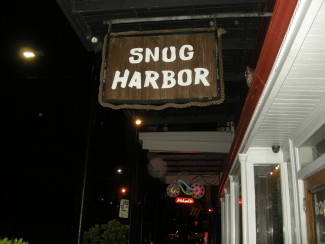 NEW ORLEANS — Ellis Marsalis, one of the most famous jazz pianists in the world, has a last name that speaks volumes. Many Marsalis family members, including his sons, are legendary musicians who have offered the world both unique takes on the jazz canon and original compositions. Marsalis, an octogenarian, still performs regularly at the Snug Harbor Jazz Bistro on world-famous Frenchmen Street in New Orleans.
A recent Friday night show easily displayed why Marsalis is a one-of-the-kind gem, a living legend. Playing with his quintet, the pianist offered a thoughtful master class on several tunes over the course of 90 minutes. His son, Jason Marsalis, was a standout as the drummer for the night, and his solos were quite memorable.
The pianist has many standards to offer a crowd, and his recording continues. His most recent studio efforts are called On the First Occasion and On the Second Occasion.
Marsalis takes to the microphone a few times during the night, but it's mostly to let the audience know what song they just heard. Because of Snug Harbor's cramped stage, Marsalis sits with his back to the crowd, and yet the position seems right as he's the antithesis of self-indulgent. Always allowing his quintet to take their time with solos (a nod to his years as a jazz educator), and having his rhythmic piano playing provide a through-line for the evening, Marsalis has an obvious comfort level with this style of music. And yet, he also challenges himself at times, discovering new attributes of old songs.
The ambiance is important. Jazz clubs set the stage for the performance, and the performers — at least the skilled ones — are able to bring a balance between the patrons who came and the musicians who play. Snug Harbor, featuring a small orchestra and balcony with partial-view seating, feels like a club pulled from the days of the early 20th century, when jazz was still in its formative years.
For this particular performance, I was in the back of the balcony, leaning forward to see the quintet and their fingers moving, brass instruments blaring and drums banging. However, after a few songs into the set, I decided to sit back and let the music wash up to the rafters and ooze itself into my ears. Marsalis is not a showy performer, to the point where it's more pleasant to simply close one's eyes and take in the music.
There are many supposedly "must-sees" in New Orleans. From a visit to Preservation Hall to a stroll through Jackson Square to a ride on the St. Charles streetcar, the Crescent City is a tourist's haven. However, on any short list should be a visit to Frenchmen Street's Snug Harbor to take in some precious minutes with jazz royalty.
Hats off to you, Mr. Ellis Marsalis.
By John Soltes / Publisher / John@HollywoodSoapbox.com