'Ascension' should be made into full TV series, so says this 'Galactica' fan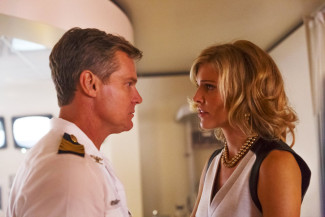 In December, Syfy afforded fans of Battlestar Galactica a welcome taste of science-fiction opera with the three-night miniseries Ascension. Starring BSG's Tricia Helfer, Brandon P. Bell and Brian Van Holt, the TV event was a bonafide success, and much of that success should be credited to showrunner Philip Levens of Smallville fame. This is finally a science-fiction show with an engaging plot line, interesting characters and appreciable special effects.
Galactica fans should hope for a full series order because when Ascension was at its best there were definite parallels to the brilliance of BSG. This may be the closest the BSG community comes to another shot at sci-fi programming worthy of repeat visits.
Besides Helfer's presence, Ascension has a semi-similar plot to Galactica. The miniseries follows a 1960s experiment where several hundred people board a spaceship to populate a new world. Their mission will last 100 years, and aboard Ascension there's seemingly everything they need in life. For example, overhead lights let sunbathers pretend they're on a sandy beach, even though most of the ship's occupants have no idea about the actual oceans on Earth.
There's a captain (Van Holt) and his wife (Helfer) who serve as Ascension's first couple. They are militaristic because this is a space mission, but there's an overt political side to their job. They need to keep the governing body happy, court votes from the populace and give an impression of calm and serenity, even when everything seems to be going wrong. To help with their political ambitions, Helfer's Viondra Denninger character runs an escort service where the young women of Ascension are recruited into a program that actively services the needs of the political bigwigs. The captain sometimes takes advantage of his wife's side business, much to her chagrin.
Bell plays First Officer Oren Gault, the XO on the ship. He's the hero of the series, the one man who seems to have a moral compass and the skills to help Ascension succeed.
There are other characters, include Ally McBeal's Gil Bellows, but any more details will ruin the fun of Ascension.
For some fans, the parallels to BSG may be too obvious. This is, after all, another space opera about a community of people trying to be a rescue boat for humanity. On a small scale, they need to build a sustainable government, delineate a chain of command and diffuse potentially hazardous dangers. Behind the protocol is a network of private relationships, with young people falling in and out love, and married couples finding it difficult to stick to their vows.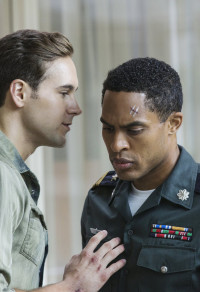 The several hours of entertainment that Ascension provided in December should not be the last we hear from this experiment. Syfy could learn from BSG's success. That show began as a miniseries event and then branched off, and it seems that Ascension could do the same; there's enough mileage in this story for more stories. The show can easily stand aside Syfy's other programs, including Defiance, Dominion, Bitten and Z Nation.
Ascension needs to succeed because it's true science fiction. This is quality television that hasn't been seen in a long time. Its only sister on the landscape is Ronald D. Moore's take on Battlestar Galactica, and it's about time that show received a worthy successor. We are partial to Defiance at Hollywood Soapbox, but the network could use another linchpin in its weekly programming.
Ascension ascends, and it should keep on going.
By John Soltes / Publisher / John@HollywoodSoapbox.com
Click here for more information on Ascension.