'Web Junkie' documentary explores addiction to Internet gaming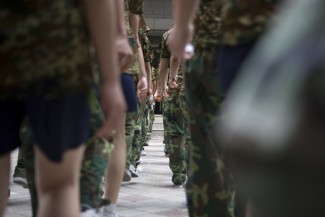 Web Junkie, the new documentary from filmmakers Shosh Shlam and Hilla Medalia, looks into the unbelievably distressing topic of Internet addiction in China. The film, which recently played New York City's Film Forum, goes beyond the documenting of addiction and focuses on a militaristic rehabilitation center and the path of three teenagers through the center's drab hallways. The conditions these gamers live under is often quite harsh and reminiscent of a military boot camp. They need to be on time, in unison and looking smart. The warming glow of an electronic device is nowhere in sight.
The issue of Internet addiction is vastly underreported and probably taken too lightly by most people. After all, this movie review is being written on a laptop and will be read only by people accessing the Internet. My iPhone is only a few feet away. That doesn't mean technology users are automatic addicts, but it does mean that the world has become dependent on these devices and games (any World of Warcraft fans out there?), so much so that saying no — the cold-turkey approach — is not a feasible option. These teenagers will leave these boot camps and probably use the Internet. The question is whether they can moderate their use.
Watching the teenagers in Web Junkie is quite sad. They are pulled from their families and obviously facing issues of loneliness and despair. One subject in the film makes a comment that the real world doesn't work for him; instead, he enjoys the reality that video games provide. Other teenagers display resentment toward their parents, especially fathers.
The documentary is at its finest when the teenagers are not simply working their way through the boot camp rituals. When showing the teens sitting around, commiserating with one another and realizing there is shared anguish in the room, Web Junkie elevates to a profound level. Because of the unbelievable access of these filmmakers, viewers learn that underneath the glow of computers and the religious playing of video games are teenagers struggling.
Another shocking takeaway has less to do with the teenagers and their addiction and more to do with the bootcamp and its unorthodox methods. It's heart-wrenching to see these young men endure these unusual military practices. Except for a few group therapy sessions, the conditions look rough and uncomfortable. Helpful? I'm not sure.
At a quick 90 minutes, there's little room to place these stories into a larger context on China's Internet addiction, or even Internet addiction around the world. So many questions still remain: Did these boys return to their habits? Is the featured boot camp the rule or the exception? What does the future hold for these facilities? Are the parents regretful after sending their children to the boot camps?
An intriguing subject matter often needs more than the confines of a documentary, but Web Junkie has started an important conversation.
By John Soltes / Publisher / John@HollywoodSoapbox.com
Web Junkie

Directed by Shosh Shlam and Hilla Medalia

Running time: 90 minutes

Rating: