INTERVIEW: Sue Aikens from 'Life Below Zero' lives the remote life and loves it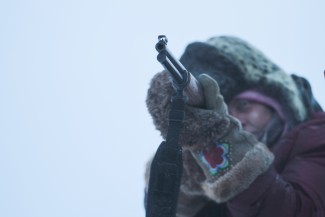 Sue Aikens, star of National Geographic's Life Below Zero, lives a unique life at Kavik River Camp, roughly 500 miles from the nearest city and 80 miles from the nearest road. Hunting animals, dealing with the harsh terrain and seeing the majestic beauty of the nearby Arctic National Wildlife Refuge, Aikens works long days to survive and thrive against the elements.
She welcomes select visitors to set up camp at Kavik, but for most of the year she values her privacy and solitude. Over the years, she has gained a new respect for the animals she calls neighbors and the environment she calls home.
Aikens is cut off from the world, but still very much part of the daily events on planet Earth. She's the one on the front lines of nature.
Recently, Hollywood Soapbox exchanged emails with Aikens. Life Below Zero continues with new episodes 9 p.m. Thursdays on National Geographic. Answers have been slightly edited for style.
Has the success of the reality TV show brought any changes to your life?
It has certainly increased the amount of messages and calls I receive! I am unused to so much attention out here, but I enjoy answering as many questions and messages as I can get to. I value people's lives and input. I just don't want to live next door to them on a daily basis.
The terrain that you live in seems harsh and not for everyone. How has it been working with camera crews? Do you feel responsible for their safety?
Nat Geo feels very strongly about the crew's safety and always brings a safety person to watch their backs. As with anyone that comes here though, I do envelop them into my sphere and watch for their safety, as well as make any suggestions I feel necessary to their activities.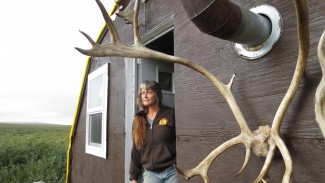 What do you miss most about your former life before living 'below zero'?
I still have the same life, so I am not missing anything. I don't change who and what I am for many people. The crews come and go for a glimpse of what I do … but that is just it, they glimpse what I DO. If I feel the need to hide I will simply wander off one day, that is my nature.
Of your many responsibilities on a day-to-day basis, what brings you the most enjoyment?
I suppose it would be the closeness I have experienced with some of the animals here. Even the bears … simply by being here and not trying to dominate the landscape, but work within it, I am privy to  experiencing the animals as they live.
Could you comment on the wildlife you encounter. When you see these foxes, wolves and moose, among other mammals, do you love them, respect them, appreciate them? What's going through your mind?
I have the highest regard and respect for all the creatures here. I get a rare glimpse into what they do and how they live in their natural habitat. I do not feel that "because it is brown it has to go down" attitude. I am more of an explorer and seeker than I am a huntress. I do hunt to eat, but beyond that I explore and seek interesting things.
Is this a lifelong commitment, or do you envision one day coming back to a more populated region?
I would not say this is a lifelong commitment. As an inquisitive eternal 5 year old … I can guarantee you that something shiny will one day catch my eye and off I will wander to check it out. Where that shiny thing is and what it will be is as yet an unknown, but a true explorer keeps themselves open to any challenge. I love my life at Kavik and do not foresee any changes, but my ability to live here is tied to having a successful business. I will try my hardest to make it work, but smile at the next challenge should it not.
By John Soltes / Publisher / John@HollywoodSoapbox.com
Life Below Zero airs 9 p.m. Thursdays on National Geographic.