'Pussy Riot: A Punk Prayer' examines the protest heard round the world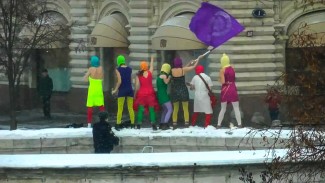 Pussy Riot: A Punk Prayer, a documentary now available on HBO, follows the protests of a group of women in modern-day Russia. Pussy Riot is less a band and more of a movement. They confront issues of human rights and censorship with aggressive displays of music and shouting. Wearing ski masks and refusing to back away from their beliefs, Nadezhda Tolokonnikova, Mariya Alyokhina and Yekaterina Samutsevich plan and execute these protests to gain attention and demand answers.
Their most high profile display was a protest at a revered cathedral in Moscow. Hiding their identities and clutching musical instruments, they ascended the holy steps of the cathedral and unleashed a punk prayer for the bemused audience. In short order, the three women were arrested and charged with the disruption. News of the trial went global, and Pussy Riot's protests gained a captivated audience outside of Russia.
The documentary, directed by Mike Lerner and Maxim Pozdorovkin, has unparalleled access to the band members throughout their ordeal. We learn of their past by hearing from their parents and the loved ones they left behind. We examine their guerrilla art and punk music, deciphering the passion and revolt behind the lyrics and decisions. Most engaging are the trial scenes where we see the three band members face the judge, the interested audience and a justice system they railed against for years. As Tolokonnikova, Alyokhina and Samutsevich face several years behind bars, Pussy Riot continues without their direct involvement. The punk band — which really should be classified as a punk movement — has a snowball effect, instigating others to speak out and offer their roaring music to the world.
Even though the feminist art collective puts up a strong front, refusing to allow concessions, they are human. Beneath the rough exteriors are stories of protesters suddenly catapulted to the front pages of newspapers and TV broadcasts. They have fame and infamy, even with the shadows of prison looming large.
For those still following Pussy Riot's story in the press, the last two members of the cathedral protest have been released. Now they are heading around the world to offer their message to others (fans can see them in Brooklyn at an Amnesty International benefit).
Their punk prayer, which likely upset some people and empowered others, is now enshrined in the ongoing debate about modern-day Russia. This debate is heightened with the pending Olympics in Sochi.
Pussy Riot: A Punk Prayer is far from perfect, and that's mostly because the filmmakers are unable to dig deep enough. There are some unanswered questions at the end, and more information on Russia's legal system and political landscape would have been appreciated. There's so much focus on this group that it can be difficult to fully understand the issues they have staked their lives against. Still, there's no denying that these women are engaging, and their story, which has captured the attention of so many in the world, is a fascinating one.
By John Soltes / Publisher / John@HollywoodSoapbox.com
Pussy Riot: A Punk Prayer

Directed by Mike Lerner and Maxim Pozdorovkin

Running time: 90 minutes

Rating: