LAST CHANCE: 'Nothing to Hide' wows audiences on both coasts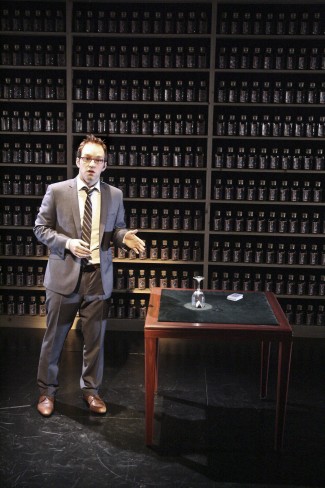 Earlier in 2013, Hollywood Soapbox reviewed Nothing to Hide at the Geffen Playhouse in Los Angeles. The successful magic show, which had its origins at the Magic Castle in Hollywood, is now playing to packed audiences in New York City at the Romulus Linney Courtyard Theatre at the Pershing Square Signature Center. Below is our review of the Los Angeles production.
The New York City production runs through Jan. 18. Click here for more information.
When Derek DelGaudio and Helder Guimarães looked me straight in the eye, I couldn't help but get nervous. They offered me the chance to choose a card, any card — a proposition that's fairly typical for magic acts. With a theater full of people looking at my careful choice, I hesitated for a split second, mostly out of fear that this was going to lead to some annoying audience-participation bit.
But this was different. The two magicians, who are finishing up an extended, sold-out run of their hit show Nothing to Hide, didn't want a typical "magic" moment. You know, the ones where the performer asks the crowd to "give it up" for the nervous audience member. We know that routine all so well: "What's your name?" "Where are you from?" Then, a couple more jokes later, presto!
No, DelGaudio and Guimarães were after something deeper. My careful selection of that playing card was an affirmation of my decision to enter this mysterious fray. They offered me the chance to choose any card, and they even allowed me to change my mind. It doesn't take a conjurer to predict that the two performers were able to summon my chosen card with ease. The final reveal elicited well-earned "oohs," "aahs" and the obligatory round of applause.
Most magic shows would move on to the next act, but DelGaudio and Guimarães did the entire scene over again. I chose another card, once again had the option of changing my mind, and then another final revelation: The card from the earlier "trick," seemingly untouched under an empty glass, had somehow morphed into the card from the second "trick." The performers had blown my already-blown mind, and Nothing to Hide was only a few moments into its 65-minute duration.
The show, which began at The Magic Castle in Hollywood, is one of the only examples of a new method of magic appreciation and application. Call it existential magic — a theatrical art form that welcomes self-reflection. Perhaps it's best described as an event somewhere in that hazy area between Penn & Teller and Ricky Jay.
The show winds its way through a framework of sleight-of-hand tricks that give complete control to the audience (or so we're meant to believe). DelGaudio and Guimarães want to make sure that their revelations are rightfully shocking. They up the ante (or "raise the bar," as Guimarães says) to make sure we are satisfied with our choices. They work in collective decision-making, randomness and the ability to modify.
They'll go to one audience member and ask a question. But then they'll debate whether that's "good enough." Perhaps the person is a plant. Perhaps this solitary example will fail to impress. So they look around the theater and start asking questions to everyone. At one point, a trick involves more than a dozen people — all simultaneously wowed by the results.
As Nothing to Hide progresses, one has the feeling of resurrection, a phoenix rising from the ashes of an industry in need of some adrenaline. The two performers know of the jaded perception that magic holds in the world (they reference it in the show). For DelGaudio and Guimarães to divert from the well-worn path is welcoming, but for them to consciously bring us through the thought process on why they've veered so far off course is revelatory.
The show earns laughs and smiles, and that's chiefly because of the banter between the two performers. At times they compete with each other (the opening chess match is superbly crafted), and other times they play off each other's cultural differences (Guimarães is a native of Portugal). They seem brought together less out of comfort and compatibility, and more out of shared interests. Each performer retains his uniqueness: DelGaudio perhaps a little more reserved; Guimarães perhaps a little more open.
Directed by Neil Patrick Harris, Nothing to Hide will conclude its run at the Geffen Playhouse's intimate Audrey Skirball Kenis Theater on March 31 (the theater is not quite intimate enough; they'll need an extremely small venue in New York City to strike lightning twice). The staging is simple and effective. A square table, a backdrop of cards stuck in glass bottles, a few props on the side, a rope hanging down seemingly ready to toll a distant bell — that's it. It's up to the performers to fill in the blanks, to populate the stage. The fact that they achieve their lofty goals is something to cherish. The fact that they do so without compromising their dedication to their individuality is astonishing.
With thoughts of how they chose my card two times in a row, I continued to let Nothing to Hide weave its way into my brain long after the final blackout. I'm unable to shake that experience. It can't be classified as magical; it's far too realistic, scarily realistic.
Click here for our interview with Helder Guimarães. Click here for our interview with Derek DelGaudio.
By John Soltes / Publisher / John@HollywoodSoapbox.com
Nothing to Hide

Created by Derek DelGaudio and Helder Guimarães

Starring Derek DelGaudio and Helder Guimarães

Directed by Neil Patrick Harris

Running time: 65 minutes

Rating: