INTERVIEW: Blake Hammond on his 'First Date' with original musical theater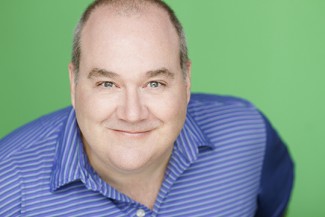 First Date, the new musical playing at the Longacre Theatre on Broadway, features a central romance ripped from the social media culture of 2013. Zachary Levi (TV's Chuck) and Krysta Rodriguez (TV's Smash) are not exactly star-crossed lovers. They meet at a trendy bar on a blind date and quickly realize they have nothing in common. To the audience's delight, they stick around for 90 minutes and try to work things out.
Helping the two potential lovebirds find commonality is their ever-present and ever-jovial waiter, played by Broadway alum Blake Hammond.
Hammond, recently speaking by phone to Hollywood Soapbox, has been a common presence on the Great White Way for several years. With prominent roles in The Lion King, Sister Act, Elf and Hairspray, among others, the actor has an established connection with musical theater in New York. But even with his long resume, First Date is the first time Hammond has acted in a musical that is … wait for it … completely original.
"This is my ninth Broadway show and the first time I've been involved in anything completely new myself," Hammond said. "Everything I've done is either a revival or based on a film, so it's really kind of refreshing to have someone bring a new idea to the table. And also from an audience standpoint, to be able to see something where you don't have any idea where it's going. No one comes to see it already knowing what it's about, so it's kind of fun."
First Date started in Seattle, and Hammond became attached to the New York project after going through the traditional audition process. This many years into his career, he still gets a tad nervous. "They're always nerve-wracking," he said of auditions. "First of all, sometimes you don't know anybody in the room, and so you're trying to make an impression. And then sometimes you know everybody in the room, and that's nerve-wracking, too, because they have expectations of you. But I think, especially with a new project, you never quite know what they're looking for. So the challenge is sort of just to go in, and be yourself, and find your own humor in the material, and hope it's what they are looking for."
Hammond must have impressed book writer Austin Winsberg, lyricists Alan Zachary and Michael Weiner, and director Bill Berry. Eight times a week he puts on the waiter costume and guides the budding love relationship.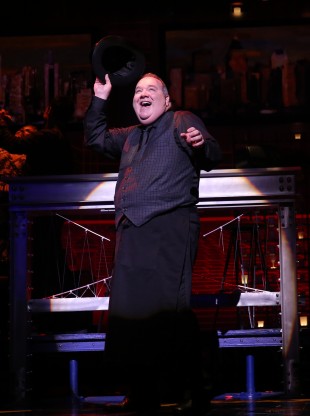 "I like playing the waiter. It's sort of interesting, I've never waited tables before, so my first experience of waiting tables is actually as an actor on stage. … He is a frustrated performer himself but has accepted the fact that he's not going to ever have a career in theater but still loves to sing and loves to work on his comedy as it were. No, he's a single guy. He's a career waiter. He's been doing this for many, many, many years, and has seen it all. But I think he enjoys his job. That's how I sort of approach him. He does enjoy working there."
In First Date, Hammond has an all-out solo number where the bar/restaurant turns into his own Broadway stage. "It's always fun to do," he said of the song. "That can be nerve-wracking, too, if I'm not having a great night vocally, or I'm feeling a little bit tired physically. You get sort of like, oh, get me through that number, you know. But there are a lot of fun things. I enjoy doing the 'Girl for You' number as well. It's kind of crazy and whirlwind, and we all get to sort of lose our minds for about six, seven minutes."
Hammond said the show has struck a chord with audience members because it's a 90-minute laughfest. The company at the Longacre Theatre has also grown together as a family, and that comfortability can be evidenced from the audience's standpoint.
"Because there's so few of us in the show, I think we really are very fortunate that all seven of us really like each other. We look forward to seeing each other, and we get together before the show every night in [the] wings, and do our little pre-show rituals together, and laugh, and come together as a group before the show starts. And we do that every single show. So that's pretty fun and pretty rare."
The message of the show, which is that love at first sight sometimes needs a second glance, is one that speaks to Hammond. The actor said there's someone for everyone in the world, but people need to be open to changing. "Sometimes opposites do attract," he said.
Hammond said he is signed for a one-year contract with First Date, and he's hoping that the musical is able to survive the historically difficult January and February months. A positive trend he's seeing among audience members is how new they are to theater.
"I'm seeing a lot of people that don't necessarily go to theater come see this show. I think that's partly due to Zack Levi's following, and Krysta has people … from 'Smash' that want to see her," he said. "It's a huge cross-section. There's a lot of tweens, kids that are 15, 16 that are just loving it. I mean they're just in love with it and seeing it two and three times. But then we have those people that are 70 and 80 who say I haven't laughed as hard in a long time. We try to get both sides."
It seems as if people are discovering the show and enjoying it for the same reason Hammond finds it an engaging piece to act in every night. "As far as a show that's today, that's now, that's a fresh kind of idea, this is my first show like that," he said. "It's set in 2013, and it's about today's trials of dating with the Internet and all that kind of stuff."
By John Soltes / Publisher / John@HollywoodSoapbox.com
Click here for more information on First Date.