'Forever Tango' finds heat during Broadway's summer season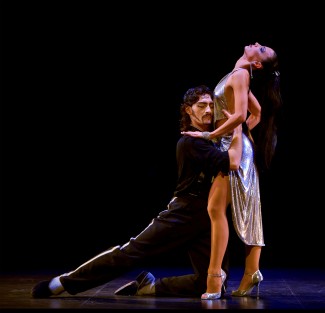 NEW YORK — Forever Tango, the brainchild of Luis Bravo, comes close to burning the proscenium of the Walter Kerr Theatre with its constantly moving hips and unbeatable rhythms. The dance showcase, which plays through the middle of September, may feel more Las Vegas than Broadway, but as a limited engagement in the summer season, Forever Tango is forever entertaining.
Luis Fonsi guest stars in the production through Sept. 1. Previous above-the-title names included Luis Enrique, Gilberto Santa Rosa, Karina Smirnoff and Maksim Chmerkovskiy. No matter the celebrity bringing to life these songs and dances, the show is a surefire hit. The company of dancers, all wonderfully precise and yet exhilaratingly liberated, is given ample time to display their talents. Wait until you see "Yo No sé Mañana" as the first act finale.
Juan Paulo Horvath and Victoria Galoto, the leading couple, are especially adept with the often-complicated choreography. They bend and sway to the beats as if their relationship teeter-tottered between hot and cold. The art of tango seems to be an art of attraction and repulsion, sometimes with the performers exhibiting both extremes within seconds of each other. The dancers all pull their partners close, sometimes extending their appendages around necks and waists, and then suddenly they pull apart, seemingly infuriated by the intimacy. The tempo is equally discordant, traveling from smooth to rigor mortis in seconds.
The entire evening, which runs two hours and 15 minutes, is outlined by the exquisite playing of the on-stage band. The accordion players, in particular, keep the energy at a brisk pace and provide some novel sounds to the proceedings. The few solos that the band takes are some of the highlights of the entire show.
Bravo, who has presented the show on Broadway before, is also on stage as the cellist. He doesn't commandeer the evening, but instead melts into the background. There's a comfort level and trust in his eyes: He knows these dancers know their moves. He knows these musicians know their notes. Everyone performs not out of routine, but with a renewed sense of discovery, as if tango were still being introduced to the masses as a quality ballroom dance.
In this Dancing with the Stars culture we live in, these type of showcases could feel trivial and somewhat lacking in cultural significance. However, Forever Tango, a product of before this reality-TV era, is much more intimate and dedicated to its art form than a Vegas production or those competition TV shows. Tango fans (and newbies) will leave the Walter Kerr Theatre with a newfound appreciation of the spectacle, understanding the combination of body and soul in this unique dance that continues to set the world on fire.
By John Soltes / Publisher / John@HollywoodSoapbox.com
Forever Tango

Created and directed by Luis Bravo

Rotating Cast

Choreographed by the dancers

Running time: 2 hours, 15 minutes

Currently playing at the Walter Kerr Theatre at 219 W. 48th St. in Manhattan. Click here for more information.

Rating: