INTERVIEW: David Abeles jumps aboard 'The Great Comet'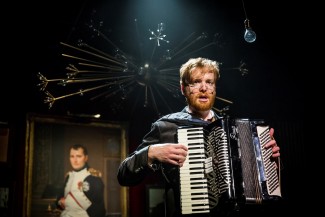 There's a Russian festival occurring nightly at the new Meatpacking District venue called Kazino. And David Abeles, the theater actor formerly of Broadway's Once, is at the center of the party.
The hit off-Broadway show Natasha, Pierre, and the Great Comet of 1812 puts audience members in a Russian supper club (pierogies and vodka both available). The romantic plot for the evening is pulled from a section of the epic novel War and Peace. But with plenty of audience interaction and immersive theater techniques, each night is an adventure unto itself.
For Abeles, who recently joined the cast as Pierre, the acting gig  instantly won him over. "I love it. I love it," the actor said recently during a phone interview. "I think the writing is so rich. … [Pierre] has a kind of emotional depth that every actor I think really is lucky to take on."
Abeles called the show "very unique," likening it to an "experience" in a beautifully opulent supper club. The Great Comet is in the same vein as other immersive theater hits like Here Lies Love and Sleep No More.
"I was initially just amazed with the stage itself and what they had done inside this sort of nondescript tent in the Meatpacking District," Abeles said. "I had never seen anything like it where you're in the center of all this action. You really are sort of whisked away by it all. There's sort of a feeling of being … in the middle of something, of a sort of whirlwind. And I think that really adds to that."
Abeles called the audience's closeness to the action "energizing" and "exciting."
"It's unlike anything I've ever done before," he added. "[T]hat is part of what makes theater a wonderful art form, is that it is different from night to night, and you do have that added factor of the audience. Although in this, that's a moving part that is so unpredictable every night, and the energy of the audience changes."
At The Great Comet, there's a good chance of sharing a drink with an actor, having a solo sung inches from one's table or enjoying some quiet scenes from a perspective not available in a traditional theatrical setting. Think cabaret meets an outdoor concert.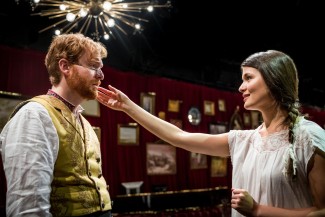 "I've been in the show almost two weeks now, which is not very long, but it's enough time to see how the audience is really this missing character of the play every night. They really affect the storytelling, and that is usually an amazing addition. … I mean the connection is I think one of the best things about the piece, between the audience and the characters. And since there is no fourth wall in our piece and we often talk to the audience directly, sure it makes a big difference how they're receiving it and what they're giving back."
The mechanics of working in a tent environment is a little different from the wardrobes of Broadway. Abeles and his fellow actors at The Great Comet often sit on outdoor furniture on a nearby deck. Dressing rooms are sectioned off by curtains. Valuables are put in lockers. The bathrooms are portable. There's a general feeling of being at "theater camp."
"It does kind of instantly build a community because we're all in the same space and in the same tent," he said. "And actually one of the nice things about this show, which I haven't really experienced on any other show I don't think, is that they feed us. So after the show, often we'll go and have some food together and hang out either out on the deck or in the space itself. And we get to sort of eat as a company, too. … I don't know if that's an intentional thing, but it does sort of build a feeling of an ensemble to all be within these little unique quarters."
For the record, Abeles calls the pierogies "really good," and he has free reign to enjoy as many as he would like. "My costume is big on me," he said with a laugh. "So yeah I like the pierogies, and vodka I've had some experience with already."
After the acting, singing and eating, Abeles can be tired, yet still jazzed, following a performance. "I actually find myself not exhausted but excited," he said. "There's a lot of high singing, and there's a lot of sort of very kind of energized shouting basically. Sort in that way, it's very demanding, but it's a good challenge, and I'm enjoying it. I'm enjoying it a lot."
Abeles first came to the show after his agent saw a performance of him performing in the band of Cristin Milioti, his co-star in Once. After the concert at Joe's Pub, the actor heard about the opportunity to play Pierre. It seemed like a good fit, especially since Abeles knows how to play the piano (he has since picked up the accordion).
"At the time, I was a year and a bit more into Once and very happy there. But, of course, as an actor … you have to stay hungry I think. It's really important to stay hungry, to always push yourself. And so I said, 'Sure.' And they got me the material."
After a quick audition, he was offered the part and soon found himself saying goodbye to his Once family and entering The Great Comet family. "I got the same sort of exciting feeling and the same kind of feeling in my stomach about it that I had when I started working on Once," he said. "I was in rehearsals for Natasha, Pierre as I was finishing my final weeks in Once. And so it's all been very quick but amazing. These are the problems you wish to have as an actor."
Abeles called his current company a group of "incredible, fearless" actors — and this can produce a daunting introduction for the new guy under the tent. "For my part, I felt like I needed to step up my game and really not mess up what they had been working so hard on," he said. "I think that's the case whenever you kind of take over a lead role in something that's already been up and running. … It's something that's very dear to them, and you want to be reverent to that and also to show that you can be a part of that family as well."
With The Great Comet set to close Sept. 1, Abeles now has a new challenge. He has mastered the role of Pierre and will continue to feed off the audience's energy, but there's something perhaps more arduous on the horizon.
"I hadn't read the book before," he said of War and Peace. "I went to the bookstore and thought, OK, I'm going to buy War and Peace. … I knew that it was long. … I couldn't even fit them in my shoulder bag, so I thought, OK, well, I've got a Kindle. And so I thought this was a good time to use it. So I bought it on the Kindle, and I got a wonderful translation. And I started reading it, but I cheated a little bit because I wanted it to be as informing for our work as it could be, so I started with the second volume. So I'm about midway through that now. But already there's so much that is helpful toward the show that we do every night."
By John Soltes / Publisher / John@HollywoodSoapbox.com
Click here for more information.