INTERVIEW: Searching for Mothman, Grassman, Devil Dog on 'Mountain Monsters'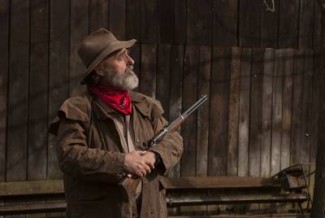 His name is John Tice, but people call him Trapper. He's a backwoods West Virginian who prefers hill people or mountain people over that other term people sometimes use. With his closest friends, Tice travels around the Appalachian region looking for evidence of mysterious, mythical creatures that have lived in the public's consciousness for generations. His group, called the Appalachian Investigators of Mysterious Sightings (AIMS), is the subject of Mountain Monsters, the new reality series on Destination America.
"I think the show was very exciting," Tice said recently during a phone interview. "You know, some family and friends were over, and we all really, really enjoyed it."
Tice's interest in these mysterious beasts, which include the Mothman, Grassman and Wampus Beast, has been with him for a number of years. He remembered when more than a decade ago his nephew documented evidence of some men in Ohio who had taken a casting of an enormous footprint. Tice's son also wrote an article for Goldenseal magazine, a West Virginia publication, that explored the legend of Ike's Tomb.
"Everybody's been visiting Ike's tomb and this part of the country for years, so we did a lot of research on Ike's tomb," he said. "And that got published in Goldenseal magazine, and so then people would just call me, you know, people that knew me would call me. And if you know hill people, word spreads pretty fast."
Tice said that many people are still apprehensive about their sightings and don't come forward to the AIMS group. "They see something and they don't really know what it is," he said. "Well, they just don't want to say anything about it, so I believe my goal personally is to give them a little peace of mind that this does exist or don't exist. We're not out there to kill anything. And we arm ourselves because we are out there, and you don't know what's going to happen. The last thing we want to do is to harm one of these creatures."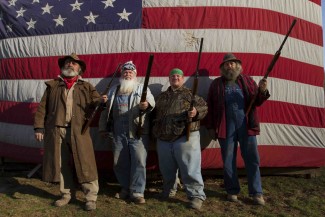 Many times Tice's team confirms that the beast is nothing more than a black angus cow on a ridge somewhere. It's not always an exciting creature at the end of the investigation. But isn't believing more fun? Aren't there lessons to be learned?
"That's what's wrong with America now. When I was a child, everyone sat on the front porch and talked all night. Usually that would lead to ghost stories or beast stories, and those stories got passed on from generation to generation. And even in the hill people anymore, it seems like they're always watching television or going to do this or going to do that. And that's kind of a thing of the past. … There was always all kinds of scary stories being told when I was a pup."
On the inaugural season of Mountain Monsters, the team explores such legends as the Mothman, Wolfman and Devil Dog. The Mothman, in particular, is one mystery that Tice said is absolutely true. "Oh, yeah, I definitely believe in the Mothman," he said. "No ands or buts about it."
At a recent get-together of local folk singers, a man went up to Tice and told him about three pipe-fitters who said they saw the creature land on top of a tower. The sighting was located near Point Pleasant, W.V., where the legend of the Mothman has its strongest connections.
Another mystery is that enormous casting from a sasquatch-like beast in Ohio. Tice said the footprint was 16-17 inches long and 6-7 inches wide. "That's the way I remember it," he added.
According to the AIMS leader, the presence of these beasts in the Appalachian region is tied to the changing habitats in the local area. Today's West Virginia is quite different than the West Virginia of his childhood.
"I was raised on a little creek in West Virginia called Sugar Creek," he said. "When I was a young man in my childhood the length of that creek in Pleasants County was probably less than 7 or 8 miles long. And there was probably … 300 head of cattle on Sugar Creek back then. Today's there's like 15 head."
The reduction in cattle, Tice said, is because "we're giving these creatures a lot more territory."
He offered a deer hunting example: "In the 1960s, when there was no deer, you couldn't find a place to park along the road on Sugar Creek in deer season, there were so many deer hunters. Today, you might see a couple vehicles. … So there's no one out there anymore. We're creating an existence for them better than they've ever seen before. And I have a few theories. You know, I think they migrate south, these creatures do. They work their way south if we have a bad winter. A few things over the last 40-50 years that we didn't have when I was young: we didn't have coyotes; we didn't have bobcats; we didn't have turkeys; we didn't have otters; we didn't have beaver; we didn't have mountain lion; we didn't have painted turtle; we didn't have bear here. So predators are moving in. Things that have disappeared here in those 50 years, the bobwhite quail, the predators have wiped them out. … The grouse are already gone. The groundhogs or woodchucks are virtually gone. So out there is changing and maybe in another 50 years it'll change different."
In Tice's estimation, a creature can run up to 100,000 acres without being seen. This makes AIMS' mission quite difficult, but this West Virginia woodsman relies on a few assumptions. First, look for a food source. Second, they need to eventually copulate. Third, consider cameras and cell phones. Even though Tice doesn't carry a cell phone, his investigations usually begin with amateur videos from the woods.
"To hunt these creatures, you have to be an experienced woodsman," he said. "You have to be an experienced outdoorsman — many, many hours and days in the woods."
He added: "Even in Vietnam, when I was a young man, if leaves were turned wrong or something wasn't just right, I would see it before something happened."
Tice surrounds himself with friends, all of whom have become characters on Destination America's Mountain Monsters. There's Willie, Huckleberry, Jeff and Buck, the new member in the group. "That's been one of the joys of the team is Buck," Tice said. "He's a hoot, he is. What a good guy. Now he's kind of a skeptic. … Every time we go on, Buck always questions me. You know, young people, I get a real kick out of them anyway. I've been out there for 50 years. Buck's been out there for a year, and he knows more than I do."
When Tice travels around the region, he feels comfortable talking to local residents. "You know hill people or mountain people — I don't like to call us hillbillies — it's pretty easy for me to talk to them," he said. "You know, you could have a suit walk up on their porch, and you might get a shotgun stuck in your face. But heck I could just walk up and talk to anyone on anyone's porch and have a cup of coffee. We'll just sit down there, and in five minutes, I have them at ease."
Still, Tice knows there's an unfortunate stereotype of people who live in West Virginia.
"Well, I don't think they teach geography anymore because the damn most of them thinks we're still western Virginia," he said with a laugh. "West Virginians are just some of the greatest people in the world. Hell, when you drive out the road, everyone waves at you. You run into a ditch, they'll be 10 cars stopped to pull you out. … We help one another, and that's our roots. It's a great place to live. It's just a great state."
By John Soltes / Publisher / John@HollywoodSoapbox.com
Mountain Monsters airs on Destination America on Saturdays at 10 p.m. Click here for more information.