INTERVIEW: Two brothers battle the elements in 'Ultimate Survival Alaska'
For Dallas and Tyrell Seavey, surviving in the Alaskan wilderness is in their blood. Their grandfather helped found the Iditarod, and both of them have competed in the world-famous sled-dog race. They're rugged and authentic, two guys who love family, fishing and the freedom of the Alaskan expanse.
Surprisingly, both Seaveys don't own televisions … even though they're now reality stars on National Geographic's new series, Ultimate Survival Alaska.
The show, which premiered May 12 at 10 p.m. (new episodes will air Sundays at 9 p.m.), follows a number of adventurers as they battle the elements, wildlife, starvation and harsh terrain. Their obstacles are numerous, and if they don't meet their extraction point on time, they're eliminated and stranded in the woods.
For Dallas and Tyrell, the journey began rather unexpectedly.
"We were contacted very shortly before we actually took off and did this expedition," Dallas said recently during a phone interview. "And they kind of contacted people looking for, you know, the most hardcore Alaskans that did this on a daily basis."
Tyrell called it an "Alaskan grassroots" casting process. "They didn't want people who wanted to be on TV," Tyrell said. "So they went word of mouth and just kept asking everyone, 'Who's the next toughest guy you know?' And they went down the line, and that's how they got seven of them. And I was actually the odd one out. I was the eighth one. I think someone didn't show up, so I got a phone call from Dallas asking if I wanted to go on a two-month adventure in the wilderness with him. Naturally I said, 'Yes.' And then I asked him when I needed to be there, and he asked if I could be on the road in an hour. I went upstairs, packed up my bag and left, and didn't make it back underneath the roof, or get a shower, or see my wife again for two months."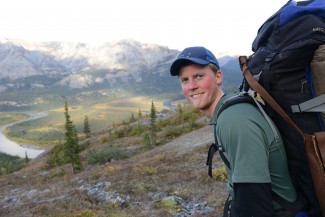 Tyrell said that once the journey began, the most difficult challenge was the weather. When the teams competed in the fall of 2012, the skies opened up and the rains came. "It rained on us almost every single day for the entire two months," Tyrell said. "Your gear wears out. Your stuff falls apart. So we found ourselves in situations when it would be zero degrees out and blowing 20 or 30 mph, and our poor tattered gear wasn't working as well it used to."
Dallas said the hardest part was not knowing the details of each leg of the expedition. The adventurers/survivalists were given a vague map with an extraction point. They had a fixed amount of time to travel (roughly three days for each leg), and that's about it. The rest was up to them. "We really didn't know how to ration our time to get through this in three days because we didn't know how steep the mountains were, how deep the rivers were," Dallas said.
The brothers needed to rely on their past experiences, which are numerous. Tyrell hiked the Appalachian Trail over the course of five months. He has also run the Iditarod twice and won the Jr. Iditarod. "But nothing really could prepare you for what we did," Tyrell said. "It was so, so big and such an extreme trip that we traveled to 10 different locations throughout Alaska, and we really went to 10 different extremes. So we got the whole spectrum of challenges to overcome."
Dallas said racing the Iditarod (he's the youngest person ever to win) gave him a "baseline of confidence," but still Ultimate Survival Alaska was painstakingly difficult. "Nothing is going to prepare you to handle it easily, but the key is not to expect it to be easy," Dallas said. "It's going to be difficult, and just know that you can do it. And you just take one step at a time. Where's your next foot going to fall, that's all you can focus on sometimes."
For a well-fed, well-hydrated, well-rested person, going these distances is semi-plausible. But the brothers were only given a small portion of rice and beans, just enough so they wouldn't starve. They needed to rely on hunting and fishing for nutrition.
Throughout their trekking, one of the concerns of both Dallas and Tyrell was not being portrayed as an "idiot" on a "fake" show. They wanted Ultimate Survival Alaska to portray authentic survival. "That's why I'm excited to have my family watch it, because it's legit," Dallas said. "This is what we did."
Tyrell added: "That's why they casted people who were actual adventurers with actual reputations to keep in Alaska. They didn't want people who were willing to do anything to be on TV. They wanted people who do all these things for real, and then it was probably challenging on their part to make it work for TV. Because we're just a bunch of woodsmen out there crashing through the brush, and we could care less if the cameraman keeps up or not."
Dallas, 26, owns a kennel of sled dogs, while Tyrell, 28, is a commercial fisherman in the Prince Edward Sound. They're not too old to forget how they became attracted to this lifestyle in the first place. "One of my earliest memories of my grandfather and my dad is camping at Rainbow Lake," Dallas said. "It's where we went. It was a short hike. Good for kids, you know, 5 and 6 years old. We'd go out there; we'd catch fish, and my grandpa would make coffee in a coffee can on the fire and wrap the fish up in tinfoil and, you know, fry them up. We went camping. We did that stuff. … From an early age, the wilderness has been a very big part of our life, and more specifically, the Alaskan wilderness has been a major part of our life."
By John Soltes / Publisher / John@HollywoodSoapbox.com
Ultimate Survival Alaska airs on Nat Geo on Sundays at 9 p.m.