'Kinky Boots' struts onto Broadway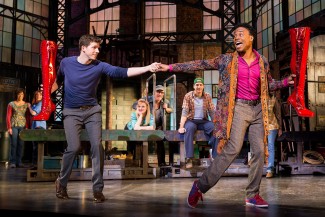 NEW YORK — Kinky Boots, the latest film-to-stage adaptation, features a host of catchy tunes from Cyndi Lauper, a funny book from Harvey Fierstein and enthusiastic directorial efforts from Jerry Mitchell. A cross between Billy Elliot and older Broadway musicals about finding one's calling in life, the two-act show doesn't navigate new ground, but it sells its high heels with gusto.
Charlie Price (Stark Sands from American Idiot) has recently inherited his father's struggling shoe business. The UK company employs many people in the local town, but the revenues have dropped out. There's no more room in the market for men's shoes. Charlie is faced with closing up shop or finding a new avenue to earn some dough.
Enter Lola (Billy Porter), a flashy entertainer back in London whose in need of some stilettos for his fellow dancers. Together, Charlie and Lola form an unlikely duo and begin designing high-heeled creations for an important fashion show in Milan. At first, Charlie's fiancé and coworkers are uneasy with Lola's presence in the factory, but this being a happy Broadway musical, acceptance is won, huge dance numbers populate the stage and all seems to be groovy by the end.
Kinky Boots follows a rulebook, but it makes the familiar structure overflow with energy. Sands is solid in the central role, even though his character's evolution seems manufactured to serve the plot. His 11th-hour number is powerfully resonating in the voluminous Al Hirschfeld Theatre, where Kinky Boots is playing an open-ended engagement.
Porter is a hilarious scene-stealer, coupling a sense of humor with a sense of hurt. It's a layered performance where the actor is in full control. He's a Tony winner, for sure.
Some of the supporting actors are equally enjoyable. Annaleigh Ashford, Celina Carvajal and Daniel Sherman offer full-on portraits — despite their characters being somewhat underwritten.
Lauper's songs are infectious. There are quite a few of them that produce taps of the foot and a memorable rhythm in the ears. From disco to more standard musical fare, it's a varied selection of stellar songs. Fierstein's book, although not reaching to the same stratosphere, crafts a portrait of a UK working class and community of showy stage performers, brought together by difficult circumstances. He plants one-liners every other word, but leaves enough time for a message of understanding.
Kinky Boots is not the best musical to hit Broadway, but in recent years, it may be the most fun.
By John Soltes / Publisher / John@HollywoodSoapbox.com
Kinky Boots

Music and lyrics by Cyndi Lauper

Book by Harvey Fierstein

Directed and choreographed by Jerry Mitchell

Starring Stark Sands and Billy Porter

Running time: 2 hours, 25 minutes

Currently playing at the Al Hirschfeld Theatre at 302 W. 45th St. in Manhattan. Click here for more information.

Rating: