Oscar spreads the love, while MacFarlane proves somewhat enjoyable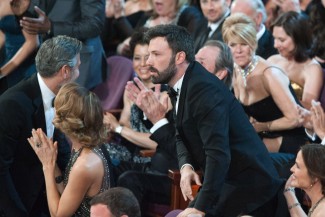 Although most major categories were easily predicted at last night's Oscar telecast, there was still an air of excitement throughout the bloated three-and-a-half-hour show. Host Seth MacFarlane started out rocky and then steadied himself with some clever one-liners. The acceptance speeches were surprisingly heartfelt and short. And, most importantly, Academy voters spread the cinematic love around to several top films from 2012.
Overall, not a slam dunk, but far from the days of the infamous Anne Hathaway/James Franco fiasco.
As the night progressed, it seemed that Ang Lee's Life of Pi was prepping for an upset over Argo (which would have been sweet justice after Crash beat out Lee's Brokeback Mountain a few years ago). That was not to be, even though some critics, including this one, believe Lee made the best movie of the year.
Argo took the top honors, and director Ben Affleck was able to share in the Oscar glory. Grant Heslov and George Clooney, who shared producing credit with Affleck, helped to accept the award for one of the most beloved and appreciated flicks from last year — a movie still making money at the box office, even though it's now available on DVD.
The loser of the night seemed to be Lincoln, which lost in the Picture, Director and Adapted Screenplay categories. The once-frontrunner lost steam and was overtaken by Argo's more recent success during the lead-up to the telecast. Still, Lincoln was able to secure another Best Actor award for Daniel Day-Lewis, who delivered one of the best speeches of the night. Its only other win was for Production Design (the old Art Direction category).
As far as overall numbers, Life of Pi was the winner, taking home four statues, including Director, Original Score, Visual Effects and Cinematography.
Les Miserables cleaned up with three awards, including Best Supporting Actress (Hathaway), Makeup/Hairstyling and Sound Mixing. Django Unchained took two, including Best Supporting Actor (Christoph Waltz) and Original Screenplay (Quentin Tarantino, sporting an unkempt look). Skyfall offered a capstone to the Year of Bond, winning Best Original Song (Adele and Paul Epworth) and Sound Editing. Interestingly, Skyfall shared the Sound Editing honors with Zero Dark Thirty, a rare tie on Oscar night.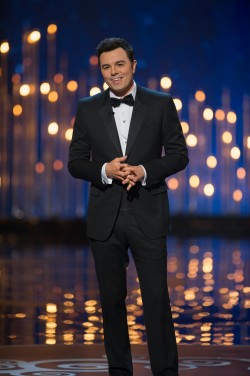 Jennifer Lawrence won Best Actress for Silver Linings Playbook, while Argo added to its pile of gold with Best Adapted Screenplay and Best Film Editing wins. Amour and Brave won Best Foreign Language Film and Best Animated Feature, respectively. Searching for Sugar Man took home Best Documentary Feature. Anna Karenina logged its only win of the night with a Best Costume Design statue.
The Oscars this year will probably prove to be a forgettable night. MacFarlane didn't fall flat, although he failed to reach the stratosphere we all know is possible for a Oscar host. Because the Academy chose to spread the love to so many films, it won't be remembered as the "Year of Any Particular Movie." The indecision means 2012 was a quality year for movies, one that sparked some healthy debate.
The show focused largely on musical numbers, celebrating Hollywood's penchant for song and dance. Some renditions went over well, especially Barbara Streisand (singing "Memories") and Shirley Bassey (singing "Goldfinger"). The revival of Chicago's "All That Jazz" number and Jennifer Hudson singing from Dreamgirls felt out of place, although the cast of Les Miserables impressed with its anthemic ode to freedom.
Hollywood's annual night of self-indulgence seemed perfectly acceptable and somewhat enjoyable. It overstayed its welcome but provided enough entertainment for us to stick around until the end.
By John Soltes / Publisher / John@HollywoodSoapbox.com