'Mama' finds a talented cast spinning a scary ghost tale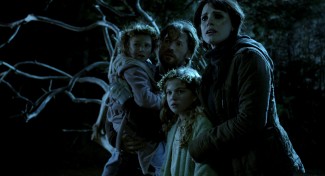 Mama, the new horror movie starring Jessica Chastain and Game of Thrones' Nikolaj Coster-Waldau, is a terrifying film that hits all the right scary buttons. This ghost tale will rank among the best of the best for recent horror movies.
The success of Mama is mostly because it's an original (!) tale with a near-perfect execution. The acting is dedicated and intense. The story line is unique. The scares are satisfying for a PG-13 movie. The film proves that paint-by-numbers gorefests are no longer necessary, and there's not a found-footage clip anywhere to be seen.
Annabel (Chastain) and Lucas (Coster-Waldau) are a relaxed couple who enjoy loud music and little responsibility in life. Annabel is in a band, while Lucas spends most of his days looking for his two nieces that went missing years prior in a horrible car accident. He's convinced that they're still alive somewhere in the woods, but his efforts have produced few clues.
Eventually, a pair of trackers stumble upon a cabin in the forest that's both creepy and comforting. Within the boarded-up walls is Lilly (Isabelle Nélisse) and Victoria (Megan Charpentier), Lucas' nieces, somehow still alive after surviving in the cold, cold woods.
Annabel and Lucas take the young girls into their house, and then the scares begin to happen. Lilly and Victoria are not exactly domesticated. They're feral little beasts who like to scream, bite and hide in the corner. Worst of all, they have full conversations with a mysterious figure known as "Mama." Uh-oh.
There's more plot involved in this tale, including what happened to Lilly and Victoria's parents and the custody troubles of their aunt. But, honestly, those side stories get in the way. The creepiness of the main plot is perfectly fine for a full-length film.
Coster-Waldau and Chastain both turn in nice performances, although Chastain's character overshadows most other adult roles. Sporting short hair and a punk-rock attitude, she plays against type and builds a character that feels real and true.
However, everyone is eclipsed by the brave performances of Nélisse and Charpentier, who throw everything they have into these roles. Children are often used in horror movies for cheap scares (think The Shining, Children of the Corn, The Omen), but in Mama these two children play their parts with such ferocity that they demand to be heard.
Director Andrés Muschietti, who wrote the script with Neil Cross and Barbara Muschietti, apparently received the go-ahead for the project from Guillermo del Toro, a master of intense films himself. This synergy of talent is so evident on the screen. Not once during these 100 minutes did I think anything was thrown together at a minute's notice. The story, characters and scares are all carefully calculated. And that's the ultimate attribute of the film: Mama is a horror movie with a brain.
By John Soltes / Publisher / John@HollywoodSoapbox.com
Mama

Directed by Andrés Muschietti

Written by Andrés Muschietti, Neil Cross and Barbara Muschietti

Starring Jessica Chastain, Nikolaj Coster-Waldau, Isabelle Nélisse and Megan Charpentier

Running time: 100 minutes

Rated PG-13

Rating: