Forget the Super Bowl, here comes 'Puppy Bowl IX'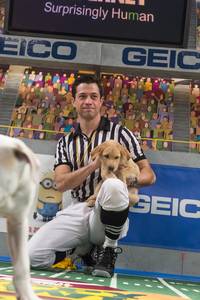 Animal Planet's annual festival of adorability comes back Sunday, Feb. 3. The ninth-annual Puppy Bowl, featuring referee/comedian Dan Schachner, will feature two hours of cute dogs barking, jumping, biting, scoring touchdowns and committing several "fouls." There's also a kitty halftime show, hedgehog cheerleaders and hamster commentators.
Forget the Ravens and 49ers, it's time to cheer for the pooches.
"We're excited for this year," Schachner said recently during a phone interview. "It's going to be bigger and better than ever."
Schachner, who is donning the ref's uniform for the second year in a row, admitted to loving animals and loving this unique job. "I'm just thrilled that they called me back to do it," he said. "I obviously didn't screw up too badly last year."
He received the job after sending in an audition tape in which he attempted to conduct little scrimmages with puppies in the backyards of Long Island. "I had a relationship with Animal Planet," he said. "I had hosted a couple of things for them in the past, and then the word got out that they were looking for a new ref. … So, it was a completely self-made audition process for me, and luckily it worked."
The many hours he films with the dogs, all resulting in a two-hour Sunday special, can be simultaneously strenuous and hilarious. "This takes months and months to plan … All of our puppies are from local shelters and rescue centers."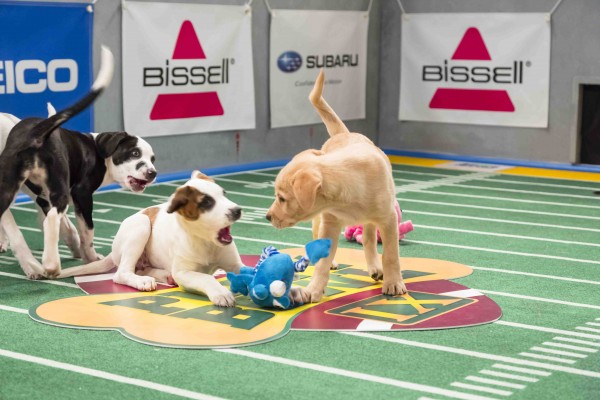 Schachner said the team behind Puppy Bowl isn't too discriminating when choosing the dogs. They are suckers for cuteness and adorability. As far as the actual rules, all dogs need to be between eight and 15 weeks old. They also need to be from a rescue center or shelter. "We had tons of submissions, and then it's up to us to sort of pick who we want … or we think is best suited to be on camera, to be on the Puppy Bowl itself," he said. "So assembling that is a huge process, and then assembling the stage and the lights and, of course, the camera crew and all the associated details of that day."
The added challenge this year was that the production schedule was delayed because of Hurricane Sandy. But Schachner reported that the "shoot looks better than ever."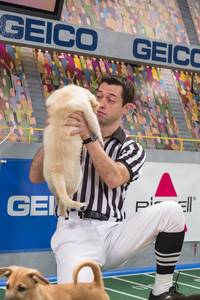 Throughout his two years as referee, he hasn't lost his love of dogs. "(Having) puppies is much like having kids," he said. "You have moments where they're awesome, and they're the greatest thing in the world. And you have moments when they're a challenge. And that's kind of how I feel in a condensed way during Puppy Bowl."
Some of the obstacles of the job should be obvious to dog owners. He needed to be careful not to step on any tails, chew toys or "fouls" on the field. "TV makes it look a lot smoother than it is real life," Schachner said. "There's many more factors that are going on during the actual filming. You're talking about 90 hours of footage, when all is said and done, that has been edited down to a two-hour show. So there's just so many other things. I feel like one day we should have a DVD extras set of the Puppy Bowls. People can see all the other stuff that they missed."
Although a referee should stay impartial, when dealing with puppies, there's always going to be a highlight. For Schachner, that moment is the double touchdown from last year's event. Two puppies dragged two chew toys into the end zone at the exact same time. Unlike human football, double touchdowns are perfectly acceptable in Puppy Bowl. "I knew what Puppy Bowl was, but I didn't realize like how many special rules and exceptions we had for these puppies," he said. "It's really, really cool. The rulebook, by the way … is like about one-tenth the size of the NFL rulebook for Puppy Bowl. So not quite as detailed."
After the event is finished with filming, the puppies sometimes go on to receive "commercial contracts with Pepsi and Nike," Schachner said in jest. "They become all Hollywood."
Actually, reality is far more encouraging. The ref said that most of the dogs are almost immediately adopted. This year's lineup of 63 puppies were mostly scooped up right away by families. "By the time you actually watch the Puppy Bowl and it airs, you know in February, those particular puppies may not be available for adoption, but we hope that they serve as a sign or a reminder that there's many really adorable, amazing puppies available for adoption at your local shelter."
For Schachner, reffing the Puppy Bowl is a dream job. "I'm able to work with great people on a great set, and the best part of it, when you're a vein actor like me, is that you're the only human on set, and that's really great for the ego."
By John Soltes / Publisher / John@HollywoodSoapbox.com
Click here for more information. Puppy Bowl airs Sunday, Feb. 3 at 3 p.m.