TRIBECA REVIEW: 'Finding Benjamin'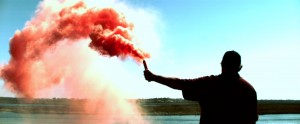 The story of Benjamin Kyle is an extraordinarily interesting one, and it fills up the 9 minutes of Finding Benjamin with many question marks and scratches of the head. The short film, which recently played the Tribeca Film Festival, details the difficulties of a man who woke up in Georgia with no clothes, no identification and no memories. He eventually received the name Benjamin, but his identity is still unknown.
In John Wikstrom's film, Benjamin's story unfolds in two parts. First, we hear about the media spotlight that descends upon this man and his quest to find some distant relatives. The second part shows what happens when all the television cameras are turned off and Benjamin finds himself homeless and unable to work (he hasn't been issued another Social Security number). This second part is when Wikstrom's film takes on an important purpose. By continuing to follow-up on Benjamin's story, the short documentary refuses to let this man's case fall out of the spotlight.
It's an admirable student project, even though not much more is learned. In many ways, Finding Benjamin is a last-ditch effort for people to take notice of this man's difficulty and offer a helping hand. With no Social Security number, he's unable to work, unable to live and unable to be someone in the United States. He deserves better.
The short film played in the Help Wanted series at Tribeca.
By John Soltes / Publisher / John@HollywoodSoapbox.com
Click here for more information.