INTERVIEW: Anita Brenner exhibition showcases 'Another Promised Land'
Photo: Jean Charlot, The Massacre in the Main Temple, 1922. Scaled color composition, watercolor and pencil, 20" x 35-1/2". © The Jean Charlot Estate LLC, with permission. The Jean Charlot Collection, University of Hawaii at Manoa Library. Photograph by Philip Spalding III / Provided by Skirball Cultural Center for publicity purposes.
---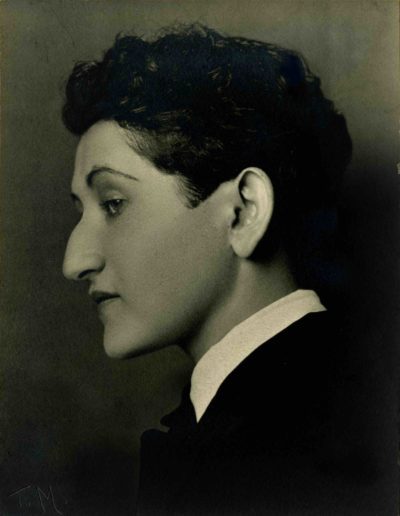 Over the past few months, Los Angeles has celebrated and explored the connections between southern California and Latin America, and the Skirball Cultural Center has been at the nexus of the artistic showcase known as Pacific Standard Time: LA/LA. One of the highlights of Skirball's offerings is Another Promised Land: Anita Brenner's Mexico, a thoughtful exhibition highlighting the work and influence of the Jewish Mexican-American writer.
Brenner lived during the defining decades of the 20th century, and she is seen as an integral member of the Mexican modernist group. She also brought the influences of Mexican art and literature to audiences in the United States, according to the exhibition's press notes.
Idols Behind Behind Altars: Modern Mexican Art and Its Cultural Roots was a contemporary to such iconic artists as Frida Kahlo, Diego Rivera, Jean Charlot and José Clemente Orozco, among others, and their work is on display in Another Promised Land.
Audiences only have a couple more weeks to catch the Brenner exhibition. Skirball will run the immersive experience through Feb. 25.
Recently, Hollywood Soapbox exchanged emails with Laura Mart, co-curator of the exhibition. Questions and answers have been slightly edited for style.
What inspired the center to showcase the life of Anita Brenner?
The Jewish Mexican-American writer Anita Brenner struck us as a woman with a powerful life story and an important message to share. As someone whose own identity didn't fit neatly into a single category, and who suffered the injuries of prejudice and discrimination as a result, she dedicated her life to building bridges of understanding, connecting people of different backgrounds in celebration of unique facets of culture that define our sense of who we are.
She was also a key connector of Mexican artists to patrons and audiences in the United States, facilitating and participating in cross-cultural dialogue during a fascinating period of rich artistic and intellectual fermentation.
What have visitors' experiences and reactions been to the exhibition?
Visitors have been struck by her life story, which is remarkable. Born in Mexico to Latvian immigrants, she fled the Mexican Revolution with her family as a child and then returned to Mexico alone at 18 years old, to quickly become an important member of the bohemian intellectual scene of the Mexican Renaissance in the 1920s. She wrote her first book at only 24, and had not one, not two, but three careers of significance; as a prolific writer, as a pioneering tourism promoter and as a commercial farmer. At the same time she was also an art critic, historian, journalist, anthropologist, activist, children's book author, and a wife and mother. That's a lot for one life!
Beyond the sheer amount of her production, the message of her work resonates today at a time of heightened anxiety about race and difference. Brenner's efforts provide a model of working through difference with empathy, casting a wide net to seek information and knowledge, and examining different points of view in order to build understanding and respect.
Why are initiatives like Pacific Standard Time so important?
Initiatives like PST:LA/LA provide a rare opportunity to examine important ideas from multiple angles at a wide variety of institutions. Pacific Standard Time: LA/LA has inspired curators around the southern California area to take a concentrated look at the intersection of art and identity, to expand the stories we tell in our institutions, and to introduce our visitors to new ideas that inspire them to consider their own lives and surroundings with fresh eyes.
One of the biggest questions that kept coming up during the planning stage of the Pacific Standard Time: LA/LA exhibitions was, what does it mean to be Latin American? What is Latin American art, and who is a Latin American artist? This seemingly simple question is actually quite complicated by things like cultural formation, self-identification, migration and immigration, and contested facts of geography and history. The Pacific Standard Time: LA/LA exhibitions allowed attendees to consider these different issues and many more that have shaped not only the creation of art but the lives of millions of people across two continents.
What it a challenge to visually showcase Brenner's impact given that her main output was writing? How did you fill the space?
It might seem like a challenge to make an art exhibition about a writer, but art was a central part of Brenner's life. Her closest friends were artists. She wrote extensively about art and also had a significant art collection of her own. She even commissioned several of the pieces in the show, including the Edward Weston and Tina Modotti photographs for her book Idols Behind Altars and the Orozco drawings of the Mexican Revolution. It wasn't much of a stretch to also include the artworks that shaped what she wrote about Mexican history and culture, all of which were made by people who were important to her.
How long does it take to put together an exhibition like this?
Planning for exhibitions which require extensive research, as this one did, takes years. The curatorial team worked on this exhibition for a total of four years from start to finish.
By John Soltes / Publisher / John@HollywoodSoapbox.com
Another Promised Land: Anita Brenner's Mexico runs through Feb. 25 at the Skirball Cultural Center in Los Angeles. Click here for more information and tickets.