INTERVIEW: Origin's 1st Irish Theatre Festival celebrates 10 years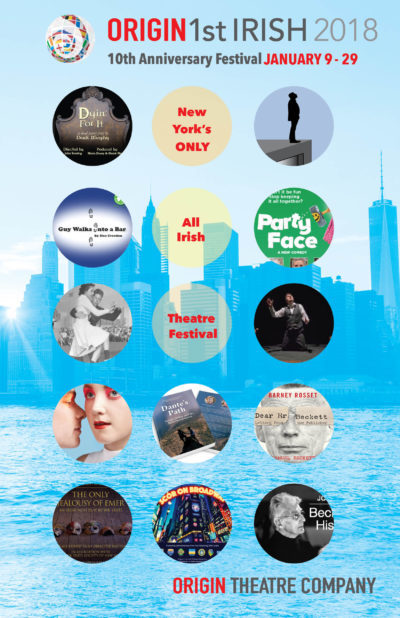 Origin's 1st Irish Theatre Festival is celebrating 10 years in 2018, and they are showing no signs of slowing down. The annual showcase of Irish theater, both from the United States and across the pond, has helped develop some of the most important voices in the field. The festival also serves as a continued playground for more established writers to experiment a bit and stage some rare revivals.
This year's festival is highlighted by a variety of theatrical and literary offerings that will keep New Yorkers content during these cold winter months. For example, Irish Repertory Theatre is currently staging a revival of Enda Walsh's seminal play Disco Pigs. City Center Stage II is playing the transfer of Party Face by Isobel Mahon; the production promises audience members "a party fully of surprises."
Samuel Beckett will be fêted at Dear Mr. Beckett: Letters From the Publisher with publisher Glenn Young, writer Turlough McConnell and actors Billy Carter and Olwen Fouéré. Dublin playwright Derek Murphy will be represented with Dyin' for It at The Cell on West 23rd Street.
For a complete listing of events, click here.
Recently, Hollywood Soapbox exchanged emails with George C. Heslin, artistic director of Origin's 1st Irish Theatre Festival. Questions and answers have been slightly edited for style.
What does it take to pull off Origin's 1st Irish Theatre Fest each year?
First, it's important to point out that Origin's 1st Irish is a mix of imported productions from other cities (mostly in Ireland and Northern Ireland) and homegrown projects here in New York developed by local Irish theater artists … of which there is a large pool in this incredible city. Each festival involves planning that starts almost two years out because we are bringing in acclaimed shows from Ireland and Northern Ireland. Those projects need time to finish out their initial runs and then, if successful, the funding support to bring them here needs to be sought.
I'm involved in the process every step of the way, keeping tabs on the projects and checking with the theatres and producers across the Atlantic to see what needs to be done. Virtually everyone in Ireland and the North want to bring projects to New York if humanly possible, so the motivation is there.
The next big part for these out-of-country productions is getting the financing together, which is a combination of public funding and additional funding raised by the producers. Believe me I help with a lot of the details, including making the visa process work because I need to work closely with our local trade unions, so that starts almost two years out.
The next part: The local projects happen much more quickly. Sometimes they materialize just weeks before we announce the festival. … Those are the last-minute entries, and there are a lot of those, too.
Looking back over the last 10 years, what have been some of the highlights?
The people I have met, how sponsors open their hearts and minds to the concept of a citywide Irish festival in New York. The festival has been an incredible launch pad for writers, directors and actors. In 10 years, the amount of former Festival participants who are now firmly established in the professional theatre is growing, and we look around and we say, oh boy, they started at the festival, just before they really took off.
Some plays have been launched by us, too. Laoisa Sexton's For Love started in the festival and so did Jimmy Titanic, which is returning this year for a special encore, and Tim Ruddy's acclaimed The International. [They] started at the festival as new work launched by our 'Next Generation' Series, but every year we have some of Ireland's most prestigious names coming to New York to be a part of the festival.
This year we have Billy Carter and Olwen Fouéré taking part in a special reading of recently published correspondence by Samuel Beckett (Jan. 29 at 1pm at the Irish Consulate). At past festivals we've had Jim Norton, Brendan Coyle and Lesley Nicol of Downton Abbey.
Among the directors … this year Ray Yeates is here with an immersive play based on the writing of W.B. Yeats, and last year we had Joe Dowling directing at Irish Rep. It's always a tremendous opportunity to have up-and-coming artists mixing with well-known and established theatre people.
Why is it important for New York City to celebrate the contributions of Irish playwrights and actors?
New York is the second home of Irish people. We love New York because for generations this is where we have come to fulfill our dreams. … This goes back to the poor immigrants that came as part of the huddled masses in the 19th century during the potato famine, all the way to the boom times of the Celtic Tiger of recent years. There is incredible synergy between America and the people of Ireland, and the festival is a great way to put so much of this into focus.
Much of this great synergy gets taken for granted, especially by Americans who lose sight of the impact and contributions of immigrants and how much of a great two-way street this relationship is. As a man from Limerick, it is an honor to feel what it's like to be welcomed in America and to be able to start something here that after 10 years is a recognized cultural event. I share this pride and this hope with so many artists from home, and it's a pleasure to be a beacon for leading talent to the streets of New York and even Broadway, which are filled with our common history.
What are you most looking forward to at this year's festival?
Like every year, I look forward most to seeing new work come to life and to welcoming artists to New York for the first time. The excitement is palpable, and it never ceases to please me because it reminds me what it was like when I came here for the first time to work in New York.
Some of the productions are performed in interesting locations, such as townhouses. What does that add to these performances?
New Yorkers love discovering new spaces, and a festival is the perfect way to invite them in to great spaces they may have walked by hundreds of times but never set foot in. This year one of our productions is at Torn Page, the Chelsea townhouse that was the home of Rip Torn and the late Geraldine Page. We did A Christmas Carol there in December, and it's one of the festival venues. Setting foot in this place is a magical experience in itself.
Also you will go to events at the American Irish Historical Society, a grand space, [and] the Irish Arts Center, which is developing a brand new theatre on the West Side. Then there are little gems like the New York Irish Center in Long Island City. … We have events there every year, and so often our festival-goers say they are shocked they never set foot in these special venues. It's our pleasure to welcome our audiences in all these spaces, big and small!
By John Soltes / Publisher / John@HollywoodSoapbox.com
Origin's 1st Irish Theatre Festival is currently running in New York City. Click here for more information and tickets.