INTERVIEW: Topical musical showcases value of journalism
The new musical America's Favorite Newscaster is literally ripped from the headlines. Featuring abook and lyrics by Tom Attea and music by Arthur Abrams, the new show follows a young, highly rated TV journalist trying to navigate the difficulties of his profession in the 21st century. Oh, and one of the characters is a president who tweets.
The musical plays through Sunday, Jan. 28 at Theater for the New City in New York City.
"Each year I sit back and I think, you know, who deserves a voice on the stage at this time because I'm very committed to intelligent entertainment that depicts the time I live in," Attea said in a recent phone interview. "This year the answer was conspicuously clear: It's journalists who are under siege from Washington as well as obligated to report on a world that they probably didn't really dream of reporting on for various reasons."
After Attea had his main idea, he started to think about a character that could help dramatize his thesis. He recognizes that the theater is about humans and human emotions, and his viewpoints would need to be cloaked in believable characters.
"Things are things," he said. "They are not warm. People are warm, and the theater is all about character development. That's the unique value that theater brings to things, so I was thinking about it. And I said, you know, I believe a newscaster would be a good fellow, so I searched my mind. And I created a character, Evan Fury. He's a young newscaster who has had a meteoric career, and he is very committed to his work. But he finds it exceedingly difficult to continue it. He's decided as a proclivity that he's never going to mention the president's name on the air."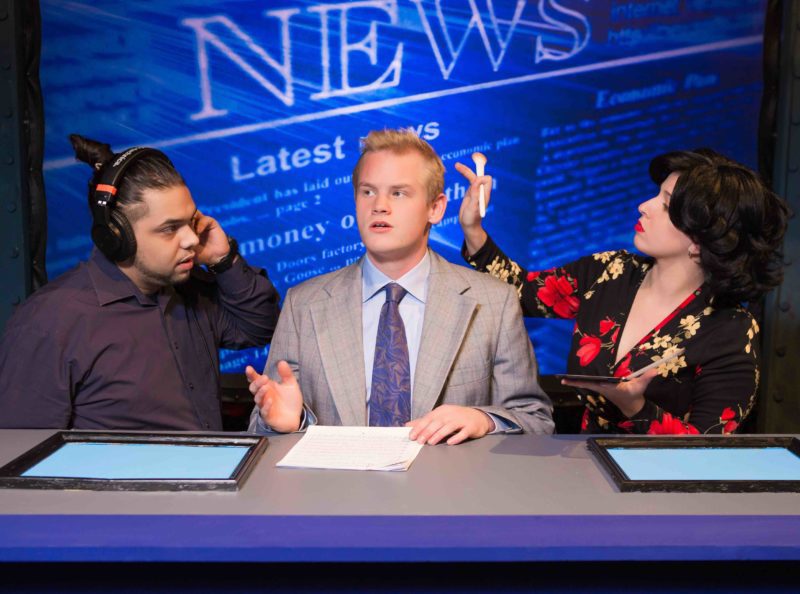 The Fury character is a person who is able to say penetrating observations in a disarmingly tasteful manner. This raises the anxiety level of the president. Still, Fury finds it difficult to continue in his profession.
"Evan finds it harder and harder to deal with, and he's number one," Attea said. "So the executives at the network — the president of the news division, the chairman of the network — they're all trying to get him to stay, but his wife has thrown him out because he's so dedicated [that] he never comes home. He spends too much time at the network, too many special assignments. Well, when he wins a number of Emmys, he decides it's time to balance his life, so he tells them despite all the accolades they have accorded him, he says, 'I'm too disappointed.' He has to break."
The show then morphs into a consideration of Fury's struggles to adjust to his new life and learn about the times he lives in. He comes to the realization that journalists are unable to choose the content they report on; the world comes at them, and they are obligated to not stand in the way.
"It's an amusing show as well as, I think, a touching and penetrating show," Attea said. "It's about Evan. There is a role for the president who does his usual things, but I wanted, of all things, to find an original way to portray him, one that would be what I call timeless in time. In other words, it would be current, and yet it could last."
Throughout the musical, there are some special numbers, including "Floating Above the Fact," which is for the presidential character. Fury sings "Maybe Next Time," which is about hope for the future.
"The president of the news division, who is pressed between the CEO and getting Evan to do this, sings a song about how he's always condemned to be in middle management no matter how high he rises," Attea said. "Even if you're the president, you're in middle management because you have to answer to the voters, and you've got people that you've got to put in line or are coming at you from the bottom."
Attea, who is also known for writing Heather Smiley for President, Living in a Musical and An American Worker, strives to present eloquence that is colloquial. He believes drama can be deep and topical.
"It can be insightful," he said. "So far the experience has been the audience is delighted by the show. I think they appreciate that it's a penetrating show."
By John Soltes / Publisher / John@HollywoodSoapbox.com
America's Favorite Newscaster is currently running at Theater for the New City in New York City. Click here for more information and tickets.