INTERVIEW: Laurie Simmons deconstructs art-making in her new film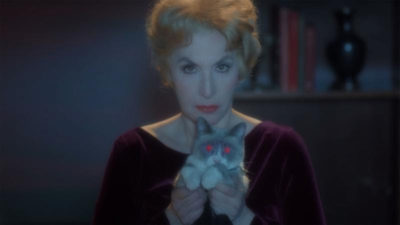 My Art, the new film written, directed and starring Laurie Simmons, is a clever, poignant and meaningful rumination on art, artists and, most importantly, the artistic process. The movie, which opens today in New York City at the Quad Cinema, is a labor of dedication by Simmons, who has been piecing the film together for several years.
In many ways, Simmons' My Art is a continuation of her own art, which has included four decades of photography, including her many pictures of dolls and staged action figures. As an artist, Simmons has been represented at the Brooklyn Museum, Museum of Modern Art, Guggenheim Museum and Whitney Museum. A career-spanning retrospective of her art is planned for the Modern Art Museum in Fort Worth, Texas, this year.
"My entire art life I've always wanted to make film, and I finally made a film in 2006," Simmons said in a recent phone interview. "I set out to make a video, but I made a 45-minute, three-act musical, which was shot by Ed Lachman and starred Meryl Streep. I mean, it got really out of hand. It was sort of like a crazy artist fantasy movie."
That experience of making The Music of Regret, which also features dancers from Alvin Ailey American Dance Theater, inspired Simmons to keep thinking about film as a medium for her own work. There was one problem: The whole endeavor was quite expensive.
"It was so overwhelming," she said. "Then my daughter, Lena Dunham, made Tiny Furniture in 2009, and that was another lightbulb moment for me because I was on set all the time a) because I was in the movie so much and b) because it was shot where I lived. And I saw that there was a new way to make movies because she was part of this young group, the group that started to use digital cameras, so she could make a movie for the cost of a used car. It made me think that it was more possible to continue with filmmaking, so that was really amazing."
In Tiny Furniture, Simmons plays Siri, a woman artist. She found the character interesting but thought there was more depth to explore. "I just started to feel like I had a story to tell about a woman artist," Simmons said.
Simmons started to put together the story that would become My Art and eventually employed the help of a New York University film student to teach her how to use the Final Draft screenwriting program.
"I was really starting from nowhere, and then I started writing a script," she said. "My favorite thing was to go on walks and think about dialogue. I love dialogue. I love writing dialogue, but I needed the actor in my mind. I couldn't just write dialogue for somebody who then needed to be cast. I imagined all of the people and who they would be, and they were pretty much mostly the people I had in mind."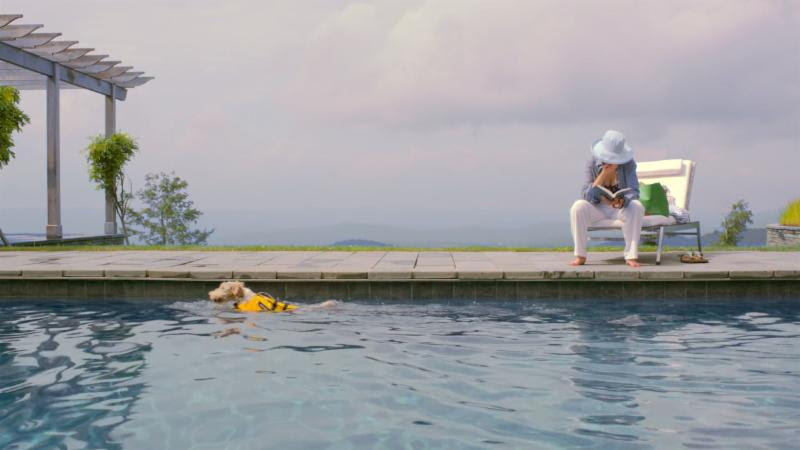 During this time, she went back and forth on whether she was going to play the central role of Ellie. In the movie, the character is offered the summer home of a famous friend, and she begins a unique journey to reinvent herself and make complex pieces of multimedia art.
"We shot the artwork part of the movie in March 2015, and in January and February still didn't know if I was going to do it, if I was really going to go through with doing it," she said. "What convinced me to do it was that there was so much art process in the film, like holding a camera, setting things up, dressing like an artist, walking like an artist. I felt if I could do that, like walking around a museum, if I could just get through that and making the art part, that I could get the rest of the film."
The production took several years, with Simmons starting and stopping depending on the development of the project. Her earliest recording occurred in 2013, and then she shot for a week on a sound set in Greenpoint, Brooklyn (this is when Ellie's artwork came to life).
"Then it was a 17-day shoot in the summer of 2015, and then we went back in to do more shooting in the winter of '16 just to redo some scenes I wasn't happy with," Simmons said. "The longest shoot was the 17-day shoot that was the narrative part of the film, the upstate New York part, so it was really over a long period of time. I mean, there were scenes that I had to lose that I really liked just because my hair was a completely different length and color."
In many ways, Simmons felt she had a great deal of freedom with the project because the distribution deal didn't come until the end of the process. She took the film, which also stars Dunham, Parker Posey and Blair Brown, to the Venice Film Festival ("a miracle," she said) and then the Tribeca Film Festival ("another miracle," she said), and now she finds herself with a well-received film, made on her own terms, setting to premiere in New York City, Los Angeles and on digital platforms.
"I'm an artist making a movie, and there are traditions of artists making movies," Simmons said. "It would have been amazing to have the kind of support that some filmmakers get. I mean, when you're indie, indie, indie, you really have to be resourceful. I love reading about Ida Lupino, who was, in fact, an indie director and how she would pull clothes out of her own wardrobe and use her own furniture and use her home and sets. I'm really inspired by that because anywhere that I could I cut corners. … As much as I could possibly use from my own inventory of things, I would, so it would be fun to have support. But one thing I knew going into it, I'm too used to doing exactly what I want to do as an artist."
By John Soltes / Publisher / John@HollywoodSoapbox.com
My Art, written, directed and starring Laurie Simmons, is now playing at the Quad Cinema in New York City. It opens Friday, Jan. 19 at the Laemmle Ahyra Fine Arts in Los Angeles. Click here for more information.