INTERVIEW: 'Downtown Race Riot' enters the zeitgeist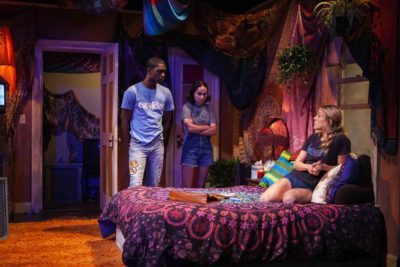 Seth Zvi Rosenfeld's new play, Downtown Race Riot, deals with topical themes that were present when the playwright was younger in the 1970s and had experiences in New York City's Washington Square Park, but also in the current day in a world dominated by divisive politics and an ongoing dialogue about race and society. When Rosenfeld started writing the play, these issues were on the periphery of his mind, and it seems like the world has placed them in the forefront of everyone's consciousness.
Downtown Race Riot stars Chloë Sevigny, Moise Morancy, David Levi, Sadie Scott, Cristian DeMeo, Josh Pais and Daniel Sovich, and it comes to New York audiences as part of The New Group's annual season. Scott Elliott directs the production, which plays through Dec. 23 at The Pershing Square Signature Center in Midtown Manhattan.
"I had moved to California in 2010 with the intention of not writing plays," Rosenfeld said in a recent phone interview. "I was doing more television and film work, and one day I woke up thinking about this incident that happened when I was a teenager in Washington Square Park. It was a race riot in Washington Square Park, and what always haunted me about it was that Washington Square Park was sort of the place where people who were freaky hung out. It was the place where interracial couples were, where gay people were, where comedians were, where hippies were, bohemians. It was the sort of the freest place in the city at that time. The fact that there was a race riot that happened there, that incident always haunted me."
Rosenfeld remembers that riot turning fatal and one person also being blinded. He had been hanging out in the area and knew the details of what transpired. With these stories in his mind, the playwright got to work. He didn't know what would materialize from the project, but he started the creative process. What emerged was Downtown Race Riot.
"We did readings and workshops, and kept working on it until we felt it was ready, and once it was ready, we then had to cast it because the economics of off-Broadway now is that you really need to be able to cast a play with somebody who is known," he said. "And thankfully Chloë Sevigny, who is somebody I've known for a long time and Scott has worked before, wanted to do it. We wanted her, so that's how this particular production came about."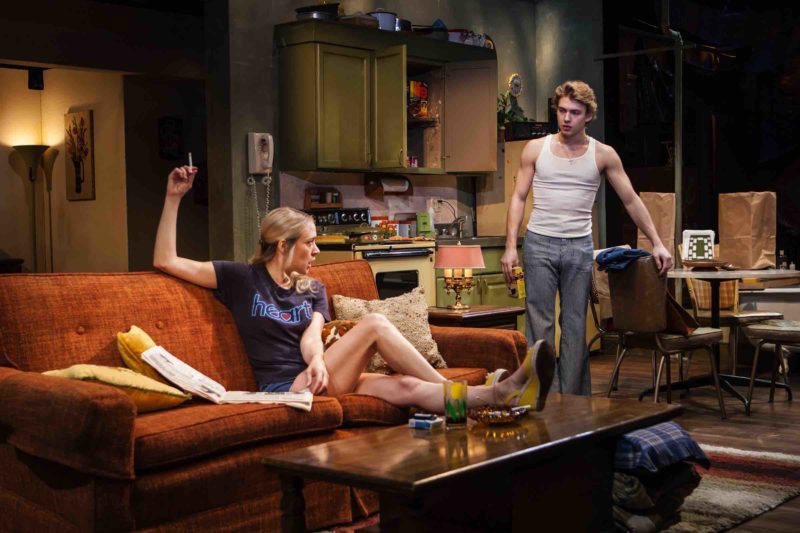 Rosenfeld has been writing plays for 25 years, and he has directed many of his own productions. He has also found success with cinematic directing duties.
"Most of it was because I was scared of directors misinterpreting my work, and I think that I have been waiting my entire life to have the kind of experience that I've had with Scott, who is a willing collaborator, who is super-smart, wise, is a master of his craft," Rosenfeld said. "He listens. We don't always agree, and we have to hash things out. But it's been wonderful. I think we're kind of pushing each other to do the best that we can with this play, and I feel very safe and comfortable with Scott as my director, which is saying a lot for me."
When Rosenfeld began writing the play, the national conversation over policing, politics and Donald Trump was starting to emerge. When he was finished writing the play, that national conversation correlated almost perfectly with the themes of the drama.
"The play on its own has become more relevant than when I started writing it," he said. "Sometimes that happens. Something it's in the zeitgeist, and you catch on to it. And then as the thing develops, there are things that are happening in the world that just mirror it in a certain way. I didn't really intend to write an issue play or a play that is really political in any way. My intention was to write something that was human and to talk about a period of time that I lived through, and the operating principle and the thing that I was sort of thinking about thematically when I was writing was the cost of being a member of a tribe, what it costs an individual when they join up with anything, and they swallow it whole hook, line and sinker, be it a political affiliation, a family affiliation, a gang. What does it cost an individual? What do they betray in themselves to be part of?"
In Rosenfeld's exploration, he found that the ideas he was mining were present in the 1970s, when the drama is set, but they persist to this day.
"I think that older people reflect on that time and relate to it, and because the characters are young, young people seem to really resonate with the struggles going on with these people," Rosenfeld said. "For the country, it is going to be part of our evolution and hopefully will lead to something better than what's happening now, but for this play, it's actually been a happy accident."
By John Soltes / Publisher / John@HollywoodSoapbox.com
The New Group's Downtown Race Riot is currently playing The Pershing Square Signature Center on West 42nd Street in Midtown Manhattan. Click here for more information and tickets.