INTERVIEW: 'Holy Air' is comedic commentary set in Nazareth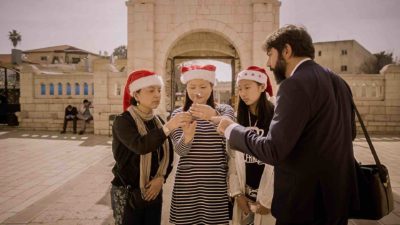 Nazareth, Israel, is the setting of the new satirical comedy Holy Air, directed by and starring Shady Srour. The movie played the Jerusalem, Tribeca and other U.S. film festivals. Now it's ready to premiere in movie theaters, at New York City's Village East and theaters in southern California (Laemmle Monica and Laemmle Pasadena).
At the center of the story are Adam (Srour) and Lamia (Laëtitia Eïdo), a Christian Arab couple from Nazareth who are learning to be new parents. To make some extra money, Adam decides to merchandize the air of Nazareth — a holy city pivotal in the early years of Jesus.
"When my wife told me that she's pregnant, my first reaction was, no, I'm not ready," Srour said about the real-life events and the "hell of a week" that inspired Holy Air. "I wanted to make a documentary film about us as a couple who are having a child in this place, and we wanted to emigrate. So I was trying to bring a crew to film like a mockumentary film, but I couldn't get that. So time passes by, and suddenly I'm a father. We delivered the baby, and it was a lovely daughter. I felt that maybe I can switch it to a fiction film about fatherhood. I started to write and submit the film to different places in Israel, abroad and Europe … but I couldn't get money to make it. I wrote the script, the first draft, the second draft, the third draft. Time passes by, and I'm having another kid, another daughter. So I started to feel that the story is different."
This is when Srour morphed his original story into a new idea about selling "holy air." He ran with this symbolic image of entrepreneurialism, trying to tap into themes both personal and universal.
A key part of Holy Air's eventual pathway to Samuel Goldwyn Films, the distributor of the movie in the United States, is producer Ilan Moskovitch, a filmmaker from Acre, Israel, who has also served as casting director on a number of projects.
"I met Shady by coincidence in my hometown," he said. "By coincidence, I went to watch a play, and Shady was on the stage. And I liked him a lot because as a casting director I'm all the time [going] to see actors to try to bring them to the movie that I work on. And after the play, I shook his hand. I told him, 'I'm Ilan Moskovitch. Do you know me? I like your acting a lot.'"
After making the connection, Srour shared his script with Moskovitch, who said he liked the story of Holy Air and the tone of the piece. The producer told Hollywood Soapbox that he is dedicated to telling these engaging narratives, a dedication that goes back to his own father's story of surviving the Holocaust.
Moskovitch's father, after relocating to Acre, ran a small kiosk at an Arab cinema. This proved highly influential at a young age because he was immersed in a world of movies. "People from the margin of society like me, or like my father or like Shady, attract me a lot," he said.
Srour said the movie has many characters, and one of the dominant ones is Nazareth itself. There was no question that Holy Air had to be set in the city.
"Because I'm from Nazareth, I know the city," Srour said. "I wanted to bring something that I really feel comfortable with, and I know this city very well. I know the locations. I know the mentality. I know everything. Of course, in the film, most of the locations are very biblical, but I didn't bring the religious connection with the location. I wanted to make it very universal, and also Nazareth is like a character in the film."
The filmmaker added: "Two thousand years ago there was a baby who came as Jesus, and he fled to Egypt as a refugee. And now are after 2,000 years, we still have this kind of refugees and people going from one place to another place to live as refugees or immigrants. So what's new here?"
By John Soltes / Publisher / John@HollywoodSoapbox.com
Holy Air, directed by and starring Shady Srour, is now playing in New York City and the Los Angeles area. Click here for more information.