INTERVIEW: Saràyah releases first album on NOLA's Basin Street Records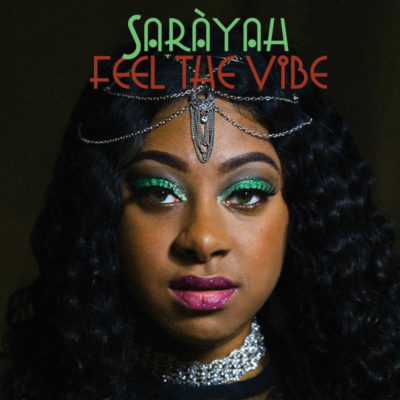 Basin Street Records' newest artist is Saràyah, a singer who has recently released her first album, Feel the Vibe, a collection of pop music. The New Orleans performer has many plans in place for success and a unique voice to back up her ambitions.
Saràyah counts Rihanna, Bob Marley, Michael Jackson and other pop artists as influences, and for as long as she can remember, she has been singing and soaking in the inspiration from her musician parents. Her style infuses songs with a dynamic mixture of genres, including club, dance, worldbeat and Caribbean.
Recently, Saràyah exchanged emails with Hollywood Soapbox and discussed her new album and future plans. Questions and answers have been slightly edited for style.
What can fans expect from Feel the Vibe, your debut album?
Feel the Vibe is a pop album at its heart. I'm influenced by Rihanna, so I think the album has a bit of a sensibility similar to her style with some R&B influence. My vocal style is influenced by my background, with both of my parents being musicians, and having some experience singing with reggae bands — it gives the music a little bit of a Caribbean vibe. You can especially hear that on 'Be Strong.'
I had the opportunity to collaborate with a very talented producer who made a great selection of tracks, some upbeat club bangers like 'We Party' and some slower songs like 'Fire & Ice.' I did most of the writing in the studio and explored a lot of different lyrical topics. I hope the album has appeal for commercial radio, especially 'Give Me Love,' and to get played in clubs around the world — I think it's the kind of music that should appeal to a lot of people; it's pop, but it's not generic. I like to think I put my own little spin on it.
New Orleans is such a musical city. Did the city help your musical strengths grow?
Definitely. Growing up, I was always surrounded by music. Both of my parents are musicians, and I got to experience performing with them. I think New Orleans is a part of that — they were able to make a living being musicians here. And being around music all the time also helped influence me to become a dancer as well, so that's another way that living in a musical city helped shape my artistic pursuits.
When did you realize you wanted to be a musician? Does your love of music go back to when you were a child?
I don't think there was a time I ever realized I wanted to be a musician; it was just the truth from the beginning. The music chose me. I honestly can't remember a time when I wasn't a musician.
How would you classify your sound?
If you have to put a label on it, I'd say my sound is pop. That's so broad, though. Some of the songs will get you hyped and ready to dance in a club, but others might be something you want to listen to while you're just chilling with some friends.
Sometimes I think of my style as 'Caribbean Pop.' Like I mentioned, I'm influenced by Rihanna — some people say she's pop, some say she's R&B. But I think she's also influenced by her upbringing in Barbados. Another influence of mine is Bob Marley. So I think there is something 'Caribbean' about my music. Some might want to call it 'club music' or 'dance music' or 'R&B' or simply 'Pop'—I don't care too much about those labels. I just hope people like it and think it's good; then maybe they can figure out what to call it.
What are you hoping for with your new partnership with Basin Street Records?
It's all part of building a solid team. We wanted the help of a label to get the music out, and to have someone who knows what they're doing, but who also can work with me and my manager closely. They've already gotten us worldwide distribution, and have been helping with a lot of different things, and hopefully they can keep pushing things forward with solid industry know-how and connections. Ultimately, I want them to help me get to the next level of success.
Who are some of your musical influences?
Rihanna, Bob Marley, My Parents, Bruno Mars, Michael Jackson.
By John Soltes / Publisher / John@HollywoodSoapbox.com
Saràyah's new album is called Feel the Vibe, and it's now available from Basin Street Records. Click here for more information.