INTERVIEW: Chris Botti plays it his way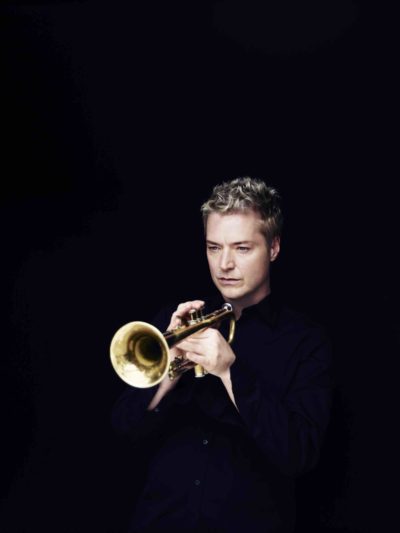 When Chris Botti takes the stage Wednesday, Nov. 8 at the New Jersey Performing Arts Center (NJPAC), there will be no mistaking that an ultimate craftsman is in the house. The celebrated trumpeter, who is one of the most successful solo instrumentalists in history, tours the world, offering his fresh takes on jazzy standards and new compositions. In the 21st century, with the record industry completely morphed from the halcyon days of the 1980s and 1990s, Botti has relied on his undeniable ability to draw massive crowds for an evening of classy, jubilant music.
With a collaborative spirit, Botti credits his many bandmates over the years as buoying his success.
"Well, we've been on the road, let's see, 12 years, and it just seems like we just keep reworking the mechanisms of the band," Botti said in a recent phone interview. "Of all the bands that I've taken the stage with as of late in the past nine, 10 years, something like that, this is going to be the 'A team' that we're bringing."
Set lists at Botti shows often change, yet he also relies on some of the beloved classics to perch themselves on the ears of his ready listeners. He promised that a similar set list for those audiences who have seen him several times (Botti-heads perhaps?) will not produce similar results each and every night.
"Well, it's interesting because we have many people that come to our shows multiple, multiple times, and even sometimes if the set list is the same, it's always different because the way we approach it or how we stretch the improvisation and that sort of thing," he said. "I think it's the virtuosity of the way we approach the stuff that makes it different every night."
Botti has had several successful recordings over the years, including his most recent from a few years ago, Impressions, an album featuring such songs as "Summertime," "Losing You," "Per Te (For You)," "Over the Rainbow" and "What a Wonderful World." For those who have heard his Grammy-winning recordings and then experienced Botti live on stage, there's an evident realization: The two experiences are completely different.
"My live shows are radically different than my records," he said. "Just using Miles Davis as an example, his most two famous records were the ones that crossed over to the public. Sketches of Spain and Kind of Blue, were very reserved, but when he would go out and play live, they would really flash out. … So I think taking that approach, when I make records, they're all supposed to be dreamy or romantic, whatever all those adjectives are, but when we play live, yes, we want to play the beautiful stuff. But we also want to bring muscle to the stage. It's super important that people go, my God, we've never seen or heard anything like that before."
He added: "I haven't really put out a record since '12, where I was putting out a record a year. So now the record industry is definitely kind of falling down a cliff, or it's over. It would be like if tomorrow if every restaurateur woke up in the morning and they said, 'As of now, all the food is free.' So they couldn't stay in business. It's a really, really interesting time because with Spotify and everything, everyone can just pay a fee and go on. Everything is for free, and so it makes it for an artist like me that's more established, it's actually OK. But for an up-and-coming artist that needs tour support or needs a record company to spend money for them for advertising and stuff like that, it's a much, much different road. And no records are really selling anymore, so it's all about having a live act, which I'm grateful that I do."
The trumpeter attended Indiana University and studied with the jazz educator David Baker, Bill Adam, Woody Shaw and George Coleman. He earned his credibility as a sideman with a host of musicians, including Paul Simon, Sting and Joni Mitchell.
Today, Botti said what he enjoys most in life is working, and that means he's often on the road heading to performing arts centers, concert halls, festivals and clubs around the world. It's a credit to the trumpet player that his sound is accessible in the voluminous hall of NJPAC in Newark, New Jersey, and the more intimate surroundings of the Blue Note in New York City, the site of his yearly holiday residency.
"I think equally both of them have advantages, especially the little places are just awesome because people are crunched right up on you," he said. "It's intimate. I like that."
As with many discussions of his music, Botti places emphasis on his fellow musicians on stage. He has played with a veritable variety of skilled performers, many of whom he shares with other high-profile acts, including Andrea Bocelli.
"One of our violinists also works with Andrea Bocelli, so she goes and does that," he said. "I kind of switch between two different piano players. It's really a dance when you're trying to do that. Whereas it's not the rock band where we're all bros, like Bruce Springsteen. They've been together for years and years and years. It's not like that. My band is like a hired gun all-star band, and in doing that, you've got to do a little bit of a dance sometimes because other people's schedules conflict."
In his band members, he looks for the ultimate level of craft. He wants people who garner respect from other musicians. On stage, they match his own skills — skills that have been rehearsed, tinkered with and expanded upon for years.
"I'm hard on myself," he said. "In the last couple years, I've made a conscious effort to really, really, really practice a lot, and so I upped my practicing somewhere to the four-hours-a-day level. … I'm trying to get better at my craft. The first thing that happens when you become successful is you get lazy. I don't want that to happen to me."
By John Soltes / Publisher / John@HollywoodSoapbox.com
Chris Botti will play Wednesday, Nov. 8 at the New Jersey Performing Arts Center in Newark, New Jersey. Click here for more information and tickets.