INTERVIEW: Travel from 1938 to 2018 in new sci-fi parody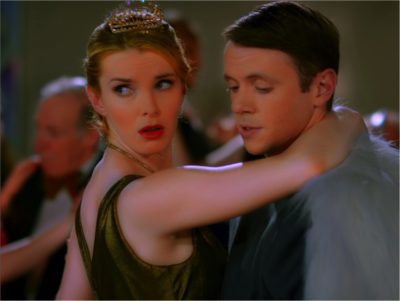 For lovers of sci-fi, there's a new movie that will feel like a love letter to the genre. Future '38, written and directed by Jamie Greenberg, envisions a time traveler from 1938 visiting the technologically advanced and futuristic world of … 2018. The story is presented as a "lost" classic, a window into the future, which is, in fact, the present.
The comedic parody stars Betty Gilpin, Nick Westrate, Robert John Burke, Ethan Phillips, Sean Young, Tom Riis Farrell, Sophie von Haselberg, Tabitha Holbert and Ilana Becker. The film won the Audience Award at this year's Slamdance Film Festival.
Recently, Hollywood Soapbox exchanged emails with Greenberg about the project. Questions and answers have been slightly edited for style.
Where did the idea for Future '38 come from? What served as your inspiration?
I was working on a completely different script, a story based on real-life events that took place during the Cold War. I had been researching the subject for about a year. Totally drowning in it. I was up to my ears in reference materials and notes, with no idea how to fashion it all into a compelling story … and I had a moment of clarity: There's got to be a better way!
So I picked up a clean yellow pad and said to myself: 'Enough torture. What's breezy and fun to write about?' The answer, of course: time travel. I'm always a sucker for a future story, whether it's Things To Come, The Time Machine  Total Recall, Back To The Future II or dozens more. However, I knew that with a tiny indie budget, I could never afford the art direction/effects to create a convincing future world. So I looked around and realized: We live in a Jetsons world already. Why not have some fun with that? Present our own world as a gleaming future dream (as indeed it would seem to anyone from decades past).
This was the impetus for making a ' vintage' film in which we see our own world filtered through a 1930s sensibility. Also, this allowed to to indulge another fascination: my love of the screwball comedies of the 1930s and 1940s. It all snowballed from there.
Did you love science-fiction movies and B movies when you were a child? Still a fan?
As a kid, I was more aware of science fiction than B-movies per se. I remember loving — LOVING — the original Star Trek, though I was a little creeped out by the show which came on right after it, Space:1999. (Watch an old episode today, you'll be creeped out too). I really liked sci-fi: I saw Star Wars when it came out, and I also remember liking The Black Hole, Bladerunner, Tron, Outland, Alien, even Moonraker, which by any rational standard is a terrible movie. Also I am the person who liked the original Dune. 
How did you convince Neil deGrasse Tyson to join the project?
We had a connection with him through Robert Miller, the incredible musician who scored Future '38. Robert scores the big shows at the Museum of Natural History's Planetarium, which Neil DeGrasse Tyson narrates. So they know each other through that, and Robert asked Neil if he would be interested. We showed Neil the film (the main portion of the film was completed before we filmed the intro). He responded positively, and after a lot of schedule back-and-forth (he's a busy busy man), we filmed him at NYC's Anthology Archive theater. Neil says he is always ready to help out with a project that has science content, and I would like to think that he also responded to the humor and fun of the project. Filming him was a blast, and he really committed to the premise that it's an actual 1938 film!
What are you hoping for with the distribution of Future '38? How will audiences be able to watch the film?
We are finalizing our distribution deal now, and viewers should look for Future '38 on all the platforms starting early 2018. That is how you say it if you are cool, evidently. 'All the platforms.'
How difficult was the production? Long days? Limited budget?
It was extremely, extremely difficult. We filmed in the NYC summer in a former garage with no air conditioning in Long Island City, Queens. We were handing out cold packs on-set, and Dan Kenkel — the heroic actor who played the 'Robojob' — had to stick packs inside his robot suit to keep from passing out.
The bigger issue was the schedule. Indie filmmaking is, basically, a fight against the clock because there is never enough time. This was particularly true for our shoot: All of principal photography was completed in 15 days, a brutal schedule. If the actors had been less focused, if we'd had to stop frequently due to forgotten lines, if the performances had been less consistent, we simply could not have made the film on that schedule.
Watching the finished film, you would think that the set was one big happy good time.  Frankly, it was the opposite — a lot of tension, a lot of frustration. It's a tribute to the cast that they made it all look so fun!
By John Soltes / Publisher / John@HollywoodSoapbox.com
Future '38, written and directed by Jamie Greenberg, is gearing up for "all the platforms" in 2018.