INTERVIEW: NOLA funk band brings unique sounds to Brooklyn Bowl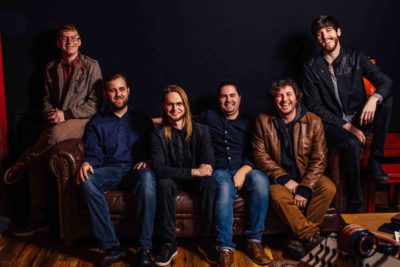 The musical output from New Orleans is vast and seemingly never-ending. Some of the best funk, blues, jazz and hip hop artists come from the Crescent City, holding down residencies in their hometown and touring throughout the United States. One band that continues to export its unique sounds to adoring fans is Naughty Professor, a sextet that recently released the new album Identity.
On the new recording, the musicians share the microphone with the likes of David Shaw (The Revivalists), Chali 2na (Jurassic 5), Ivan Neville (Dumpstaphunk), Benny Bloom, Mike Dillon and members of The Soul Rebels. That's a lot of New Orleans credibility packed into one album.
New York City fans can check them out Sept. 6 as the opener of the super-band Dragon Smoke at Brooklyn Bowl. They return to the borough Sept. 14 for Brooklyn Bowl's Sunset Sounds at Industry City.
Recently, Hollywood Soapbox talked with the band's drummer, Sam Shahin. Here's what he had to say:
On what fans can expect for the Brooklyn Bowl shows …
"Oh, man, well, first off, the Brooklyn Bowl is a great club, and we've enjoyed being there every time we've been there. They do a great job of making us feel at home there, so we'll be very comfortable. We're going to be bringing a lot of songs from the new record as well as some of the more energetic classics … ones that the fans, especially in New York, have told us over and over again that they really like, and we're even going to be playing some songs that are unrecorded. So really we're bringing the highest energy and most diverse set that we have."
On how the idea for recording Identity came about …
"We had the idea of collaborating with a wide variety of artists, probably even a couple years ago at this point, but hadn't really put it into motion until we had a few different people who expressed their interest. And we got the ball rolling on the songwriting process, but really the first major step actually happened at the Brooklyn Bowl when we opened up for Galactic there. And Chali 2na was with them doing a performance, and Chali 2na was a guy who we had in our minds targeted as somebody who would be great to work with if it was a compatible type of situation.
"And when we saw him perform with Galactic and was so effortlessly able to work with a live band and kind of the different challenges that come from working with a live band versus recorded or DJ, then we approached him, and he said he really liked what we did and would love to hear some demos, see if we would be interested in working together. So we sent him some stuff. He sent us back a couple tracks, said, 'Man, I really love these tunes and would love to collaborate on them for your record.' And from there, we started approaching more and more friends of ours in the music industry who we had been looking for a reason to work with, and this album seemed like that perfect reason."
On when he first became interested in the drums …
"I started playing drums when I was about 10 years old. My dad actually had got a drum set as a wedding present from his brother, so he had a drum set in the house when I was a kid. And I always wanted to play it, but he wouldn't let me play it until I proved that I really wanted to play drums rather than just want to hit things with sticks.
"So he bought me a practice pad, and I had to play every single day on that practice pad. I had to practice for a while on it for six months, and after I played every day for six months, he finally let me start playing his drum set. And by then, the dedication and the passion was deep within me, so I really took off with it. It's been really the thing that I loved the most that's non-human for the longest amount of time. It's obviously become just a massive part of my life and my career."
On how he joined the band …
"I actually was not the original drummer. … They built the band out of college jam sessions in the practice rounds at Loyola University in New Orleans, and Danny was the previous drummer's name. I think it was around the time that he graduated or maybe a little before that that he decided he really wasn't interested in making drums his life and his career, and he left the band to become a farmer a little bit north of New Orleans. He runs a CSA in the city now and does a lot with greenhouses — very, very successful and good work that he's been doing.
"I was living in Chicago at the time, having graduated a few months earlier, and a couple of guys … who I had been in a band with previously asked me if I wanted to come down, audition, to see if it was something I wanted to do. And when they told me what their long-term plan was, and what the financial structure of the band would be and stuff like that, it was something I decided I wanted to come back down to New Orleans and pursue."
On finding the time to rehearse …
"When we're on the road, we really don't find a lot of time to rehearse. Luckily, on the East Coast, not only are the cities closer together, but we have family. So every now and again, we will break our instruments out when we have extended periods of days off. If we have two or three days off — Monday, Tuesday, Wednesday, something like that — we'll set up and maybe do some rehearsal for new material for the most part, but the stuff that we're playing on the shows have already gone through over 100 hours of rehearsal and probably hundreds of hours of performance. So that stuff we feel really comfortable about.
"And probably even more than that is that our music is based so much on reaction and improvisation that as long as we're keeping our ears open and we make sure that we're all servicing the music in a way that is appropriate, we feel really comfortable being on stage having just warmed up individually.
"I spend an hour playing on a pad. The bass player and guitar player will play unplugged for a while. The horn players will warm up, stuff like that, but really the vast majority of the time, the day of the gig is wake up, check out of the hotel, drive anywhere from a couple hours to eight hours, depending on how far the gig is, and set up, do our sound check, doors open. And we go get something to eat, warm up and then play the gig."
On the difficulties of the open road …
"It gets weary. You're stuffing yourselves inside a 15-passenger van that really becomes your home for lack of a better term. Also not to mention, you really don't get any time to yourself except when you're in the shower. You're constantly surrounded by the same guys, and depending on how long the tour is, that can become very trying on the individuals and the personalities that can clash and everything. But overall we have a lot of respect for one another, not just musically but personally, and we overwhelmingly have a great time on the road. But, yeah, there are definitely challenges: not sleeping a lot and kind of trying to maintain a healthy lifestyle, which is increasingly difficult with longer tours and stuff like that. There are definitely challenges that come along with the lifestyle."
By John Soltes / Publisher / John@HollywoodSoapbox.com
Naughty Professor will play Sept. 6 and 14 in Brooklyn. Click here for more information and tickets.