INTERVIEW: Ken Hall says hello to 'People of Earth'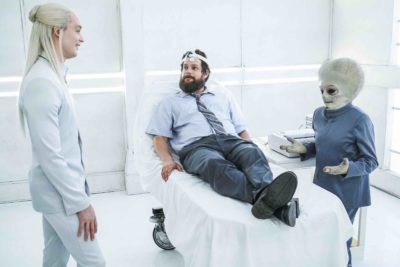 Ken Hall, currently starring in People of Earth on TBS, may not be immediately recognizable on the comedy series. That's because he's playing Jeff the Grey, an extraterrestrial with a large bald head and a set of deep, captivating eyes. It takes the actor two hours to don the prosthetics, and once he does, he's in the costume and makeup for the rest of the day.
Hall came to People of Earth, which continues with new episodes Mondays at 10:30 p.m. on TBS, thanks to an audition process where he took the advice of an acting coach.
"I had just recently got an audition here up in Toronto," Hall said in a recent phone interview. "Just went there, did my thing, and then about a week or so after that, got a callback to go back in. And this time Greg Daniels was there — Greg Daniels, executive producer, created The Office, and Parks and Rec and such. So I went into that audition super-prepared and super-prepped, and the funny thing is I actually started working with an acting coach basically about a week or two before that first audition for People of Earth, which at that time was just an idea for a pilot called The Group. My background is in improv, so I realized after working with an acting coach how underprepared I've been going into a lot of auditions and relying a lot on my improv skills of just kind of winging things and sort of ad-libbing stuff. That sort of worked for me for a number of things, but I kind of realized, wow, I probably blew a lot of opportunities for not being fully prepared."
Hall called it serendipity that he started working with a coach and then landed the role of Jeff the Grey almost right out of the gate. He treated the callback audition as a mini show and tried to inhabit his body, rather than his mind.
Daniels asked him to read some lines from the script, and then the team offered some premises for Hall to act out. In other words, they wanted him to do some improv, which is Hall's expertise. He previously won a Canadian Comedy Award for Best Breakout Artist and regularly performs as part of an improv duo called 2-MAN NO-SHOW with comedy partner Isaac Kessler.
After being asked to perform some improv, Hall knew he was in his element.
"That's my bread and butter," Hall said. "I can do that, so basically both of those auditions I went in there super-prepped. And not too long after that, a few weeks maybe after that, got a call from my agent that they wanted me. I'm like, 'OK.' … She's like, 'Yeah, they'll probably want to fly you down to L.A. first thing tomorrow morning.' And funny enough, that's exactly what happened, so they sent me down there because they wanted to start building the prosthetic for Jeff."
As soon as Hall started reading the scripts and understanding the Jeff character, he could tell that the series, which stars Wyatt Cenac, was going to be funny. Right from the start, he had a clear idea of how to play the alien.
"I think that's a testament to the great writing of the show and the creator, David Jenkins, who wrote a couple of those scripts as well," he said. "I get that dynamic of the two aliens, Kurt and Jeff, ganging up on Don and the sort of high status-low status kind of dynamic, and it was just a very fun thing to do. So I was reading them, I was like, oh, that's fun. I can see it. I can visualize it."
It was emphasized early on by the creative team that Jeff shouldn't be a stereotypical alien like E.T. They wanted a sense of realism, almost like the human and alien characters are working in an office setting together.
"Even though we see aliens, whether they be gray or reptilian, they sound just like you and me," Hall said. "They just sound like if you're walking through an office anywhere in the world more or less you would hear the same kind of dynamic, the same sort of office-y things. So that was an interesting thing, too, to kind of play more grounded and less alien mannerisms."
Because of the complicated prosthetic that Hall needs to wear, his days on set can stretch to 14 hours, which is not uncommon for TV. They try to call him in for a long marathon of a day, shooting all of the Jeff scenes back to back. This way, he doesn't have to keep putting on and taking off the costume.
"It takes about two hours or so to get it on and maybe about 20 minutes or so to take it off at the end of the day," he said. "The cool effect of putting the prosthetic on is that you actually feel like an alien because the hearing is muffled. It's actually interesting to breathe because my nostrils are lower than where Jeff's nostrils are, so we have to build in little air passageways through my eyes. … I've done a lot of prosthetic work in the past where some were actually being in builds that have taken five to six hours, so two hours is actually pretty quick for me."
By John Soltes / Publisher / John@HollywoodSoapbox.com
People of Earth, featuring Ken Hall, continues with new episodes Mondays at 10:30 p.m. on TBS. Click here for more information.