INTERVIEW: Eric Boatright swims to the Shallow Side with new EP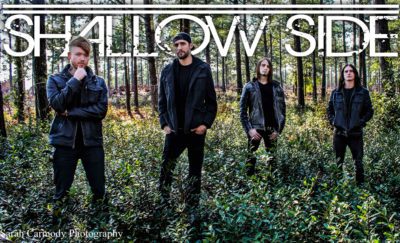 Shallow Side, the four-person band from Alabama, is having anything but a shallow year. The rockers have released their first EP, titled ONE, and plans are in the works for a full-length album. Their sound is a mixture of rock influences, perhaps best evidenced on their cover of Styx's "Renegade." Other original selections include "We Roll," "Rebel" and "Fight or Flight."
At the center of the band is Eric Boatright on vocals. "So we started like any other band in a garage or a shed, and kind of honed in on our craft, and we played music that we enjoyed," Boatright said in a phone interview. "Then we started writing music, and it started to turn into a party. And those parties turned into clubs and venues, and those clubs and venues turned into different cities. And the next thing we knew, we were traveling around the country playing rock 'n' roll everywhere."
The name Shallow Side speaks to the band's origins. Boatright called his fellow musicians — including Cody Hampton on bass and guitar, Seth Trimble on guitar and keyboard, and Heath Fields on drums — blue-collar people who work extremely hard to deliver their music to the fans. "We were looking at the music industry as if it was an ocean or a pool," he said. "We knew no matter how hard we worked or how far we would get int the industry, there was always more to do. There was always more to learn. It was always a further growing experience to get through, and we would always be in the shallow side of the industry to continue efforts of working further."
The cover of "Renegade" comes after a lifetime of listening to Styx's musical output. Boatright said his parents were fans, and he would often hear the band's tunes on his way to school. Their rendition of the classic tune grew out of that appreciation.
The track came together during their recording of ONE, and Boatright has fond memories of that recording process. He enjoys being in the studio and trying to perfect the sound; he actually prefers the experience over live performances.
"I personally like writing," he said. "I like recording. I like being part of that atmosphere. It's where your passion can really let loose and grow."
He added: "Touring is a love-hate relationship. It's definitely a necessity, so being on the road is something that has to be done. There are parts that you absolutely hate just like any other part of life, and there are parts that you love. And for us, definitely the good outweighs the bad."
As far as the future, the members of Shallow Side are looking to expand their EP to a full-length album, and that may come before the end of the year.
"I would like to still be inspired," he said. "I'd like to continuously find myself excited about new things, and trying new things, and developing new things, and becoming a better person for the craft and being able to grow within myself as well as the other people that are in the music. Those are things that I hope are continued in the future."
By John Soltes / Publisher / John@HollywoodSoapbox.com
Shallow Side is currently on tour and preparing a full-length album. Click here for more information.