INTERVIEW: Tracking one man's journey of struggle, success in 'The Unwritten Law'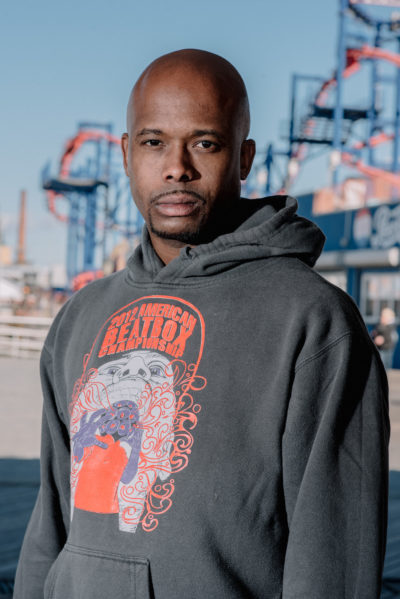 Earlier this year, actor and beatboxer Chesney Snow brought vitality and exuberance to his Broadway debut in the a-capella musical In Transit. He wowed audiences in the role, which he originated off-Broadway, and now it's time for something a little more personal for the multi-hyphenate.
The Unwritten Law, featuring beatboxing, contemporary dance and original music, is Snow's latest project and will play for only six performances at Dixon Place in New York City.
"Well, I think that people can expect to really see something that is unexpected, and I think a lot of people will feel that there's a simplicity that comes with the show," Snow said in a recent phone interview. "But in that simplicity, we really find a way to use the vehicles of dance, and poetry and music to really tell a touching and effective story, and I think we really learn something about America."
The story details the journey of Snow and the generations of family members that came before him, encompassing homelessness, Harvard University and everywhere in between. It's a deeply personal theatrical project, featuring a story that took the actor a long time to set down to paper. He needed to complete interviews and conduct a lot of research; all the while, he kept in mind several foundational works to inspire him: Ruben Santiago-Hudson's Lackawanna Blues, Alice Walker's The Color Purple and Ntozake Shange's for colored girls who have considered suicide / when the rainbow is enuf.
"I really felt like it was time for me to tell the story because I wanted to explore and push myself in the theatrical form," he said. "I really wanted to tell stories that I don't really often see told on the stage, and over the past few years, as I've kind of seen what's happened, the experience that young black men are having in terms of the political climate, I wanted to create art that was not necessarily a political piece. But I wanted art to do its job, which is just to tell the story, you know, and the audience can maybe have a new perspective on current events and things that they are seeing. And so it's been a real challenge to do it as well."
The piece, which was workshopped at Dixon Place earlier this year, came together after Snow connected with Rebecca Arends, a dancer with the Sean Curran Company for nine seasons. Both Snow and Arends are billed as performers and co-creators in The Unwritten Law.
"She was really just the perfect collaborator because I had always wanted to work with movement in the piece and to explore movement," Snow said of Arends. "She not only came from this amazing background as a modern dancer with the Sean Curran Company — and she was a fellow at the Alvin Ailey School — but she also had a really rich academic background in African American studies from University of Wisconsin-Madison, which just happens to be one of the premiere schools for African American studies in the country. And I also had gone to school at Edgewood College in Madison, Wisconsin, as well, so we had that connection. So we began talking, and she really began to help me contextualize my story in the larger narrative of the black experience."
The title of the piece comes from Snow's research. He found a postcard photo of the lynching of his grandfather's uncle. On the back of the card was signed, "This is what happens when you break the unwritten law." Arends and Snow realized that The Unwritten Law would be a powerful name.
"It really struck a chord with me, and I began to do more research about the unwritten law and The New Jim Crow as well as the Jim Crow South," Snow said. "It really made sense to me because of the through line that happens with my experience and my life, my family's life, and the unwritten law was really a poignant message for where we are today because I feel there is a real, almost unspoken code, if you will, that black men are really experiencing in the streets. It's a very challenging and sobering experience when you don't know if your family member — like a son, or father or brother — could be murdered by the state, and so the way in which you have to navigate is kind of an unwritten law. We work to teach our loved ones and our children how they have to react."
Snow discussed the recent history of President Barack Obama's presidency, and how, in his mind, there was a real feeling of the United States taking a "giant step forward" with the election. "Post-racial" was a buzz word used at the time, but in recent years, headlines in newspapers and images on cable television shows have shown a deep divide still exists in the country.
"The numbers in terms of the data of unemployment and poverty is really, really shocking," Snow said. "I wanted to focus on telling that story, but not in a preachy way, to just say here's my story, and you can take of it what you will."
He added: "People are moved and touched by the story and want to open up a dialogue about where we are, and I think after Obama, we really come into this national consciousness that we really do [have] deep-seeded issues still that we have to address. And I wanted to use my art and the tradition of the artists that had come before me to be a vehicle to have that discussion, to have that change and to allow some young people who look like me to really see their story on the stage."
By John Soltes / Publisher / John@HollywoodSoapbox.com
The Unwritten Law, co-created by Chesney Snow and Rebecca Arends, will play Sunday, July 30 through Monday, Aug. 14 at Dixon Place in New York City. Click here for more information and tickets.