INTERVIEW: 'The Paul Lynde Show' opens at Bally's in Las Vegas
For fans of Paul Lynde's iconic jokes on Hollywood Squares, there is probably no better place to take a trip down memory lane than Michael Airington's The Paul Lynde Show, now playing the Windows Showroom at Bally's Las Vegas on the world-famous Las Vegas Strip.
Lynde is most famous for being the center square on Hollywood Squares for many years in the 1960s and 1970s. His one-liners and edgy jokes helped define network comedy for an entire generation, and Airington is bringing some of that TV magic back to life with his one-man show. Helping out is Peter Marshall, the host of Hollywood Squares, who provides voiceovers throughout the production.
"When I was 15, I was one of the youngest standup comics in the country, so I was able to do all kinds of voices," Airington said in a recent phone interview. "Everybody just loved doing a Paul Lynde impression, and they still do, which amazes me. Even Michael Feinstein does a Paul Lynde impression in his show."
Airington was in Washington, D.C., performing in another show when he decided to travel up to Manhattan and catch Frank Gorshin in Say Goodnight, Gracie, the one-man show about George Burns. "I went up, sat in the back row all by myself, and I was watching this show," he said. "I was like, I could do a show like this with Paul Lynde. That could be really funny, and that's what started it. And I started writing the concept of the show."
Lynde, who also starred on Bewitched, died in 1982 and left a legacy as a hilarious comedian who pushed boundaries. He was a performer who would joke about sex, sexuality and society on a regular basis during primetime hours, all during a time when being gay in Hollywood was still seen as taboo.
What solidified Airington's path to tell this story was a rare find on eBay. Someone had apparently purchased a storage unit in Sherman Oaks, California, and inside was a plethora of show biz paraphernalia, including Lynde's script for Bye Bye Birdie and his script for a one-man show he used to tour around the United States. It was called The Paul Lynde Show, and Airington bought the script for $121. Later, he said he secured the rights to the estate, and then Marshall came on board to perform several voiceovers for the show. And thus The Paul Lynde Show with Airington as Lynde was borne.
"Everybody had said to me, 'Michael, this show needs to be in Vegas,'" Airington said. "I was doing California. I was doing San Francisco, San Diego, Palm Springs, and … last fall, I came to see Wayne Newton here at the Bally's Windows Showroom. And I went, what a great theater. This is like a perfect size. Paul Lynde would go great here, and that was it. And then I came, and I saw another show here. And there was a gentleman working there. I had no idea it was the owner's son, and I said, 'Who's in charge?' He said, 'My dad.' So the next thing I know, I introduced myself, and I said, 'Listen, I would love to pitch an idea for a show.' And they loved it."
Unfortunately, at that time, there were no openings in the Windows Showroom schedule. Airington kept digging and realized there were some dark days for the theater, and he proposed performing The Paul Lynde Show on those days.
"That's how I got my foot in the door to get the show here at Bally's," he said. "Sadly and unfortunately, Tony Sacca passed away, and that left the 2 o'clock matinee slot open. And they called me and said, 'Would you be interested in taking over the 2 o'clock?' And I said, 'Sure, but can we wait a little while because I don't want it to look like I just walked in and took the spot so quickly.' So we did. We took our time before we announced it, and that's how I got in."
The first couple performances of The Paul Lynde Show were met with standing ovations from the crowd, many of them Gen Xers and Baby Boomers who remember watching Lynde on television or in such iconic movies as Bye Bye Birdie. "I mean he was on Donny & Marie for six seasons," Airington said. "He was their regular comedian, did all the sketches with him."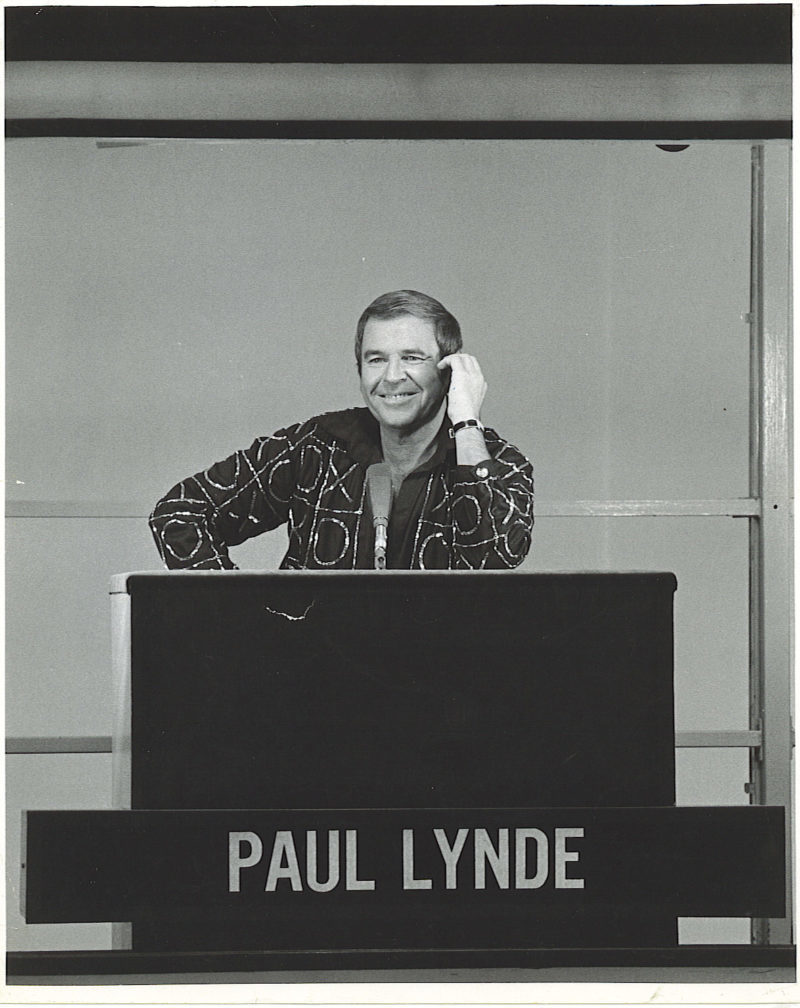 Some younger fans may even recognize Lynde's voice as Templeton the rat in Charlotte's Web. Airington also voiced the magic mirror on Disney's The Suite Life of Zack and Cody, and the comedian used his Lynde impersonation for the role.
Whoever might be in the audience, Airington hopes they enjoy Lynde's humor and are able to relive some shared memories. "Basically the premise of the show is Paul's been gone for 35 years," he said. "He's been on a sabbatical. We act as if he never died, and he comes back after 35 years. He looks at the audience. Things have changed. He's trying to do his show, and he keeps getting interrupted by the voice of Peter Marshall who comes from the rafters and wants to play Hollywood Squares."
The questions in the Las Vegas show are actual questions that were featured on the original Hollywood Squares, and that voice is actually Marshall's voice. Marshall has been a champion of the show, ever since its days in Hollywood.
"True story: We were doing the show in Hollywood, and Peter Marshall, who is a huge supporter of the show, he came into my dressing room before the show one night when we were doing it there," Airington said. "He goes, 'Michael, I brought a few of Paul's friends.' I said, 'OK.' And he goes, 'So I just want to let you know in case you want to introduce them.' I go, 'Well, who'd you bring?' He goes, 'I brought Rose Marie. I brought Karen Valentine. I brought Cloris Leachman and Jaye P. Morgan … and his best friend, Jan Forbes."
Airington couldn't believe what Marshall had told him.
"I was nervous as hell, and I introduced all of them," he said. "Paul introduced them as if they were still his friends, and Cloris cried. She had tears. She goes, 'You brought my buddy back.' Because they went to college together at Northwestern University and were good friends. And Karen Valentine, if he had liked women, Karen Valentine he would have ended up marrying. He loved her. The rest, Jan Forbes, who went to school with him, she was his beard at so many events, but Cloris was like, 'You brought back my buddy.' And that's what happens at the end of the show. I get these couples, they'll come up to me, husbands and wives, and go, 'You took us back.'"
By John Soltes / Publisher / John@HollywoodSoapbox.com
The Paul Lynde Show is currently playing the Windows Showroom at Bally's Las Vegas on the Las Vegas Strip. The show performs Wednesday through Monday at 2 p.m. Click here for more information and tickets.