INTERVIEW: Director Steven C. Miller gets 'Submerged'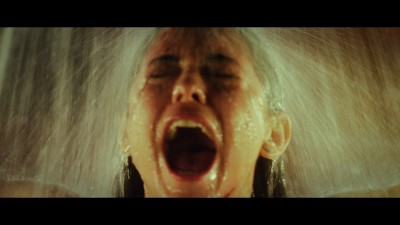 Submerged, the new thriller from IFC Midnight, is set to premiere in New York and Los Angeles Friday, Nov. 27. For director Steven C. Miller, the movie represents his further exploration into visceral filmmaking, carving out that unique line between action-thriller and horror.
The movie follows a limousine ride that goes horribly awry. After being driven off the road by a group of kidnappers, the friends in the limousine need to survive, even though they're submerged (hence the title) underwater with the threat of violence at the surface. Jonathan Bennett plays a bodyguard who is in the limousine to protect a young woman and her friends. It's up to him to keep the group focused on their task of survival.
"I'm really good friends with the writer, Scott Milam," Miller said in a recent phone interview. "We sort of kind of grew up in the same horror scene, getting out here at the same time with some of our first films, and we've always been wanting to make a movie together. And I happened to be at his manager's office on another project talking about a few things, and his manager is like, 'Hey, look, we have this Scott Milam script. Joel Schumacher was originally supposed to direct it, and we're just looking for someone to have sort of a different sort of approach to it.' I've always wanted to make a movie with Scott, so I jumped on."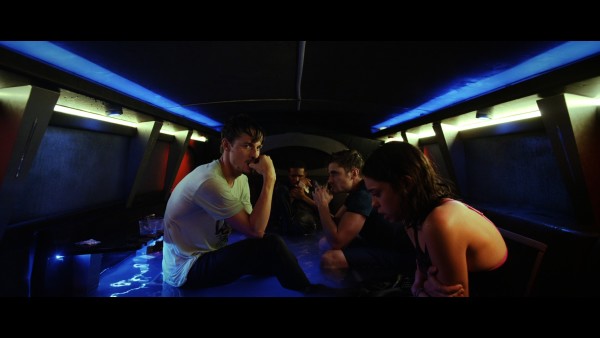 The director said one of the complications of bringing Submerged to life was trying to figure out how to make the film continually interesting for an audience with an increasingly shorter attention span. "Is it keeping me excited?" he asked. "Is it keeping me, you know, pushing myself? And so this is something that, for me, was very complicated but at the same time was a challenge. And I love challenges and trying to figure out how we move the camera as much as we possibly can."
Before Miller was attached as director, Bennett, who was in Mean Girls, was already set up to be the star. "Jonathan was a huge part of the script already before I came on, so, you know, Jonathan even had to sort of approve me as a director to get it done," he said. "So he was really cool to meet with at first."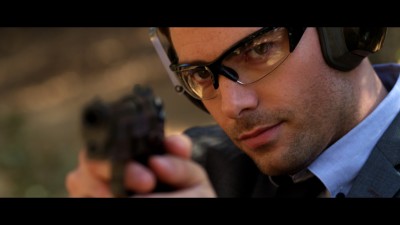 One of the engaging parts of Submerged is figuring out how the group dynamics will work and what each person will contribute to the overall goal. These unknowns keep the audience guessing and kept Miller enthralled when directing.
"Look, you never know what's going to happen in this kind of a situation, especially in a group setting and how people are going to react," he said. "You could be in a life-or-death situation, and people still want to talk about past issues they have with each other. That to me is interesting because it's just so like human beings to sort of put off the bigger problems and focus on minute things and sort of keep your mind occupied, and that was something that I found really interesting."
A good portion of the movie deals with flashbacks. It was Miller's job to keep the audience focused on the story of the crash and these interspersed scenes featuring the character backgrounds.
"I felt the more focused I could keep the audience the better," he said. "So I really tried to keep the flashbacks more linear and start happening out of the process instead of the audience trying to catch up, so it was very much found in the edit because I knew those would be modular. So I shot them how I liked to shoot them and knowing that in the edit they'd be able to move around where I like them. But also I had to have some of them very planned out because there were certain ones, in the transition, would happen a certain way, so I had to have quite a few of them planned exactly how I wanted for transition. And a couple others I knew could just sort of move how I wanted."
Miller has directed several films before, including Silent Night and The Aggression Scale. He has two Bruce Willis projects coming up, one called Extraction about the CIA and the other called Marauders about a bank heist. He's known in horror circles but increasingly in the action genre as well.
"Yeah, I'm a huge fan of visceral material, and even if it's in a small contained space like Submerged," he said. "It definitely feels to me like I enjoy putting people in situations that they have to be a little more proactive and try to figure how they deal with them. … I hope that sort of pushes me into more of the thriller-action genre, which I really enjoy, and so I'm hoping that that just sort of keeps going that way."
Submerged was made on a limited indie budget with no distributor lined up. So, in the early days of filming, Miller focused on the material.
"Your main focus is just to hope that you can make the financiers their money back because you know you don't want them to lose money," he said. "So you're just focusing on making the best possible movie you can make, making it exciting and hoping … that they'll come to you, and you don't really have to worry about getting the movie sold."
He added: "There's not a lot of money to make that movie. It's very contained, very controlled as far as how much time you have, how much money you can't spend. You have to be extremely creative. Just the idea of building a set that has to happen underwater is daunting for a lot of people, and to try make that on the cheap is even more daunting."
By John Soltes / Publisher / John@HollywoodSoapbox.com
Submerged opens Friday, Nov. 27 in New York and Los Angeles.