CLOSING SOON: 'Dante Ferretti: Design and Construction for the Cinema' at MoMA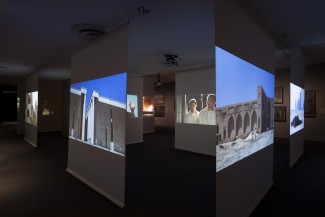 NEW YORK — Dante Ferretti is one of the most influential production designers in the history of film. His elaborate sets for Martin Scorsese, Pier Paolo Pasolini, Tim Burton and Federico Fellini, among others, are the stuff of artistic legend. The Museum of Modern Art has put together a small exhibition of his storyboards for different movies and included a transfixing labyrinth showcasing clips from his most iconic work. Although a more exhaustive overview would have been appreciated (the entire exhibition can take 30 minutes to explore), the details that are on display can be quite illuminating to cinema buffs.
Situated in the three-tiered lobby area of MoMA's theater section, the exhibition begins with a few actual props from his most important works. Included among the objects are a clock tower replica from Scorsese's Hugo (located near the escalators), the chandeliers from Pasolini's Salò, or the 120 Days of Sodom and enormous lions that Ferretti made for the Venice Film Festival.
After descending a level, spectators can see a series of storyboards and drawings, most notably from Hugo, which rightfully receives much fanfare. Scorsese's valentine to cinema, which was nominated for a slew of Oscars a couple of years ago, is a crowning achievement for Ferretti's design. From the clock tower to the entire train terminal where the movie takes place, there may be no better work that showcases the designer's output.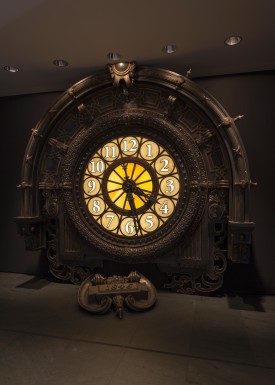 Descending the escalators one more time, visitors can see more drawings of his work. Be sure to find Ferretti's take on a futuristic roller coaster ride and his renderings of the Tangiers in Scorsese's Casino. An unfinished Burton film is also given credit, plus work from Fellini and Terry Gilliam's The Adventures of Baron Munchausen.
The main selling point for the exhibition is the series of projections situated at its center. This labyrinth of film clips (displaying visuals but no audio) offers a look into the mind of Ferretti and his directors. Visitors can turn left and see The Aviator, turn right and see Casino. It's a simple network of the designer's best work, and it serves as a fitting homage to his impressive and influential career.
Dante Ferretti: Design and Construction for the Cinema continues until Sunday, Feb. 9 at MoMA in midtown Manhattan.
By John Soltes / Publisher / John@HollywoodSoapbox.com
Click here for more information.