LAST CHANCE: 'The Heiress' features Jessica Chastain, Dan Stevens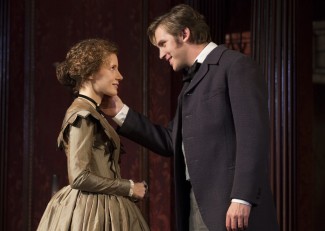 There's a quiet brilliance to the latest revival of The Heiress, currently playing a limited engagement at Broadway's Walter Kerr Theater. Over the course of nearly three hours, we watch the progression of characters and the devolution of their fragility. A talented cast, led by Jessica Chastain, Judith Ivey, David Strathairn and Dan Stevens, bring believability and tenderness to the words of Ruth and Augustus Goetz. In a theater season yearning for some critical favor, The Heiress is one of the best productions available.

Chastain plays the title character, Catherine Sloper, an heiress who finds it difficult to break out of her shell and find a suitable husband. Her father (Strathairn) keeps a close watch on the undignified girl, constantly shaking his head and remembering the image of his deceased wife. How could his daughter be so different from the woman he loved, the woman who died in child birth?
Catherine receives more support from her aunt Lavinia (Ivey). The two are able to gossip and chuckle about life and the gentlemen who sometimes come to visit. One of these possible suitors is Morris Townsend (Stevens), a charming man living with his widowed sister. Amazingly, Morris and Catherine strike a chord and begin to fancy each other — perhaps to the point of marriage.
The problem (and it's a big one) is that Dr. Sloper has deep, deep suspicions. Morris doesn't seem to have a cent to his name, so could the young man only be after Catherine's fortune? She already receives $10,000 a year because of her mother's death, and when the doctor dies, she stands to inherit another $20,000 per year. The Sloper residence in Washington Square is one of the finest houses in the neighborhood. Is Morris genuine, or does he see an opportunity to dig for gold?
Trying to determine the true intentions of Morris is one of the joys of The Heiress. Stevens plays the part effectively, always keeping us balanced between the two extremes. We hate him at one moment and respect him at another. He puts on that smile (a smile well known to fans of Downton Abbey) and speaks with beautiful language and proper manners. But, every once in a while, he lets slip about the sheer richness of the Sloper estate. He does seem to be amazed by the wealth that stands behind Catherine. Hiding his British accent, Stevens can sometimes sound almost nerdy in his line delivery, with a high-pitched, whiny voice. Still, he's able to convincingly portray Morris, making it believable that Catherine would fall deeply in love upon first glance.
Strathairn is also a joy to watch, in perhaps the toughest role. We come to respect his watchfulness over his daughter, but his means of protection are harsh and cruel. By questioning Morris's intentions, this father needs to admit that his daughter is plain, unattractive and unworthy of such a man. When Catherine hears these words, it cuts like a hot dagger to a cold heart.
Chastain, playing against type, doesn't exactly fit the bill for the Catherine character. This Hollywood star needs to hide behind poorly fitted dresses, a haphazard hair style and seemingly no makeup. Moisés Kaufman, who directs the two-act play, keeps her almost hovering in the background, constantly stumbling over her words and showing an uncomfortable level of shyness. But perhaps that's why America has fallen in love with this actress. When faced with a seemingly insurmountable challenge, she carves out a character of nuance and sensitivity. By the end of these three hours, we believe the red-carpet Chastain is no more and all we have left is this fascinatingly interesting Catherine, a good person trying to leave the darkness of her father's shadow.
Somewhat surprisingly, the most effective performance is thanks to Ivey. Her Lavinia shouldn't feel so funny, so vital to the story line, but the accomplished theater actress has a way of winning our hearts. With her well-placed laughs and humorous line deliveries, Lavinia is an absolute joy to keep company with, a woman with a boundless energy for life and family.
Kaufman's revival finds a lot of novelty in these old words (Ruth and Augustus Goetz's play is based on Washington Square by Henry James). The action plays out on a stately set that can simultaneously feel warm, like a well-heated home, and freezing cold, like a prison cell with bars on the window. Watching the Sloper family combat the ambiguity of this stranger is some of the most entertaining theater in New York at the moment.
By John Soltes / Publisher / John@HollywoodSoapbox.com
The Heiress

Written by Ruth and Augustus Goetz

Directed by Moisés Kaufman

Based on the novel Washington Square by Henry James

Starring Jessica Chastain, Dan Stevens, David Strathairn and Judith Ivey

Running time: 170 minutes with one 15-minute intermission

Currently playing the Walter Kerr Theatre at 219 W. 48th St. in Manhattan. The production continues through Feb. 9. Click here for more information.

Rating: