INTERVIEW: 'Scare Tactics' scares again, this time on Netflix
Image: Courtesy of Scott Hallock / Provided by press rep with permission.
---
Scare Tactics, the delightfully frightful hidden-camera series, is like a George A. Romero zombie: It's not going anywhere anytime soon.
The reality series, originally created by Scott Hallock and Kevin Healey, aired for several seasons on Syfy and saw a few celebrity hosts — Shannon Doherty, Stephen Baldwin, Tracy Morgan — emcee the shrieks and screams. The premise was brilliant: Setups, inspired by science fiction and horror movies, allowed family members and friends to pull pranks on their loved ones.
Scared of a possible alien abduction? No worries, Scare Tactics will stage one right outside your car.
Is that a rat monster in the cupboard? Scare Tactics says YES!
Are chupacabras real or fake? On Scare Tactics, they are very much real.
Now the show can be enjoyed on MTV2 and, starting just last month, Netflix.
"It's been a long time coming for Scare Tactics, so we're really excited about the Netflix launch," Hallock said in a recent phone interview. "And we're excited to be on MTV2, and, of course, the goal of all this is to lead to doing more episodes, which we're ready to go on."
Hallock said he has known many of the executives at Netflix for quite some time, and now that some of the older episodes have been given new life, the TV producer is taking a wait-and-see approach.
"What I think they wanted to do was kind of dip their toe in the water first and try out some episodes, so they licensed about half of our library," he said. "They're going to show, as it stands now, 52 episodes over the next three years, and I think depending on how it does for them, they're going to make the decision on ordering new episodes. Right now, they have the right of first refusal for all new Scare Tactics productions — so any new episodes, any Scare Tactics movies, any Scare Tactics spinoff."
For longtime fans of the series, there's an added incentive to watching the show on Netflix, and that's the uncensored nature of the reality series. On Syfy, words were bleeped out when the victims of a prank inevitably dropped the f bomb. On Netflix, those profanities will fly.
"The uncensored episodes I think are going to be fun for our fans who haven't gotten to see them this way because basically they get to see the pranks the same way we see them in the edit bays, without the bleeps, without the blurs," Hallock said. "There's a little bit of profanity, as you might imagine. I think probably the phrases said the most on Scare Tactics that were bleeped are 'what the f—' and 'holy sh–.' Fans will get to hear those in all their glory, just the way the show-biz gods intended."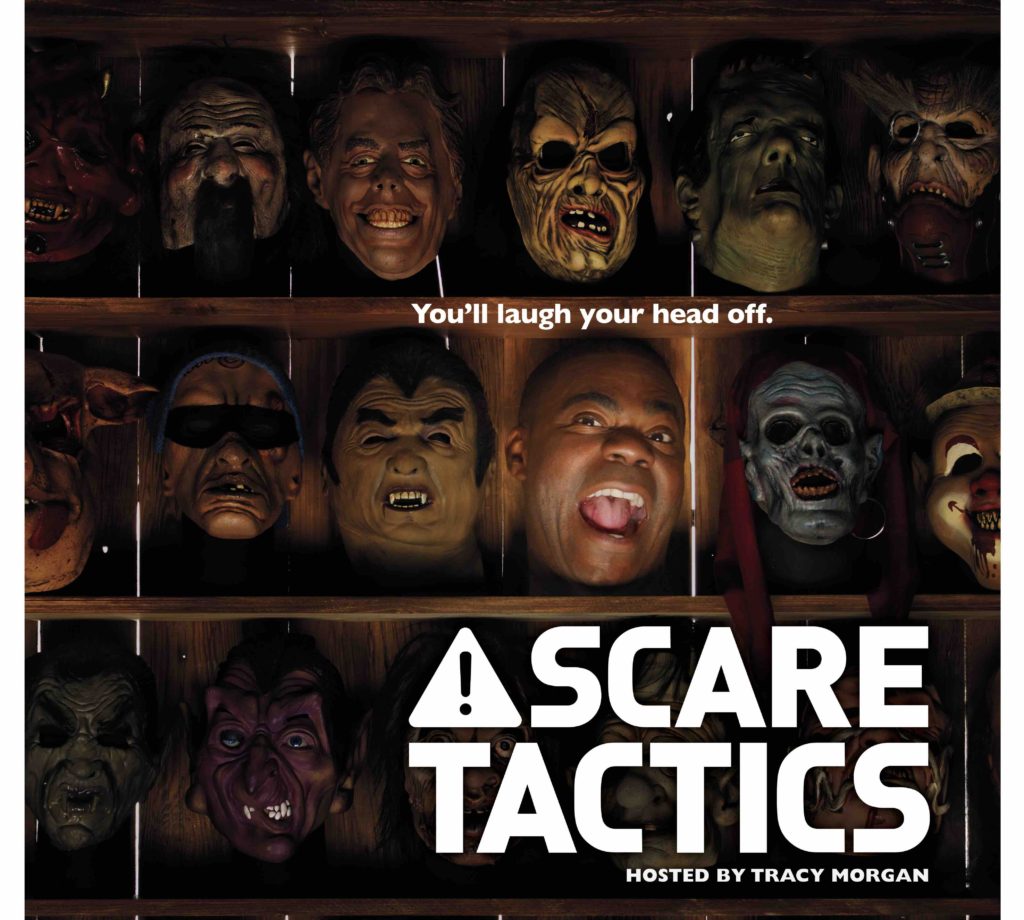 Scare Tactics was first developed at Syfy thanks to a development concept called the Syfy Lab. This in-house laboratory reached out to Hallock and Healey because they were producing NBC's Spy TV, another comedic hidden-camera show.
"They wanted to know could we do a hidden-camera show with a sci-fi twist for the Syfy channel," he remembers them saying. "And so we developed it with them. They ended up funding a pilot that worked tremendously well. Like every single bit we shot for the pilot just worked and worked beautifully. One of our most famous bits, this alien abduction bit, was in our very first episode, and that's something that we shot in the pilot. It turned out great. We couldn't believe we got people to believe that there was an alien right outside their car, but they did."
Scare Tactics proved to be a hit for the network, and five seasons of original content quickly followed. There was also a sixth season of "best of" shows. All told, the network produced just shy of 120 episodes of the reality series.
"So, yeah, it's a big library, and we're hoping to be able to add to it very soon with some new episodes," Hallock said.
To instigate unsuspecting victims to join the show, Hallock and the team developed a deceptively smart intake process. He said they created it specifically for Scare Tactics, and it almost always worked.
"So the victims actually sign up to be on the show beforehand, but they don't know they're signing up to be on Scare Tactics," he said. "We interview them using a reality casting company that says, 'We cast for all kinds of different shows, for building shows, for game shows, for Fear Factor-type shows, for anything and everything. Would you be interested in being on a reality show?' And so people fill out an application, and they kind of list everything. If they have a medical condition, we want to know about it. If they have weapons, we want to know about that. If they have phobias, we want to know about that because, believe it or not, if someone tells us they're deathly afraid of spiders, we will not scare them with spiders because we don't want them to have a bad experience. We make sure that these bits are appropriate for every person we're scaring, and then we work with a close friend or family member as our accomplice to actually bring them to the bit."
Sometimes the actual "scare" doesn't happen for a month after the soon-to-be-victim signs the paperwork. That means the victim may have forgotten about the reality TV opportunity, but the victim's friend certainly has not.
"We reach out to their friend and have them bring them to something that they have no idea is a TV show," Hallock said. "And then after the prank is over, we have them sign another release just saying that they had a good time. 'Everything is on the up and up, and I'm happy to be a part of the show.' And, in fact, a lot of our repeat business comes from people who were pranked on the show themselves. They have such a good time, they say, 'Oh my God, I've got five friends I want to set up.' And then they give us names, and then we reach out to those five friends. A lot of our victims then become accomplices."
By John Soltes / Publisher / John@HollywoodSoapbox.com
Scare Tactics is now available to stream on Netflix. Click here for more information.