Q&A: Katie Webber on her new show 'Let's Kill Grandma This Christmas'
Most holiday fare in New York City revolves around candy canes, Rockettes and little Whos down in Whoville. For a more cynical (and gut-busting) dose of yuletide cheer, there's Let's Kill Grandma This Christmas, a new play by Brian Gianci. The world premiere is currently playing the Theatre at St. Clements (423 W. 46th St.), running through Jan. 6.
Katie Webber stars in the ensemble piece about a crazed family looking to inherit their grandmother's fortune. Recently, Hollywood Soapbox exchanged emails with Webber about her role and the unusual new show.
How did you get attached to Let's Kill Grandma This Christmas?
My wonderful agents at The Mine sent me in for an audition for Let's Kill Grandma … My initial goal was just to get a callback, but in the end, I got it!!
You've done a lot of musicals in New York, what's it like doing a comedy with no music?
I've been very fortunate to have been performing in musicals on Broadway for the last 7 years as a dancer/singer, but I have to say, this is one of the most exciting times of my career! Acting in a comedy with such a talented cast is thrilling! I'll admit, at first, I was a bit intimidated, but I've learned to let go and take risks. Every night onstage is a new adventure!
Could you describe your character Leigh for readers?
The character that I play, Leigh, is a villain! She is a manipulative, two-faced, evil woman. Sometimes it frightens me that all that evilness is inside of me, but it's fun to explore a darker side and find the comedy in that.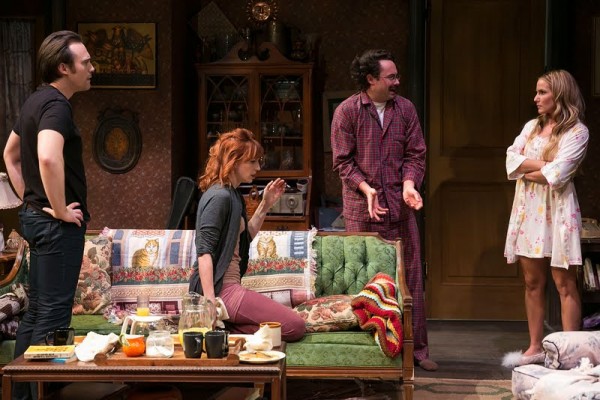 Is Christmas a big holiday for you? Although certainly exaggerated, does the craziness of the holidays depicted in the play ring true? Is there some truth behind the absurdity?
I love Christmas!! Mostly, I love the music and the FOOD! The holidays are all about food for me! In the play, we do take a broad look at Christmas dinner, but I think most people can relate to the dysfunction that accompanies the holidays. Everyone's got a crazy uncle or something, right?…Er, except in my family, we are perfect!
What's on the horizon for you after Let's Kill Grandma This Christmas?
After the show closes, I plan on going on vacation and collecting unemployment!
What's it like working with this creative team?
This creative team has been a joy to work with! John Dapolito, our director, brings an abundance of passion and energy to work everyday. He and Brian Gianci, the writer, have given us fantastic material to work with, and they've allowed us all to find our own voices in the play. I have learned so much from these guys and I am so thankful!!
Let's Kill Grandma This Christmas plays Monday at 7 p.m., Wednesday through Friday at 8 p.m., Saturday at 2 p.m. and 8 p.m., and Sunday at 3 p.m. and 7:30 p.m. Tickets are $69. Click here for more information.
By John Soltes / Publisher / John@HollywoodSoapbox.com