EXCLUSIVE CLIP: A few words with Richard Rawlings, star of 'Fast N' Loud'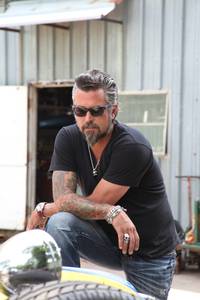 Richard Rawlings, star of Discovery Channel's Fast N' Loud, doesn't just love cars. When he looks at an old junker, he sees great potential and the possibility to bring out the best in the old automotive. Each week, Rawlings and his business partner Aaron Kaufman scope out the most abysmal vehicles in the United States and within a few days are able to turn around a stylized, fully-operational gem — many times at a substantial profit.
Fast N' Loud continues with new episodes Wednesday nights at 10 p.m. For those who have been transfixed by the genius of Gas Monkey Garage, and those newcomers to the series, Hollywood Soapbox has an exclusive clip from Wednesday, July 11's episode (below) and a Q&A with Rawlings himself.
What's your earliest memory of falling in love with fast cars?
My dad always had hot rods around while I was growing up — I was really into motorcycles, anything with wheels from a young age. Cars have just always been a part of my life and a passion of mine. If it has t— or tires, I'm down.
How did the show evolve? Were you approached by Discovery Channel?
Everybody that has a hot rod shop dreams of having a show I think, so they can show off the work they are proud of. Aaron and I are no different, and we really wanted to introduce people to our particular brand of hot rods our Gas Monkey Garage is world famous for. We cultivated that idea and approached everyone we could who could make that happen.
Could you take me back to that time when you decided to dedicate your professional life to cars. What made you make the jump into a 24/7 car life?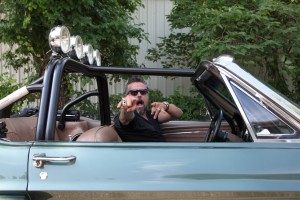 I've had many careers over my life: when I was younger I was a police officer and firefighter, but I always had an entrepreneurial spirit too. I started and sold a successful advertising business that gave me the financial resources to get into a business I really love — hot rods and motorcycles. A wise man once said that if you do what you love, you'll never have to work a day in your life.
Over the years, what's some of the best cars you've owned (or worked on)?
Pretty much I fall in love with every car I buy, there's something special about all of them. But the 1932 Ford is my absolute favorite.
Could you ever imagine you'd be on a reality series? Do you like it?
No and I don't like to think of it as reality, it's more a peek into my business and my personal life along with a good broad look of hot rodding and motorcycling in general.
By John Soltes / Publisher / John@HollywoodSoapbox.com
Fast N' Loud airs new episodes on Wednesdays at 10 p.m. Click here for more information.