REVIEW: Patti LuPone, Mandy Patinkin back together on Broadway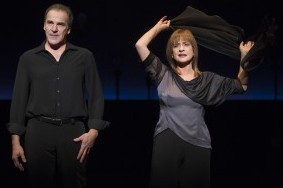 There's an otherworldly phenomena occurring nightly at the Barrymore Theatre on Broadway. Within a short distance of far glitzier marquees advertising paint-by-numbers musicals and plays, two cherished theatrical stars have come together for a Master's class on how to sing skillfully and engagingly.
Ladies and gentleman, I present to you Patti LuPone and Mandy Patinkin.
These indomitably entertaining actors are on fine display in their two-hour concert, simply called "An Evening with Patti LuPone and Mandy Patinkin." Working their way through the American theatrical songbook, the stalwarts add their own style and flair to some notable standards. Whether it's the work of Stephen Sondheim or Oscar Hammerstein, the two surround themselves with the notes and lyrics that have become second nature to American theatergoers.
With a slick accompaniment by Paul Ford on the piano and John Beal on bass, the concert feels like a hearty Thanksgiving meal of theatrical precision. There's not much finesse or overly clever staging. Ann Reinking's choreography is minimal, and Patinkin, who also serves as director, keeps everything uncomplicated and small. Even David Korins' production design of colorful light bulbs doesn't get in the way.
Taking center stage are the two performers — just them and their voices.
When the lights first come up, LuPone and Patinkin stare straightforward at the audience that has watched them progress over the years. They just stand and look … and then they're off.
One right after another, with almost no spoken dialogue interrupting the melodies (Hugh Jackman this is not), LuPone and Patinkin cover many a great show and select many a powerful song. They start with Company's "Another Hundred People" and wend their way through selections from South Pacific, Show Boat and Into the Woods.
Of the Act I highlights, it's a real pleasure to hear Patinkin's unique voice take on "Some Enchanted Evening," while LuPone has fun with "A Cockeyed Optimist." The two join forces on many occasions, including "Baby It's Cold Outside," "It Takes Two" and a hilarious take on "April in Fairbanks" from New Faces of 1956 that sees the performers dancing with the aid of rolling office chairs.
Act II finds the duo more centrally focused. Almost all of the songs come from Merrily We Roll Along and Carousel. The medleys are inspired and appear to be carefully selected to heighten the passion and verve of the lyrics.
The highlight of the night has to be the two songs from Evita, the musical where LuPone and Patinkin first met and began their lifelong friendship. Patinkin simply can't be matched with his rendition of "Oh What a Circus." The dominance of his vocal instrument is on fine display and has never sounded better. He has a characteristically profound voice that is unlike any other voice on Broadway. It couples power with a quiet gentleness. His upper register is touching to behold; it may not come easy to the singer, but he finds each note like a technician. Patinkin is very much an emotive singer, a person who closes his eyes and lets the songs emerge from his skilled concentration.
LuPone, on the other hand, comes off a little more flexible, letting the notes guide her to excellence. Her "Don't Cry for Me Argentina" is superlative, and, thankfully, she treats the audience to "Everything's Coming Up Roses" from her Tony-winning turn in Gypsy. The actress has been on so many Broadway stages in so many parts that she could glide through many of these standards. But that's not the case here. She successfully travels miles with her cohort on stage to find the right pacing, pitch and poise. LuPone is the gold standard, and yet she has the sentiments of a young, courageous woman just out of Juillard.
When the night finishes, following an encore of songs after the inevitable standing ovation, the two performers fade into the darkness once again. But knowing that this is Patti LuPone and Mandy Patinkin, we know they'll be back some day — and we know they will relish the challenge of the next obstacle.
By John Soltes / Publisher / John@HollywoodSoapbox.com
An Evening with Patti LuPone and Mandy Patinkin

Conceived by Patinkin and Paul Ford

Directed by Patinkin

Starring LuPone and Patinkin

Playing at the Barrymore Theatre at 243 W. 47th St. in New York City.

Click here for more information. Tickets start at $76.50.

Running time: 120 minutes

Rating: