'DEXTER' REVIEW: Season Five, Episode Four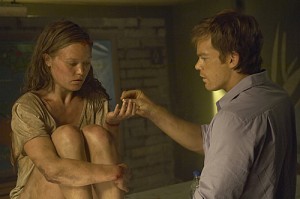 Review of "Beauty and the Beast" (05:04)
SPOILER ALERT!
Season five of Dexter simply can't compare with the stellar season four. After four episodes, not much has happened and the new characters are not terribly engaging. I'm not one to miss serial killers, but boy do I wish we had another Trinity shaking things up.
Case in point: Lumen Ann Pierce (Julia Stiles, a good actress in a mediocre role). In the fourth episode, titled "Beauty and the Beast," Lumen takes the spotlight, but it doesn't take long for the character to become quasi-redundant. We've seen Dexter kill his victims in front of other people (Miguel Prado, anyone?), so I'm not sure how much Lumen can add to this show. Will she play the perpetual victim? Will she enter Dexter's warped circle of trust? Is there something dark hiding deep within?
I'm actually finding the most interesting character in season five to be Sonya (Maria Doyle Kennedy), the babysitter of Dexter's infant son. Something seems amiss about this whole character. Is she truly genuine? Why does Dexter trust her so much? I love that she very well could be a breath of fresh air, a rare innocent among a troupe of guilty sinners. Plus, who doesn't love an Irish brogue?
Unfortunately much of Sonya's development is hijacked by Lumen and the ritualistic killings investigated by Debra Morgan (Jennifer Carpenter). What we do learn about the babysitter is that she wants Dex home on time. When he stays out all night, cleaning up after Boyd and helping Lumen, Sonya threatens to quit. Instead, she gives him one more chance to shapen up or ship out. Maybe this woman will become a pseudo-motherly figure to Dexter.
Thankfully, Quinn (Desmond Harrington) is sewing up one of the largest holes in the show's history. The detective continues to investigate the mysterious Mitchell family and how Dexter is connected to the Trinity Killer. He seems to be the only detective with some brains. How could more people not connect the dots? Probably because LaGuerta (Lauren Vayas) and Batista (David Zayas) are too busy playing husband-wife.
All in all, "Beauty and the Beast" is another ho-hum episode in a ho-hum season. This Showtime series is only as good as its season's main character. Ice-truck killer … yes! Trinity … yes! Lumen … not so sure!
By John Soltes / Publisher / John@HollywoodSoapbox.com
Dexter

Showtime

Starring Michael C. Hall, Jennifer Carpenter, C.S. Lee, Desmond Harrington, Lauren Vélez and David Zayas


Rating: